7 crypto penny stocks to watch out for in 2023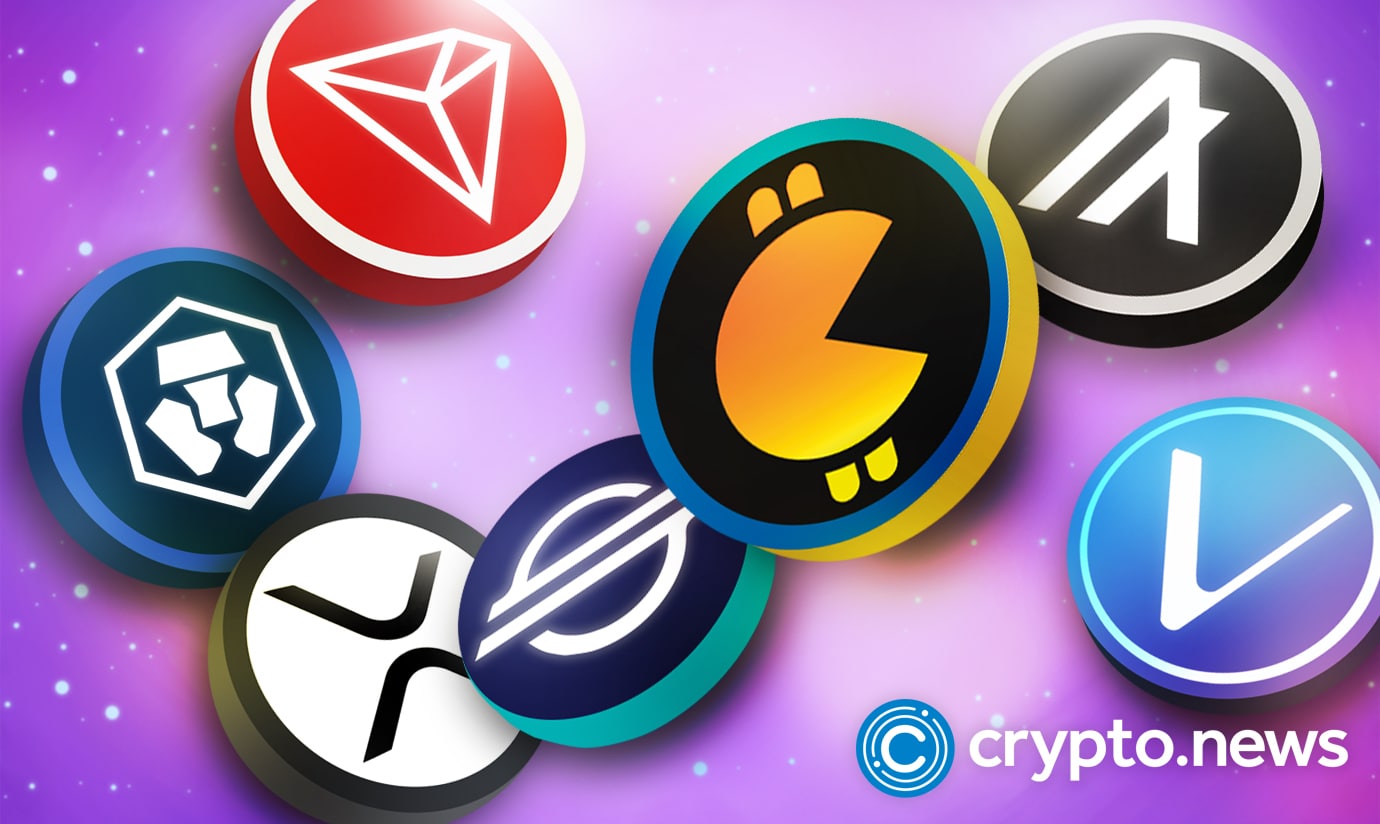 Web3 can present high-potential investment opportunities. However, more established projects can suffer from reduced gains over time due to the law of diminishing returns. Some of the best investments in the space can be crypto presales. Crypto penny stocks can also produce significant returns over time.
For investors looking for opportunities in 2023, here's a list of the seven crypto penny stocks they can consider:
Metacade (MCADE)
Tron (TRX)
XRP (XRP)
Cronos (CRO)
Stellar (XLM)
Algorand (ALGO)
VeChain (VET)
1. Metacade (MCADE)
Metacade offers various play-to-earn games in a single location, giving users more opportunities to earn MCADE, the native token of the platform, as they have fun online.
Apart from the P2E arcade, Metacade rewards users for sharing useful content and connects its community to paid job opportunities. Users can land part-time or full-time work as Metacade aims to support crypto enthusiasts who want to kickstart their career in Web3.
MCADE recently announced its crypto presale, which attracted over $3.5 million worth of funding over nine weeks. As a new project in Web3, interest in Metacade has been growing due to its community-centric features.
As part of its roadmap, the platform will support P2E games that offer casual and competitive gameplay, an advanced incentive system, and a central hub for Web3 users to socialize and share alpha.
Metacade will also drive growth in blockchain gaming by providing early-stage funding to game developers through its Metagrants program.
Why MCADE?
The MCADE crypto presale can present an investment opportunity for users. The crypto presale is the earliest investment stage for new projects. In potent platforms, returns can be high.
MCADE started trading at $0.008 at the beginning of the crypto presale. The crypto presale allows investors to buy MCADE at bargain prices.
>>> You can participate in the Metacade presale here <<<
2. Tron (TRX)
Tron may be an alternative crypto penny stock to consider. It is a layer-1 blockchain launched in 2017 to support decentralized entertainment and content-sharing using peer-to-peer technology. It is scalable, with a high transaction throughput, offering transaction finality of less than 3 seconds.
The Tron network supports decentralized applications (dApps) and is home to various blockchain services. dApps on Tron include borrowing and lending protocols, NFTs, and play-to-earn games.
Why TRX?
Tron is a scalable network and can process 2,000 transactions per second (TPS) without sacrificing performance. Besides, the coin can be used to send value across the globe.
TRX reached $0.18 during the 2021 bull market but currently trades at $0.05. With its large community and scalable blockchain that can consistently support a significant number of transactions, TRX prices may recover in the coming months.
3. XRP
XRP is another crypto penny stock to look at. Moving value through international payment systems can take days and be expensive as a processing fee applies. XRP allows for cross-border transactions with instantaneous settlement and near-zero fees.
XRP acts as a bridge between two different currencies. Its primary use case serves financial institutions as they process cross-border payments. The coin also provides instant liquidity for these institutions to enable rapid currency exchange.
XRP is the native currency for the XRP Ledger (XRPL). The XRPL is a decentralized blockchain network that can support the development of dApps. The XRPL ecosystem is home to an increasing number of applications with a wide range of use cases.
Why XRP?
XRP's parent company, Ripple, has been the subject of a long-term legal dispute with the Securities and Exchange Commission (SEC). This dispute has discouraged widespread investment in the XRP, subsequently affecting price action over recent years. However, Ripple could settle with the SEC in a few weeks, influencing price action.
4. Cronos (CRO)
Cronos (CRO) can be another crypto penny stock to consider in 2023. The CRO token is the native currency for the Crypto.com ecosystem comprising a centralized exchange, automated market makers, a vast network for currency conversions, and a next-generation trading engine.
Cronos leverages artificial intelligence (AI) to process transactions and reduce costs. This way, Cronos helps users quickly manage their portfolios, track their investments across different exchanges, and increase the potential for profitable returns.
Why CRO?
In the wake of the FTX bankruptcy, crypto users may look for alternatives. While Binance remains the largest in the space, Crypto.com and the Cronos ecosystem could benefit and capture a larger market share over time.
For now, CRO is trading at $0.06. With extensive utility and a large existing user base, the CRO token may gain over time.
5. Stellar (XLM)
The fifth crypto penny stock you could consider in 2023 is Stellar Lumens, also known as XLM. The distributed payments network allows users to send and receive payments quickly and efficiently. It is also a financial technology designed to connect people, banks, institutions, and other payment networks more effectively.
XLM is the native asset of Stellar's blockchain-based network. It can be used to pay for transactions or transfer value with minimal fees. Stellar bridges the gap between different payment systems and, like XRP, facilitates low-cost international transfers.
Stellar has successfully provided speedy settlements by creating a network that can process up to 1000 TPS. XLM provides users with an efficient way to make global payments without having access to expensive banking systems.
Why XLM?
XLM presents a remittance solution for users. Unlike other cryptocurrencies that aim to replace the traditional financial system, XLM seeks to improve the efficiency of existing systems.
Trading at $0.075, XLM can post more gains in sessions ahead. The coin has a mid-term price target at its all-time high of $0.73.
6. Algorand (ALGO)
Algorand is a multi-asset, permissionless, proof-of-stake blockchain that can support the development of dApps.
Algorand is secure, scalable, and fast so that network users can have an equal and active influence. The protocol enables complete decentralization, with every node having equal authority; this maximizes security and propagates truth faster and cheaply across the network.
Algorand offers higher transaction speeds and scalability than other networks in Web3. The platform's goal is to create a solution where individuals have tools within their reach to realize digital asset ownership and interact seamlessly with others fully.
Why ALGO?
Algorand is one of the few blockchains to address blockchain trilemma,which states that a distributed computer network must sacrifice security, scalability, or decentralization. Algorand delivers all three pillars of blockchain.
ALGO trades at under $0.20 and may have significant upsides in 2023, making it crypto penny stock users can keep tabs on.
7. VeChain (VET)
VeChain aims to make the global supply chain management process more transparent. The platform helps to ensure high quality and reduce the prevalence of counterfeiting by recording the movement of goods from manufacturer to distributor. This can serve the entire global economy, evidenced by VET forming early partnerships with international companies, including BMW and Vauxhall.
Why VET?
VeChain provides a solution and aims to increase efficiency in the global economy. The blockchain makes tracking products more secure, reliable, and transparent, which could directly impact businesses and individuals over time.
VET is currently priced at $0.017, down from its all-time high of $0.23 in 2021. The token value could, however, increase as its utility rises, making it among crypto penny stocks investors can track in 2023.
Metacade crypto presale
Metacade's crypto presale offers MCADE at a discount. Its parent platform may carve market share in web3 GameFi, influencing price.
You can participate in the Metacade presale here.
Disclosure: This content is provided by a third party. crypto.news does not endorse any product mentioned on this page. Users must do their own research before taking any actions related to the company.