Ardor's BridgeChamp Releases Updated Project Roadmap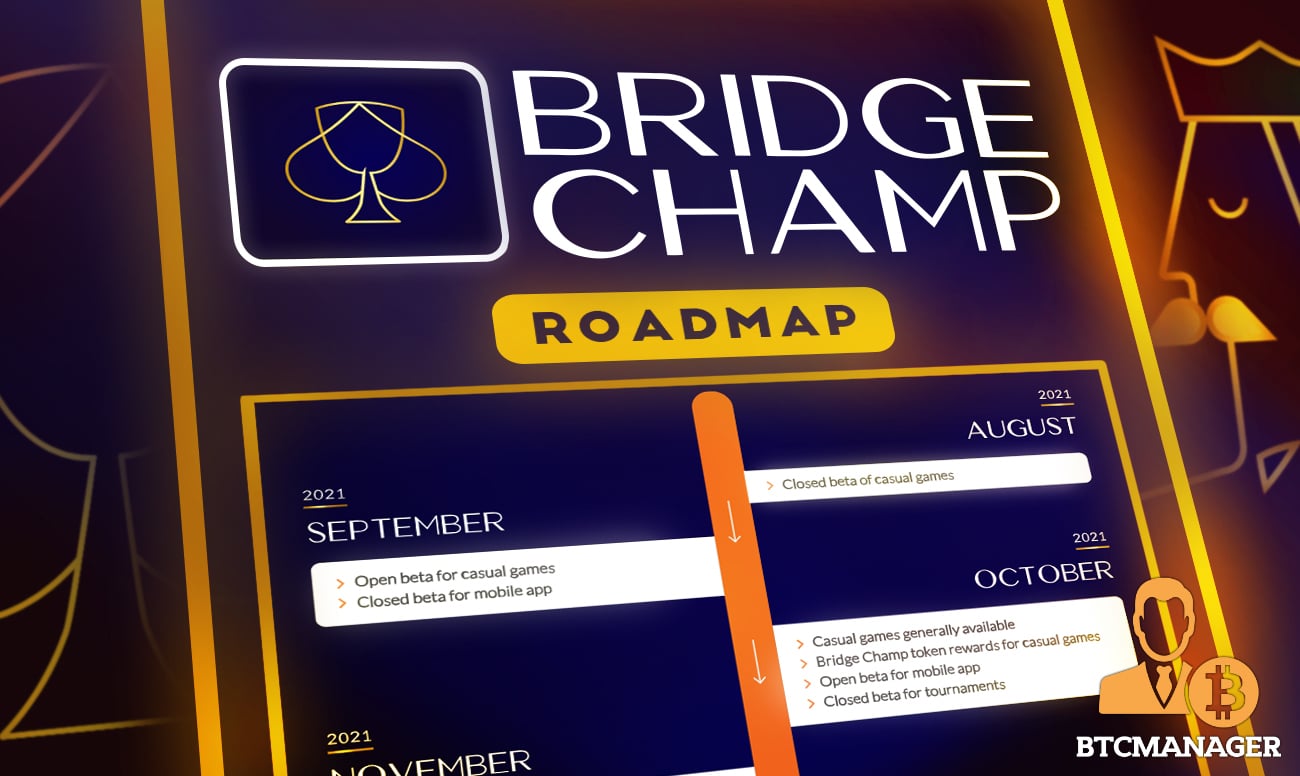 The BridgeChamp team has released the roadmap for the popular blockchain-enabled card game project. The updated BridgeChamp roadmap highlights the milestones the project is aiming to achieve from this August to Q4 2022.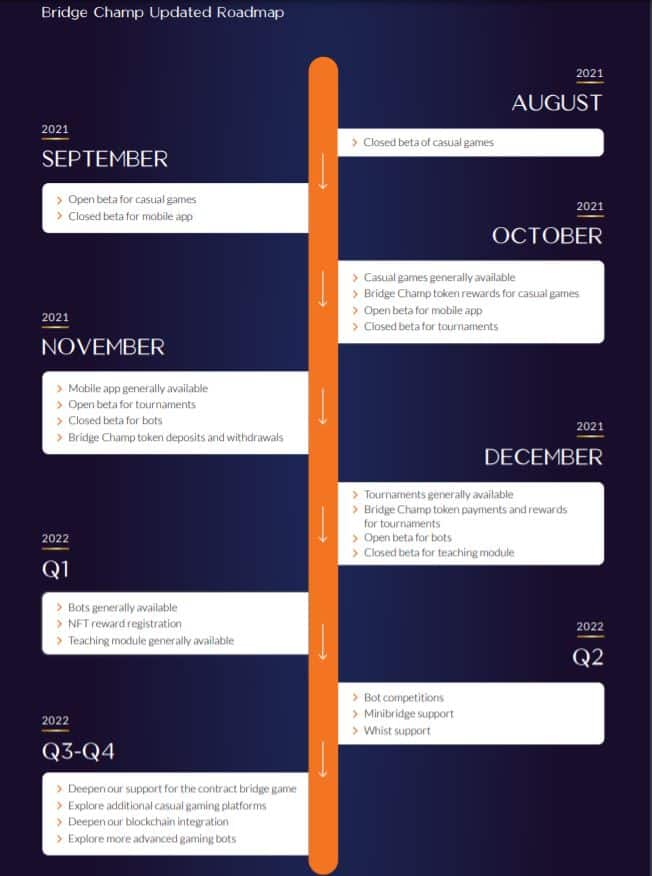 (Source: BridgeChamp)
Unparalleled Bridge Gaming Experience 
BridgeChamp, the contract bridge game powered by Jelurida's Ardor blockchain, has released an updated roadmap for its project.
For the uninitiated, contract bridge, or simply bridge, is a trick-taking card game played via a standard 52-card deck.
While bridge contract is a highly social game played across the globe, the Covid-19 pandemic has made it impossible for lovers of bridge to come together and enjoy the game as they used to, as gameplay has now been restricted to only online platforms which also comes with their own limitations, including a lack of innovative online gameplay options.
Against that backdrop, the BridgeChamp idea was conceived in 2020, to offer lovers of the intellectual game an unparalleled quality bridge playing experience anywhere they may be around the world, in a provably fair and fraud-free manner through the Ardor blockchain.
"Leveraging the latest technology and a sleek, easy to navigate design, BridgeChamp is the ultimate, user-friendly platform, backed by blockchain technology to enhance security, transparency, and economy, from competition registration and organization to token mining and more," declared BridgChamp on its website.
The BridgeChamp Updated Roadmap 
So far, the BridgeChamp team has made significant progress in the project development, including setting up the infrastructure for bridge tournaments, player registration, and more. However, the team is not resting just yet, as several other exciting features have been lined up from August 2021 to Q4 2022.
Specifically, this August, the BridgeChamp team will launch a closed beta of its "casual games," which it describes as a feature that enables "random deals of cards to be played on different tables by different pairs so that multiple pairs can play the same deal as other tables for comparison purposes."
The casual games open beta and a closed beta of the BridgeChamp mobile app will go live in September 2021, while October will see the general launch of casual games, token rewards, mobile app open beta launch, and closed beta launch for tournaments.
What's more, the team says the BridgeChamp app will be fully launched in November 2021, token deposit and withdrawals will also go live, plus open beta for tournaments and closed beta for bots.
In December 2021, BridgeChamp tournaments will fully go live, and the platform will start supporting token payments and rewards for tournaments. Bots will go into open beta and a closed beta of the teaching module will go live.
From Q1 2022 onwards, BridgeChamp bots will be generally available, NFT support will be added, advanced gaming bots and bot competitions, among others, will also be introduced.