Bitcoin, Ether, XRP Weekly Market Update: October 25, 2018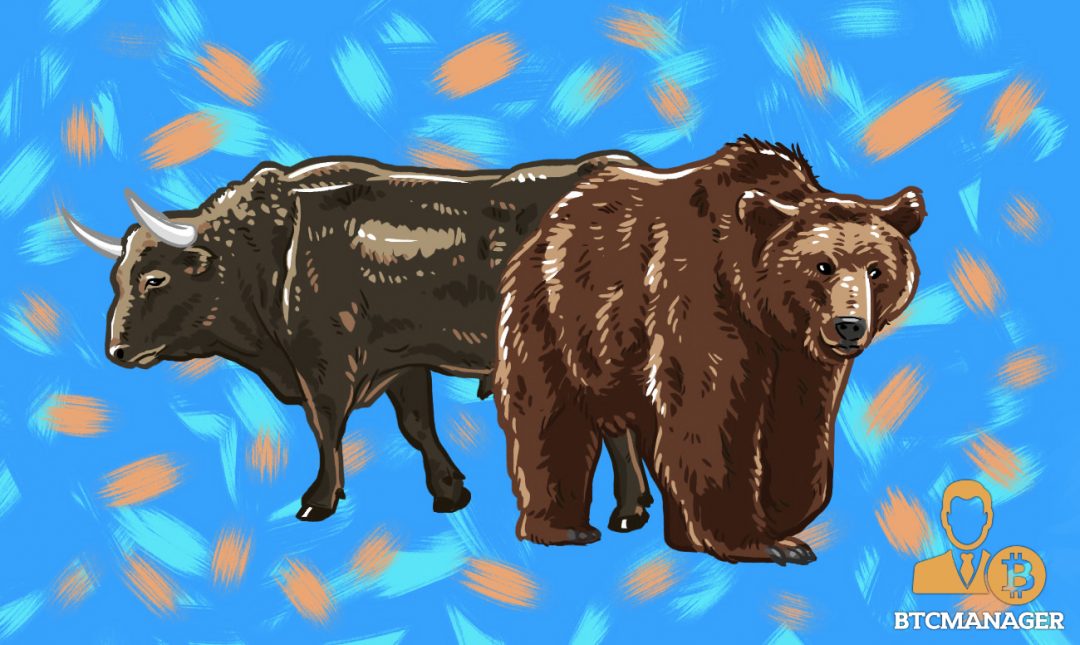 BTC dropped $120 of its value and closed the trading day on October 18 at $6,615. The loss constituted its most significant one-day drop since October 11.
BTC-USD
On the same day, observers saw the Chicago Mercantile Exchange (CME) reporting significant growth in BTC Futures trading in Q3. The exchange group has revealed that the average daily trading volume (ADV) of Bitcoin futures has increased by 41 percent in Q3 over Q2, while open interest (OI), or the number of open contracts on Bitcoin futures, has risen by 19 percent in the third quarter.
A few days later, on October 22, the Intercontinental Exchange (ICE), the parent company of the New York Stock Exchange (NYSE), announced it would list Bitcoin Futures on its platform, Bakkt, for trading on December 12, 2018.
Another interesting story came from Goldman Sachs and Mike Novogratz' venture capital fund Galaxy Digital Ventures. The two companies placed a big bet on the crypto custody solution provider BitGo Holdings.
Combined, Goldman Sachs and Galaxy contributed about $15 million to BitGo's Series B fundraising, which brought in a total of $57.5 million. The endorsement from two firms with robust Wall Street roots may help BitGo attract more institutions and wealthy investors as customers.
On today's Bloomberg Technology @BitGo CEO @mikebelshe speaks with @emilychangtv on Goldman Sachs Investing in BitGo @GoldmanSachs @novogratz @BloombergTV pic.twitter.com/dK1cHJY1CV

— BitGo (@BitGo) October 19, 2018
Bitcoin dropped below $6,600, the high end of mid-$6,000s, and found its workweek bottom at $6,525 on October 19. The biggest cryptocurrency managed to regain some territory during the weekend and closed the week at $6,595, approximately 3.9 percent up for the seven-day period.
The infamous crypto exchange Bitfinex announced the launch of the "Honey Framework" and its Algorithmic Order library for creating custom, complex order types for the Bitfinex platform. The two newly introduced open source libraries for the Bitfinex UI will allow users to create their custom order types and order form layouts to preview and submit the orders from the Bitfinex UI. T
he bundle comes with three algo orders which serve as examples for working with the system: TWAP, Iceberg, and Accumulate/Distribute.
Another crypto exchange, the Singapore-based Huobi, introduced an all-in-one stablecoin called HUSD, which will allow traders to convert between four USD-pegged cryptocurrency tokens including PAX, USDC, TUSD, GUSD, with Tether out of the picture.
We are pleased to announce $HUSD, an innovative new stablecoin solution, exclusively available on Huobi Global.

Find out more:https://t.co/5OSKVia2XE …

In Collaboration with:@paxosglobal @TrustToken @GeminiTrust #USDCoin
#HuobiGlobal #StableCoin pic.twitter.com/4RKAFaZcDc

— Huobi (@HuobiGlobal) October 19, 2018
The system automatically converts all stablecoin deposits into HUSD "tokens," which cannot be withdrawn. This platform token can be used for trading digital assets listed on the exchange. HUSD can also be used at the time of withdrawals by converting itself back to the stablecoins and then fiat.
Coinbase, one of the leading and most-trusted cryptocurrency exchange platforms, revealed on October 23 that "Coinbase Custody had obtained a license under New York State Banking Law to operate as an independent Qualified Custodian," and that "Coinbase Custody will operate as a Limited Purpose Trust Company chartered by the New York Department of Financial Services (NYDFS)."
Coinbase Custody will provide "an institutional-grade service optimized for storing large amounts of cryptocurrency in a highly secure way" and has multiple premium features listed in the announcement.
What's even more interesting is that Coinbase will offer support for the USD Coin, the digital token pegged to the value of the U.S. dollar initially issued by Circle Internet Financial Ltd. The consortium started by the two entities, called Centre, will serve as a platform for users to make deposits from traditional bank accounts, convert fiat currency into tokens issued by members to facilitate transactions and provide the ability to shift back to the greenback.
The BTC-USD pair opened the week with a red candle and dropped as low as $6,535 during the October 22 trading session before closing the day at $6,566. Observers saw the price push above $6,600, but that level appeared to be difficult to hold even in the short term. Bulls were trying to move past the mentioned resistance on October 23 with no luck as bitcoin found a new bottom at $6,549.
The space experienced much in the world of regulators and government bodies as the U.S. Securities and Exchange Commission (SEC) announced it would be launching a Strategic Hub for Innovation and Financial Technology or FinHub. The division will be responsible for communicating with FinTech Startup entrepreneurs and developers, including those launching initial coin offerings (ICOs). The main idea is to help them navigate the legal implications of their products.
In the far east, Japan's financial regulator, the Financial Services Agency (FSA) announced on October 24 that it would allow the Japanese Virtual Currency Exchange Association (JVCEA) to operate as a "certified fund settlement business association." This means the JVCEA will be able to establish rules and standard operating procedures for Japan's digital currency exchanges and have the authority to act against firms that violate these policies.
Satoshi Nakamoto's project made a sudden drop to $6,460 in the early hours of October 25 but quickly recovered to $6,540 by the time of writing. It once again found itself in the good old mid-$6,000s, but this time it looks like ranging is limited to $6,600 to $6,500 at least in the short term.
ETH-USD
Ethereum experienced some losses on October 18 when the whole crypto market saw a massive sell-off which brought down the total market capitalization of cryptocurrencies to $200 billion. ETH erased $7 from its value and dropped to $205. Bears tried to push the price below the $200 mark, but low volumes prevented this from happening. The weak performance resulted in a sell-off, and a record-breaking 300,000 short positions opened for ether.
The biggest altcoin closed October 19, and the workweek, with another red candle, stopping at $203.On October 20, however, it managed to move up to $208 and closed the week with approximately 3.3 percent gain.
The biggest news for Ethereum this week was without a doubt the announcement that its core developers have reached a consensus to delay a planned hard fork of the protocol until January 2019. The Constantinople hard fork is an update for an increase of the network's efficiency, which also includes plans to reduce block rewards for miners, as well as to introduce changes to the network's consensus mechanism that would make it more resistant to ASIC miners.
ETH has been in a downfall since October 22 (by the time of writing), but still manages to keep the price in the close $210 to $203 range, now standing at $204.
The price is almost perfectly following the trendline built from two weeks ago, with $200 as next significant support and $218 to $220 required for a trend reversal.
XRP-USD
XRP successfully defended the $0.45 support during the past seven days despite dropping from $0.4828 to $0.4676 on October 18 and from that level to $0.46 on October 19.
Observers did not see any major movements as Ripple's native currency has been trading in the $0.47 to $0.46 range for the past five days.
From here there are two possible scenarios. First, a further selloff to $0.45, which proved to be a significant support line, or a change of trend with a potential breakout to $0.48 first, then $0.50.