Bitcoin, Ether, XRP Weekly Market Update: October 4, 2018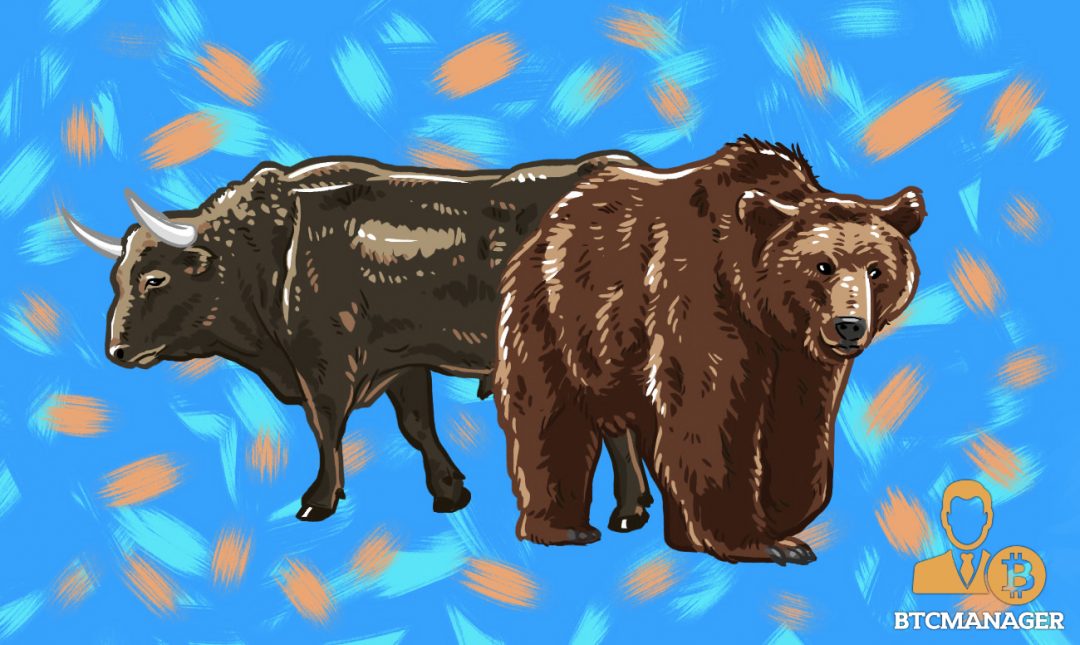 BTC saw a significant increase in value on September 27 and closed the day at $6,694, $230 higher than its biggest one-day jump since September 21. Bulls tried to push the price even higher on the next day, September 28, but could only cross the $6,800 mark for a certain period before dropping back to $6,630.
BTC-USD
The biggest cryptocurrency skyrocketed from $6,500 to $6,800 between 21:15 CET and 22:15 CET on September 27, then stabilized in the $6,700 region and breached $6,800 once again in the morning, just to go back down to the $6,650 level a few hours later.
In general, bitcoin was hovering near very important price levels at the high end of $6,000, the critical horizontal support at $6,800, and the heavy downtrend resistance around $7,000.
The U.S. based cryptocurrency exchange Coinbase rolled out a series of updates that "simplify every step of the journey to owning your first cryptocurrencies" for its customers. In an announcement released on September 27, the company shared more details in regards to their new products: Coinbase Bundle, Asset Pages, and Learn. This is yet another attempt to make cryptocurrencies more popular among the general population and ease the trading process.
Additionally, Coinbase allowed its UK users to deposit and withdraw British pounds (GBP) to their accounts. Previously, users were able to buy and sell in GBP, but couldn't deposit it to the Coinbase wallet.
Bitcoin spiraled downwards in the early hours of September 29 and dropped from $6,630 to $6,450 in just one hours time. It managed to recover and closed the day at $6,600, staying in the $6,550 to $6,650 price range during September 30. BTC closed the week with a loss of 1.7 percent and the month with a decline of six percent.
In a recent tweet, Binance CEO Changpeng Zhao announced the exchange would be introducing its own decentralized platform by the end of 2018 or early 2019. In an interview with CNBC Crypto Trader's Ran Neu-Ner, Zhao added that "We are now actively investing our efforts, our time into this [space]. We have a dedicated team working on this."
Moreover, Binance is investing $2.5 million in Australian cryptocurrency payments startup Travelbybit. The company is creating a network of cryptocurrency payment terminals across the country, and now it will be financially supported by one of the biggest crypto exchanges. The two companies will introduce a point-of-sale (POS) system into significant airports around the world.
The whole crypto market began dropping on October 1 with BTC losing around $100 of value during the intraday trading, before closing the day at $6,600 with a $20 loss. The biggest cryptocurrency extended its losses on the next day and saw its price declining to $6,527.
According to Bloomberg many institutional investors are already highly involved in the $220 billion cryptocurrency market through backdoors. Big players such as hedge funds have replaced high-net-worth individuals as the biggest buyers of large swaths of digital coins worth more than $100,000 through private transactions. Over-the-counter (OTC) trades are seeing a triple-digit increase in terms of volume, compared to an 80 percent decline on exchanges.
BTC almost dropped below the lower end of the mid-$6,000s corridor ($6,400) on October 3 but managed to bounce back to $6,500. During the early morning hours on October 4, the most popular digital currency saw some significant price change, gaining $80. AT the time of writing, BTC sits at ~$6,500.
Targets remain the same as last week: Defend $6,600, then move above $6,800 and $7,000. Correction to a level between $6,400 and $6,200 is possible.

ETH-USD
Ether closed September 27 at $229, up from $214 the previous trading day. It followed the direction of bitcoin closely and could not move above the $230 mark. ETH successfully crossed and held the $230 level for two consecutive days during the weekend of September 29 and 30, 2018.
Fundstrat head of research Tom Lee added some positive vibes by sharing his opinion that ether is about to see a "trend reversal and rally strongly" up to $1,900 per token by the end of 2019. According to him, when the altcoin "underperformed peers by two standard deviations," the price trend saw a subsequent reverse.
P2P crypto-products trading platform BitMEX recently published a report called "Ethereum holdings in the ICO treasury accounts." The research shows that the previously tracked 220 ICO's have sold most of the ETH they received during fundraising. Out of the 15,183,779 ETH raised in total, 11,325,121 were transferred out or sold, which might have added additional fuel to the recent bear market in Ethereum.
The majority of the ICO's, however, registered profit even with ETH's price at $230. Ether lost $10 of value during intraday trading on October 1 (from $233 to $222). It managed to compensate and close the day at $230 though but lost another $5 the next day, October 2.
Observers saw ETH drop down to $214 on October 3, before regaining the $220 level. It is now moving up in the early morning hours on October 4 and sits at $224.
$220 has turned into a critical support level, and it will be the main line to hold for bulls from where they will make yet another attempt on $230 and then $250.
XRP-USD
During the four-day period between September 27 to 30, XRP managed to close with three green candles on the daily chart, keeping the momentum started on September 18. Ripple's token managed to hold the psychological level at $0.50 and moved from $0.513 on September 27 to $0.581 on September 30.
Ripple is launching "Ripple for Good," a social impact program which will focus on educational programs in the fields of Science, Technology, Engineering and Mathematics (STEM) and financial technology. The company will invest $25 million and add $80 million gathered from donations according to the press release.
In another press-release, published on October 1, Ripple announced the launch of their real-time settlement platform xRapid, which is now commercially available. xRapid, the product powering cross-border payments for financial institutions without the need for a pre-funded nostro account, is moving into production with multiple customers, including MercuryFX, Cuallix, and Catalyst Corporate Federal Credit Union.
XRP followed the general trend and lost some ground on October 1 and 2, 2018 trading sessions dropping from $0.5821 to $0.5767 and $0.5166 respectively. The third biggest cryptocurrency in terms of market cap did not follow BTC and ETH on October 3 and moved north from $0.5166 to $0.528. Observers witnessed another green candle in the early hours of October 4, and XRP now sits at $0.529.
The price is following BTCManager's projection from last week and is now eyeing $0.58 as next target; $0.50 is likely the main support level.