Bitcoin Surges To New High After CME Announces Launch of Bitcoin Futures: BTCManager's Week in Review November 6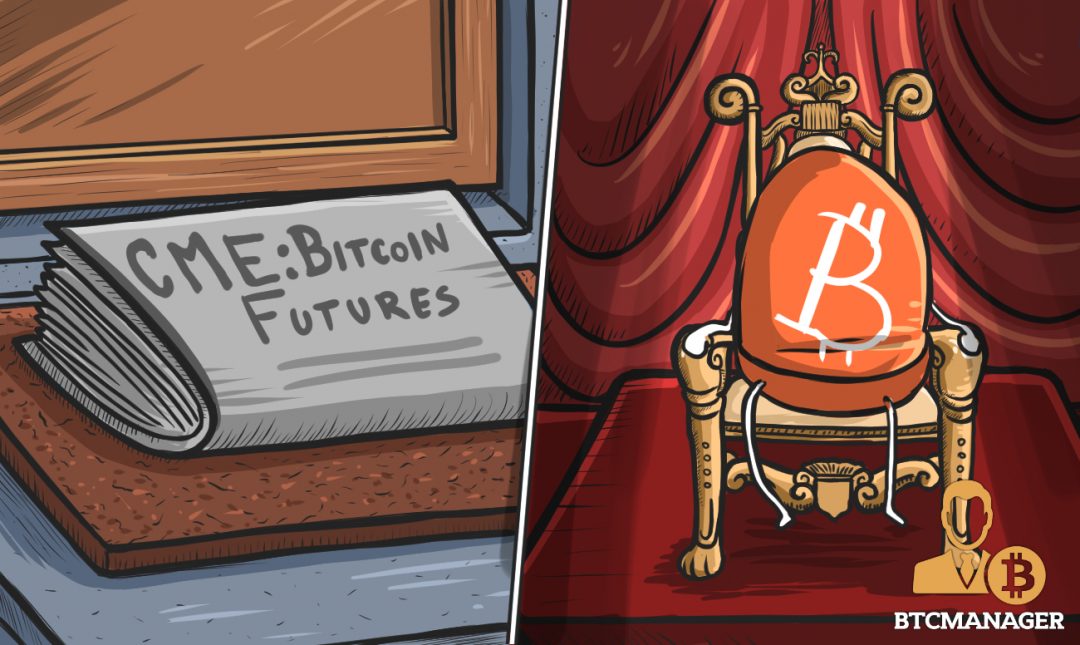 Bitcoin Surges To New High After CME Announces Launch of Bitcoin Futures: BTCManager's Week in Review November 6
The price of bitcoin has been on a seemingly non-stop rally to the moon last October. This trend continued last week after the Chicago Mercantile Exchange (CME) announced the launch of futures on cryptocurrencies. In other words, institutional investors such as hedge funds, prop trading houses, and banks will soon be able to trade bitcoin for speculative purposes but also hedge bitcoin exposure in the case of long-term holdings.
Furthermore, the move by the CME is a clear stamp of approval for bitcoin as a legitimate alternative asset class. Unsurprisingly, therefore, the price of bitcoin shot up to new highs following this news as a flood of new investor money can now enter bitcoin. On October 30, bitcoin was trading at around $6,150 and finished the week at around $7,475 with a new all-time high of over $7,600, which was reached on Sunday morning.
The increasing enthusiasm for bitcoin as an investment was also demonstrated by a 100,000 user increase within 24 hours on the popular bitcoin exchange and wallet provider Coinbase, which happened after the CME announcement. Coinbase's user base has doubled since the start of the year according to the startup's website.
This week's review is compiled from contributions by Christoph Bergmann, Evan Sixtin, Jamie Holmes, Nuno Menezes, and Tabassum Naiz.
The Chicago Mercantile Exchange Group, the globally recognized futures and options exchange, has recently announced the launch of Bitcoin futures by year-end. The official report stated that, "Given increasing client interest in evolving cryptocurrency markets, we have decided to introduce a bitcoin futures contract". Terry Duffy, CME's Group Chairman and CEO, also explained that,
"As the world's largest regulated FX marketplace, CME Group is the natural home for this new vehicle that will provide investors with transparency, price discovery and risk transfer capabilities."
Duffy told CNBC that he is very confident that CME's application will be accepted pending the US Commodity Futures Trading Commission. He concluded by saying that, "They understand our application and they understand our model very, very well".
The esoteric world of cryptocurrencies and the larger, mainstream world of desktop computing have begun to merge with the partnership of Paris-based hardware wallet manufacturer, Ledger, and American multinational computer processor manufacturer, Intel.
By combining efforts and technologies, the two companies aim to pioneer a unique high security solution for using and storing cryptocurrencies. More specifically, Ledger's BOLOS operating system will be integrated with Intel processors' Software Guard Extensions (SGX) to physically limit access to sensitive data such as bitcoin private keys.
With the beginning of November comes the end of an era in China: bitcoin trading on exchanges is officially prohibited, as exchanges had to shut down their trading platforms.
This has prompted the largest Chinese exchanges to reinvent themselves while peer-to-peer exchanges such as LocalBitcoins are flourishing in the People's Republic.
Beijing-based exchange OKCoin will be rebranded as Bihang.com and offer clients a free online-wallet for all kind of digital assets. Some believe that OKCoin will be able to monetize some extra-services for users. The team in Beijing plans to reinvent itself as a service provider for blockchain applications and development, targeting both the Chinese as the international market.
Huobi will manage all kind of hard forks and chain splits for the users and position itself as an information center and service platform for blockchain technology. Beside that Huobi focuses mostly on its international business: Huobi Pro, an international platform for the trading with digital assets, is not affected by the shutdown and will expand its activity. Also Huobi plans to expand in other markets, like South Korea with Huobi Korea, or the USA and Dollar markets with Huobi USA.
Like OKCoin, Huobi also plans to enter the P2P market with a P2P platform based in Hong Kong, and to use it to re-enter the Chinese market.
Other than Huobi and OKCoin, the oldest platform for trading bitcoins against CNY, BTCChina, had to shut down its trade engine at the end of September. Since then the company rebranded as BTCC and shifted resources on its mining pool, on the international market and on its wallet software Moby.
Even though wash trading is illegal, Bitfinex continues to conduct it as a part of its operations, according to BitCrypto'ed, who has dedicated his time to exposing malpractice at Bitfinex. A two-part blog post outlines the suspected misconduct. The first part explains what happens and how the exchange benefits, with the second part touching on the reasons behind it.
The post includes a clear warning to traders:
"Their engine allowing wash trading is intentional, it's not something they forgot to put into their exchange platform for several years, and we're just now learning about it. It's not an oversight. It's deliberate, especially when they did not fix it after August 1."
Market manipulation increases with the surging volume of cryptocurrency market. The fact cannot be avoided that fraud continues to rise along with security measures.
Mining Vertcoin (VTC) has now become even easier. The Vertcoin Team has recently released a new update for the easy to use One-Click Miner. This update is said to put the software working smoothly and more efficiently.
In August, the Vertcoin team announced a new, easy-to-use miner to the community and released a Beta version, which was a huge step in bringing a lot more people to mining. However, the mining software was running cranky, and the team decided to do some changes to make it work better. After several complaints from the community saying that the One-click Miner (OCM) had too many issues, the development team put their hands to work to try and solve these problems.