Countdown to the Blockchain Fest Singapore 2023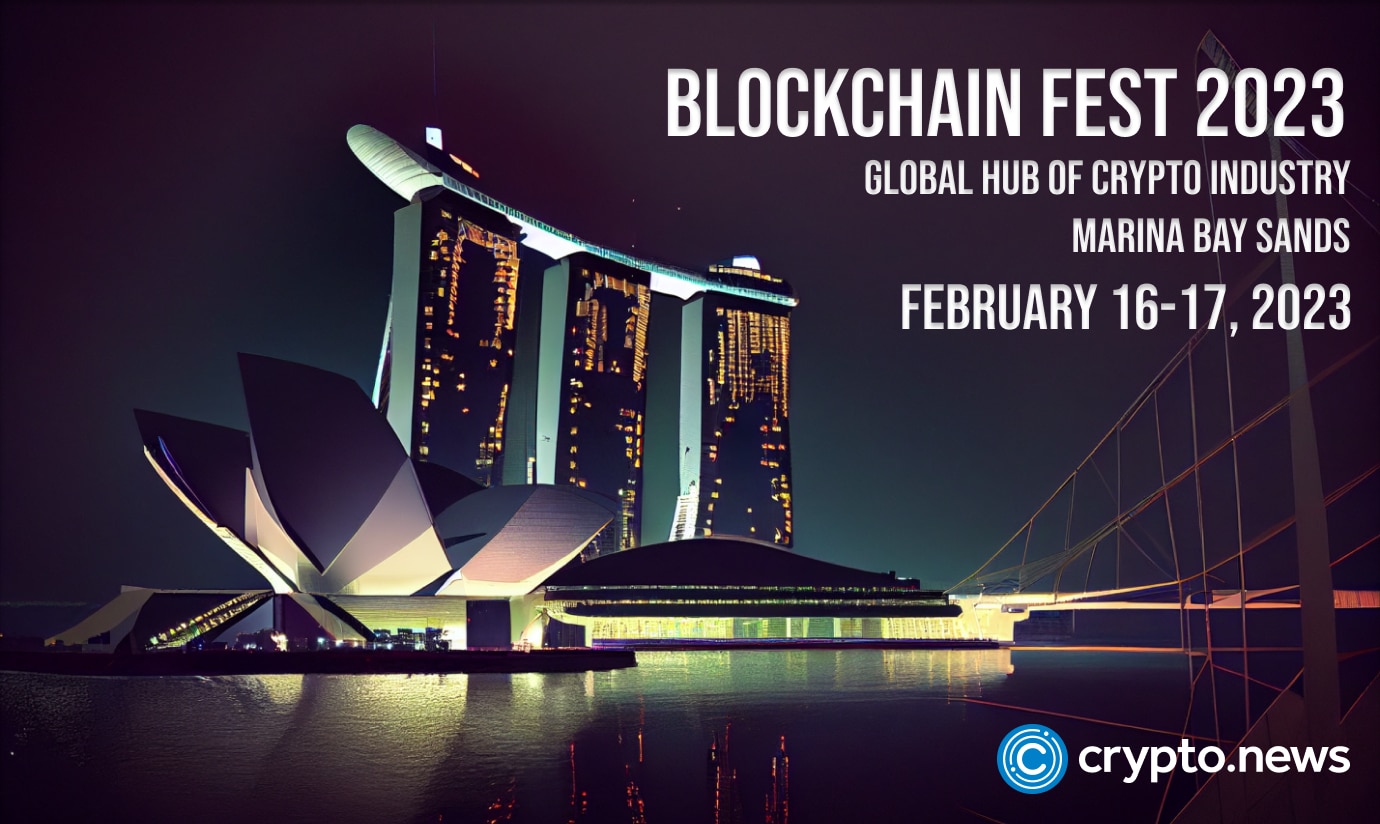 [Singapore] As the countdown to the highly anticipated Blockchain Fest Singapore 2023 begins, the countdown is officially on. FINEXPO, a company specializing in the organization of financial, trading, and international events, fairs, and expos, is proud to present the Blockchain Fest 2023 in Marina Bay Sands Convention Center, Singapore, from Feb. 16 to 17, 2023.
The event will gather leading professionals, global leaders, and beginners in the areas of blockchain, cryptocurrency, crypto exchanges, decentralized finance (DeFi), mining, payment
systems, and investment sectors.
As part of the event, there will be a pre-party for VIPs only at Maison Ikkoku on Feb. 15 from 4 PM. This exclusive opportunity will bring together development teams, traders, OTC providers, fund managers, centralized exchanges, DeFi protocols, and NFT artists to network and collaborate.
The two-day event will feature a packed schedule of keynote speeches and panel discussions addressing a wide range of topics related to the blockchain and cryptocurrency industry to provide a complete.
To view the complete agenda and register, visit https://blockchain-fest.asia/#a-agenda

On Feb. 16, the panel discussion topics included "Blockchain & Cryptocurrency Laws and Regulations 2023", "Cybersecurity and Custody of Funds," "True Digital Ownership with DeFi & NFTs," and "Will DEX Replace CEX?".
On Feb. 17, attendees can look forward to discussions on "GameFI 2.0 | The Next Big Thing In Crypto?" "Women in Crypto," "Navigating Crypto as a Venture Fund," and "What will the Future of NFTs Look Like for People and Companies?" Through a diverse lineup of panelists, attendees have the chance to gain knowledge and insights from various perspectives.
As part of the Business and VIP ticket holders, there will be networking opportunities available on 16-17 February between 10:00 and 18:00, in which attendees can engage in networking. As part of the Gala Dinner on Feb. 16 at 18:00, which is also available to Business and VIP ticket holders, the Gala Dinner will provide attendees with an opportunity to meet other industry leaders from around the world and create connections.
Various topics will be discussed during the conference, including blockchain applications in multiple industries, decentralized finance, the future of cryptocurrency, blockchain security and privacy, and much more. It is expected that attendees will have the opportunity to engage with industry experts and learn about the latest advancements in the field through interactive keynotes and panel discussions at the conference.
This year's event will be held at the Marina Bay Sands Convention Center, one of the most iconic venues in the heart of Singapore's central business district. This event will provide attendees with a platform to network with industry leaders, attend educational sessions, and discover new blockchain startups and solutions.
Everyone interested in investing and trading crypto, as well as anyone who is motivated to learn, is invited to attend this event.
Tickets are available in four different types: Expo, Standard, Business, and VIP tickets.
By registering at https://blockchain-fest.asia/#top, you can attend and meet the global leaders at the event with us.
Disclosure: This content is provided by a third party. crypto.news does not endorse any product mentioned on this page. Users must do their own research before taking any actions related to the company.