Dubai Crypto Venture Capital Thursdays series on Feb. 23 to host top speakers, venture capitals, and startups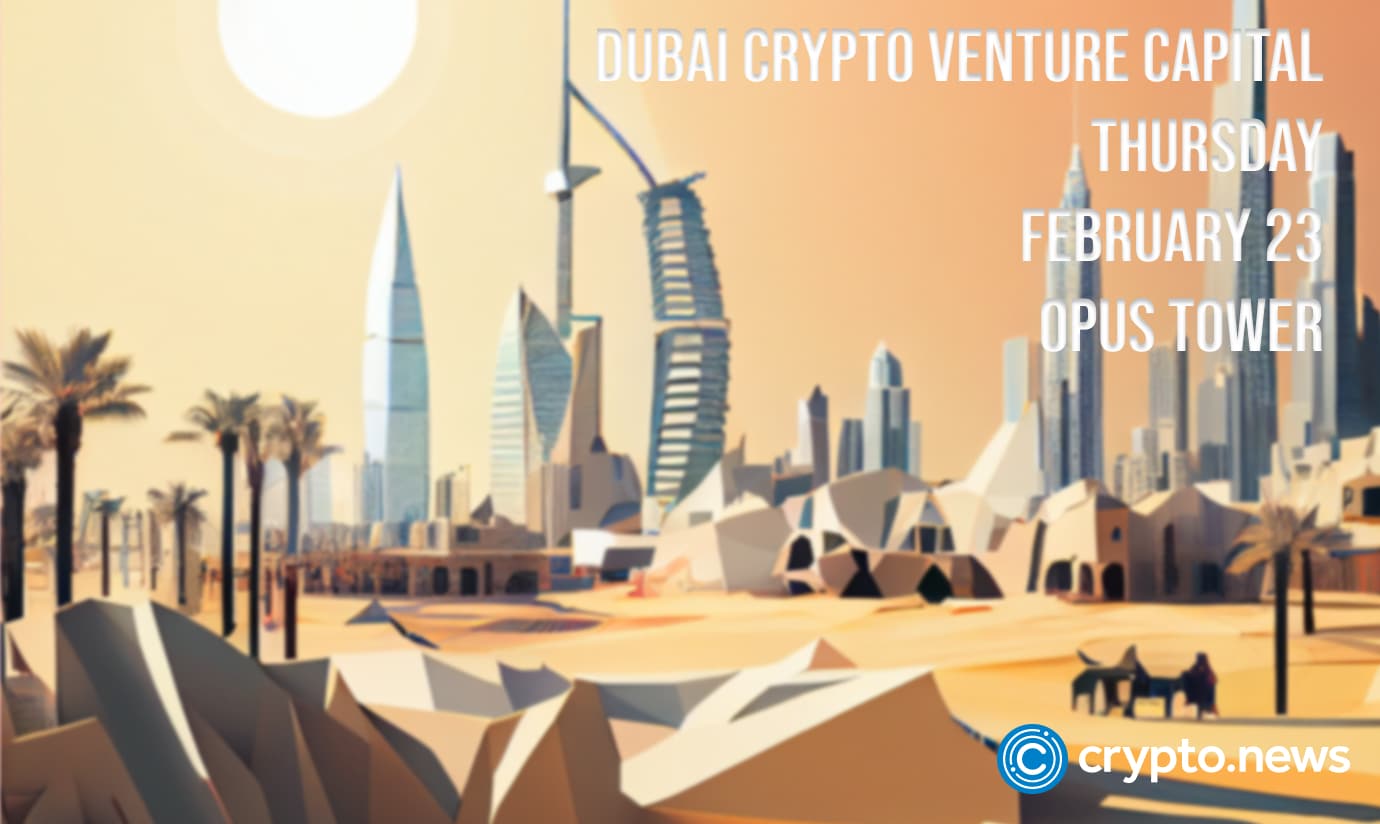 Dubai Crypto Venture Capital (DCVC) will host its latest iteration of the popular Crypto Thursday series, bringing together top executives, venture capitalists, and startups in the crypto space. On Feb. 23, the DCVC event will provide a unique opportunity for startups to connect with investors and venture capitals, expand their network, and make profitable investments.
The previous Dubai Crypto Thursday event on Jan. 19 saw over 1,000 online and offline registrations, with over 300 attendees and more than 50 investors. The event saw two startups, BantGO (Recycling) and RaysX (Platform), receive investment offers worth $300,000 each.
The latest iteration of the DCVC event will be even bigger and better, with the support of key partner TONBanking. The event aims to blur the line between the crypto and non-crypto worlds, bringing together a more diverse, international audience.
In addition to the business-focused Main Stage, the event will feature a C-Level zone for networking and insights and an Art zone showcasing NFT art, performance art, and music. The event will also feature a presentation of the Charity Kiss collection, where NFT artists will deliver their works inspired by Gustav Klimt's famous painting The Kiss.
The superior C-level area is designed for networking and insights. There will be representatives of large companies and top crypto segments:
Mykola Udianskyi;
Vazgen Yeghiazar of the RHI Club;
Wasim Al Imam of TONBanking;
Faraj Abutalibov the founder of a crypto executives community;
Tim Gareev who is the strategic mascot, Jeta; Andrey Trubetskoy, the CEO Jeta;
Jorge Sebastiao of EcoX;
And many others. 
Marat Minkin, the founder of Founder TONBanking and founder of the TONCOIN community in Dubai, said:
"We're busting into the future with our updated Crypto Thursdays. I'm thrilled to announce our return and cannot wait to see it alive. DCVC is a next-level event — exclusive, selective, and involving. It brings together different people — C-level, VCs, startups, and even artists. Still, DCVC is engaging for all of them. We've added the Art zone in this version so that the broader audience would join us. I'm proud to work on such a unique event and invite you to join our community"."
Three ticket categories will be available for purchase, ranging from the Business ticket to the Access All Areas ticket, which provides access to the C-Level area and the after-party.
DCVC is expected to attract over 50 venture capitals, more than 100 investors, over 120 crypto executives, and 12+ startups, with an investment pool of 652,000 TON or $1,5m. The event will be held online and offline at the Opus Tower on Feb. 23, 2023.
Join the Dubai Crypto Ventures Capital community and participate in this incredible event!
Website: https://tonevents.co
Tickets: https://www.eventbrite.com/e/dcvc-230223-dubai-crypto-ventures-capital-thursday-tickets-531965602437
Registration, application for participation [online/offline] via Telegram bot: @dcvcthursday_bot 
Disclosure: This content is provided by a third party. crypto.news does not endorse any product mentioned on this page. Users must do their own research before taking any actions related to the company.