e-Money to Integrate with Polygon to Deliver Dynamic Scalability in e-Money's Ecosystem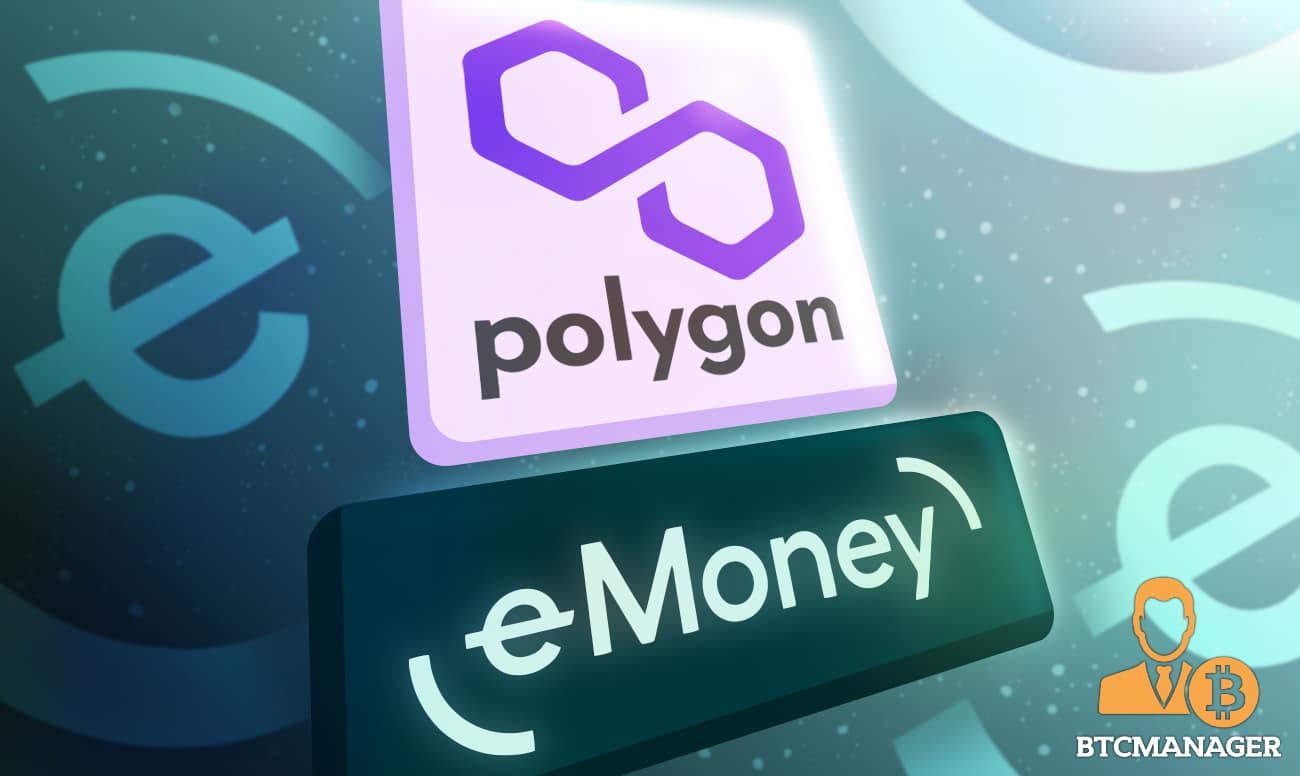 Denmark, 14th July, 2021. e-Money is thrilled to announce that they are integrating with the Polygon Network in Q3, 2021. Recently, acceptance of cryptocurrency payments and blockchain technology has been exponentially increasing throughout online platforms, as well as physical assets, solidifying the need for more stablecoins in other currencies. e-Money has successfully filled that gap with their European stablecoins.
The European stablecoins eEUR, eCHF, eSEK, eNOK & eDKK issued by e-Money will be available on the Polygon Network, encouraging more users within the region to join the network and use their native currency to facilitate transactions. These stablecoins are also interest-bearing, indicating that the interest earned on the underlying assets is reflected in the token's value, allowing token holders to make financial gains. Furthermore, quarterly audits by Ernst & Young will guarantee the integrity and transparency of e-Money stablecoins, ensuring Proof of Funds.
"We are very excited to integrate with the Polygon Network to bring e-Money's compliant European digital currencies to a broader audience.  We believe Polygon users will benefit from having European stablecoins, rather than just USD-denominated stablecoin options. This integration will enable e-Money to interact with real-world economies and DeFi applications, thereby expanding our user base and strengthening our position as a leading issuer of trustworthy stablecoins." said, Martin Dyring-Anderson, e-Money CEO, and Founder.

"e-Money is a leader in the European blockchain industry and we're excited to have e-Money issuing the eEUR, eCHF, eSEK, eNOK & eDKK on Polygon's high-speed infrastructure, bringing access to a wide range of DeFi and financial services and strengthening stablecoin usage on Polygon. Sandeep Nailwal, Co-Founder of Polygon
The integration of e-Money's European stablecoins will provide a significant addition to Polygon's array of stablecoins, as it will also facilitate faster integrations with European partners, who are looking for native currency options for the markets they operate in.
About E-Money
The e-Money protocol is built for the issuance of a range of interest-bearing currency-backed stablecoins reflecting various world currencies. Each token is backed by a reserve of assets denominated in its underlying currency. e-Money currently supports the Euro (EUR), Swiss Franc (CHF), Swedish Krona (SEK), Norwegian Krone (NOK), and the Danish Krone (DKK) with a host of additional currencies pegged for release throughout the year. The project is dedicated to total transparency with quarterly reserve audits performed by Ernst & Young.
Unlike most existing stablecoins which aim to maintain a static 1:1 peg with their underlying assets, the value of e-Money's currency-backed tokens continually shifts in line with the interest accrued on the reserve assets. This means that holders benefit from the interest accrued on their assets while they sit securely in your wallet. The e-Money blockchain supports instant payments at scale and includes a DEX for easy conversion between currencies. e-Money has already integrated with Ethereum and expects to integrate with Binance Smart Chain, Cosmos Hub, Avalanche, Polygon, and Elrond in 2021.
Telegram I Twitter I LinkedIn I GitHub
About Polygon
Polygon is the first well-structured, easy-to-use platform for Ethereum scaling and infrastructure development. Its core component is Polygon SDK, a modular, flexible framework that supports building and connecting Secured Chains like Plasma, Optimistic Rollups, zkRollups, Validium, etc, and Standalone Chains like Polygon POS, designed for flexibility and independence. Polygon's scaling solutions have seen widespread adoption with 450+ Dapps, ~350M txns, and ~13.5M+ unique users.
If you're an Ethereum Developer, you're already a Polygon developer! Leverage Polygon's fast and secure txns for your Dapp, get started here.
Website | Twitter | Reddit | Discord | Telegram | Community Twitter