HedgeUp and bitcoin cash looking up in 2023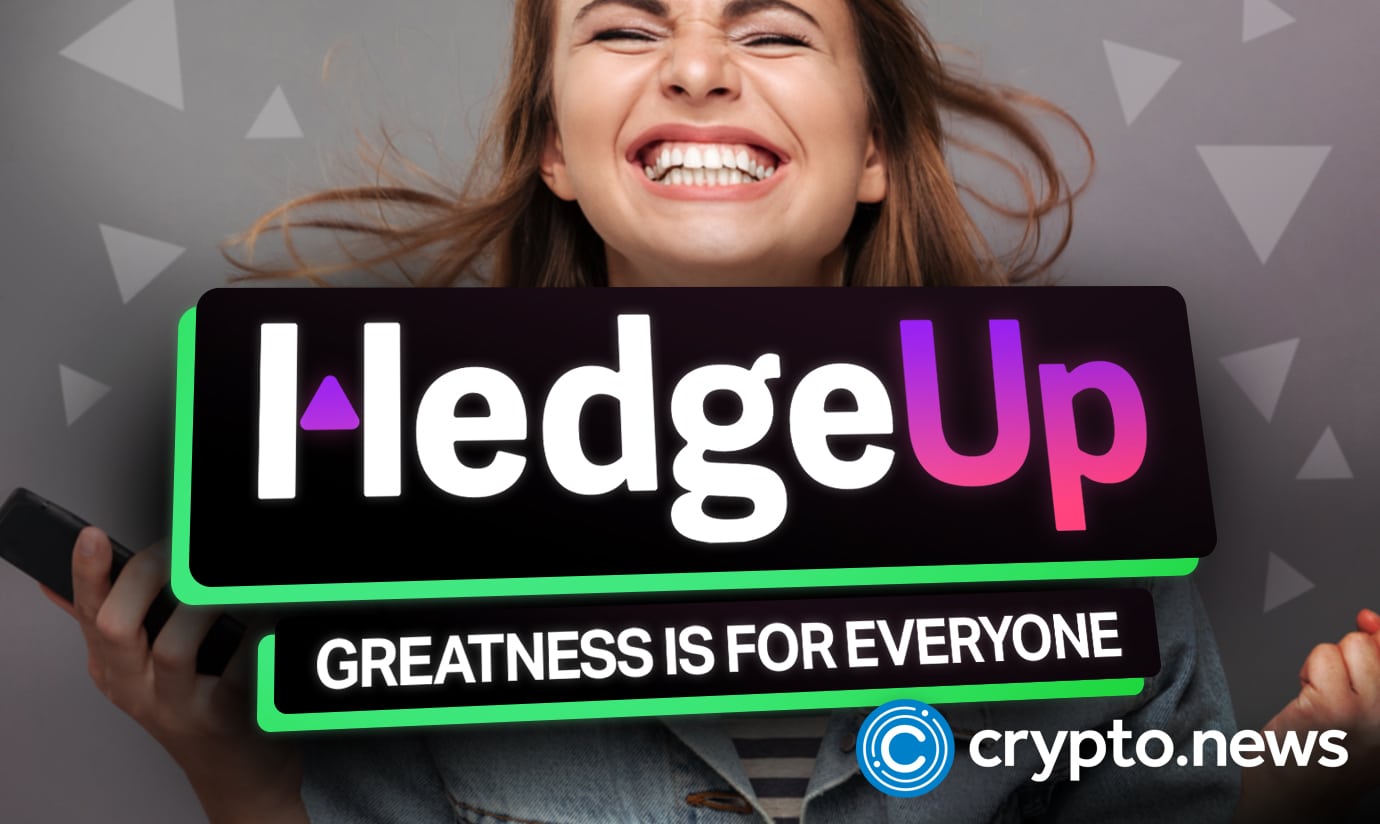 With over 22,000 different cryptocurrencies to pick from, it is difficult for investors and traders to make accurate predictions regarding what kind of cryptocurrencies will succeed or fail in the years to come.
After the bear market of 2022, many investors are looking for cryptocurrencies that can be bullish in 2023 and beyond.
As it is, HedgeUp (HDUP) and bitcoin cash (BCH) are firm, and could return a decent gain in 2023. This article explores these projects, assessing their features and potential. 
A case for HedgeUp in 2023
HedgeUp is a project that has been purpose-built to enable a more straightforward, alternative investment market through a marketplace that allows fractionalized investments within asset classes that are typically unreachable for many people.
HDUP, HedgeUp's native token, is the cryptocurrency behind the platform providing users with access to a wide range of products. The goal is to open up access to high-end luxury watches, fine art, gold, aviation, diamonds, fine wine, or anything else. This way, investors can diversify and enhance their portfolios, possibly boosting their growth across the market.
Anyone can buy and sell their HedgeUP investments within the non-fungible token (NFT) marketplace. With fractional NFT purchases, investors don't have to own the whole NFT. They can hold a small percentage, beginning with just a $1 stake in the HDUP cryptocurrency.
This simple entry to fractionalized investments can be bullish for HDUP, possibly powering it to greater heights in 2023.
Will bitcoin cash rally in 2023?
 Bitcoin cash is a peer-to-peer (P2P) electronic cash system that aims to enable people to transact value globally through its public ledger. It was created from an upgrade proposal of Bitcoin that aimed to increase the maximum block size from 1 megabyte to 8 megabytes. This led to what is known as a hard fork, which split the blockchain in two.
After Aug. 1, 2017, BCH was brought into existence. Since then, additional changes have been implemented to the network, such as a new difficulty adjustment algorithm, support for new opcodes, further expansion to the block size, and the introduction of Schnorr Signatures.
Bitcoin Cash uses the SHA-256d-based proof-of-work (PoW) consensus mechanism, similar to bitcoin (BTC), which makes it an appealing option to miners.
Since it is a well-established project, and after competing, blockchains such as ethereum (ETH) switched to proof-of-stake (PoS), BCH became an appealing option for cryptocurrencies that can be mined. This appeal can drive its growth further throughout 2023.
Making the right choice
Each cryptocurrency investor has their strategy and goals, but there is risk involved with any investment. HedgeUp and bitcoin cash look solid at the start of the year. There could be gains this year, going by current trends.
Bitcoin Cash maintains the tradition of mineable cryptocurrencies. It is seen as an option for those that aim to put their mining rigs to work. On the other hand, HedgeUp innovates by introducing new investors into alternative asset classes.
For more information on HedgeUP, click the links below:
Presale Sign Up: https://app.hedgeup.io/sign-up
Official Website: https://hedgeup.io
Community Links: https://linktr.ee/hedgeupofficial
Disclosure: This content is provided by a third party. crypto.news does not endorse any product mentioned on this page. Users must do their own research before taking any actions related to the company.