Huobi Delists Its HUSD, Will Convert Stablecoin to USDT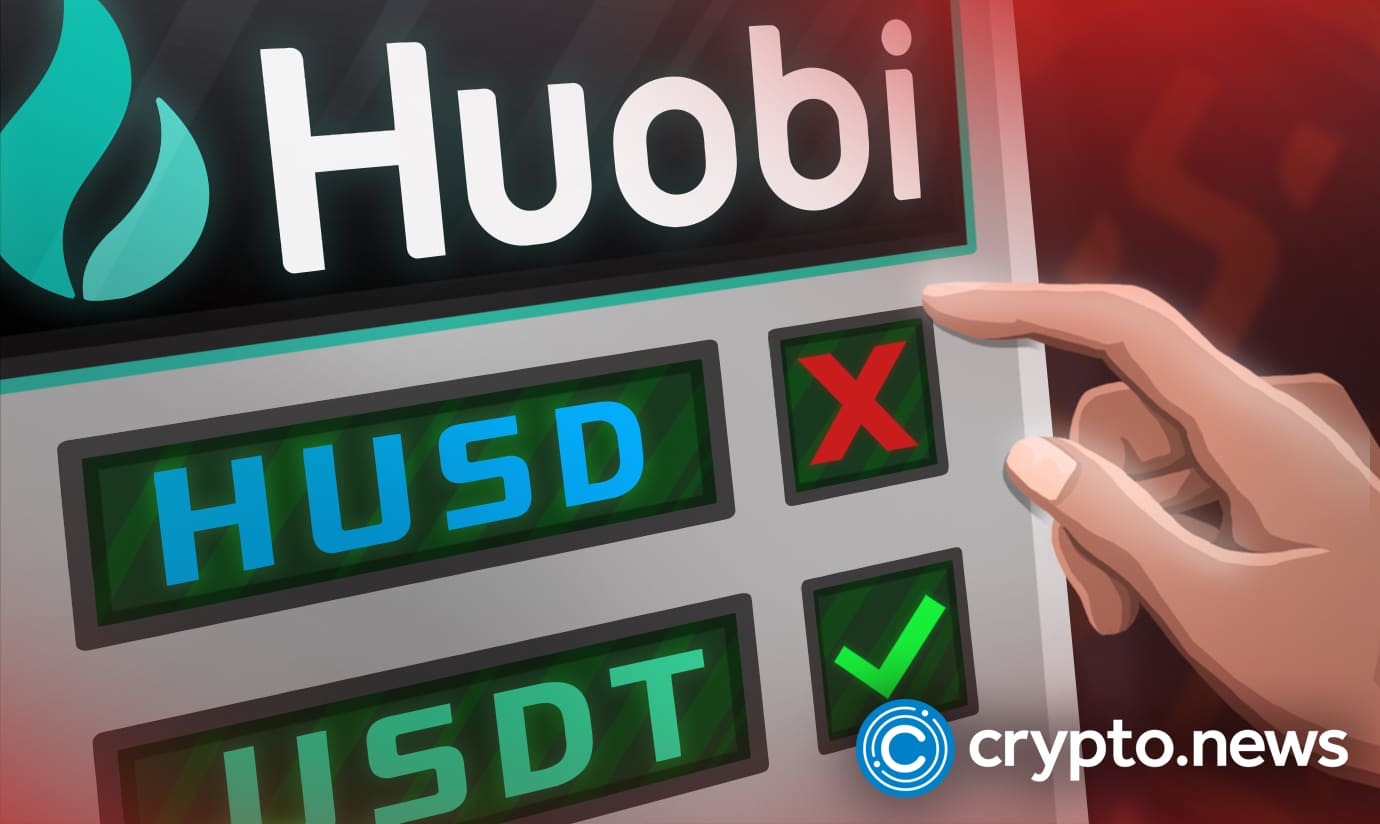 Huobi Global will delist the virtual asset HUSD and is planning to convert the assets to USDT.
HUSD in Another Headline
The native stablecoin of Houbi Global, HUSD, will be delisted and will convert all HUSD holdings to USDT. Earlier in the afternoon, the exchange staff made the statement. In its explanation, the exchange stated that the action was intended to be a part of its "constant efforts to encourage the healthy development of the blockchain ecosystem."
All users of HUSD balances will be changed to USDT at a 1:1 ratio as part of the delisting, starting on October 28, 2022, at 8 am UTC. By November 4, 2022, the exchange anticipates finishing the procedure.
August and October the most Depegged Months
To provide the exchange with a complete stablecoin solution, Huobi introduced HUSD in October 2018. The stablecoin, however, has had a difficult few months on the cryptocurrency exchanges, frequently losing its $1 peg.
At its lowest point on the DeFi protocol Curve Finance in mid-August, HUSD was only $0.89. It depegged as low as $0.964 in the middle of August, according to CoinGecko data, then again on October 20, to $0.962.
The move is part of a wave of mergers and maneuvering in the USDT-dominated stablecoin market, a $140 billion segment of the cryptocurrency market. But recently, a wave of immigrants has loosened that hold.
HUSD has struggled on its own. After its issuer temporarily lost the stablecoin's dollar peg and had an 8% price drop in August due to regulatory worries, "many accounts" were closed.
Could Justin Sun Be Planning to Have USDD Fill the Gap?
Most of Huobi's shares were sold by the company's founder to About Capital Management of Hong Kong earlier this month. As a result of the latter's alleged ownership by Justin Sun, the creator and former CEO of Tron, there is even more reason to believe that he is now Huobi's majority shareholder, a claim he has since refuted.
Justin Sun has also just joined the New Global Advisory Board for Huobi. The organization was created "to direct Huobi Worldwide's business development and its strategic roadmap for global expansion."
Since then, Huobi has pushed the adoption of Tron's USDD for new trading pairs, giving the impression that Justin Sun has huge intentions for the exchange's algorithmic stablecoin. The staff at @WuBlockchain also brought attention to this notion, stating that "Huobi will primarily promote USDD after being acquired by Justin Sun."
HUSD Stablecoin Trading pairs Taken off Huobi's List
On October 10, Huobi announced that it would remove several HUSD trading pairs from the exchange. This probably caused the loss of the $1 peg. Huobi may have delisted the coin for reasons currently known.
Binance declared that it would stop listing some trading pairs linked to well-known trade coins in September. Instead, deposits would be changed into Binance USD automatically. But this isn't the case here, and perhaps Huobi is just no longer giving the stablecoin top priority.
Already down to $0.96 is the HUSD stablecoin. Over $800,000 has been traded in 24 hours.