Integration Of B2Broker and Match-Trader announced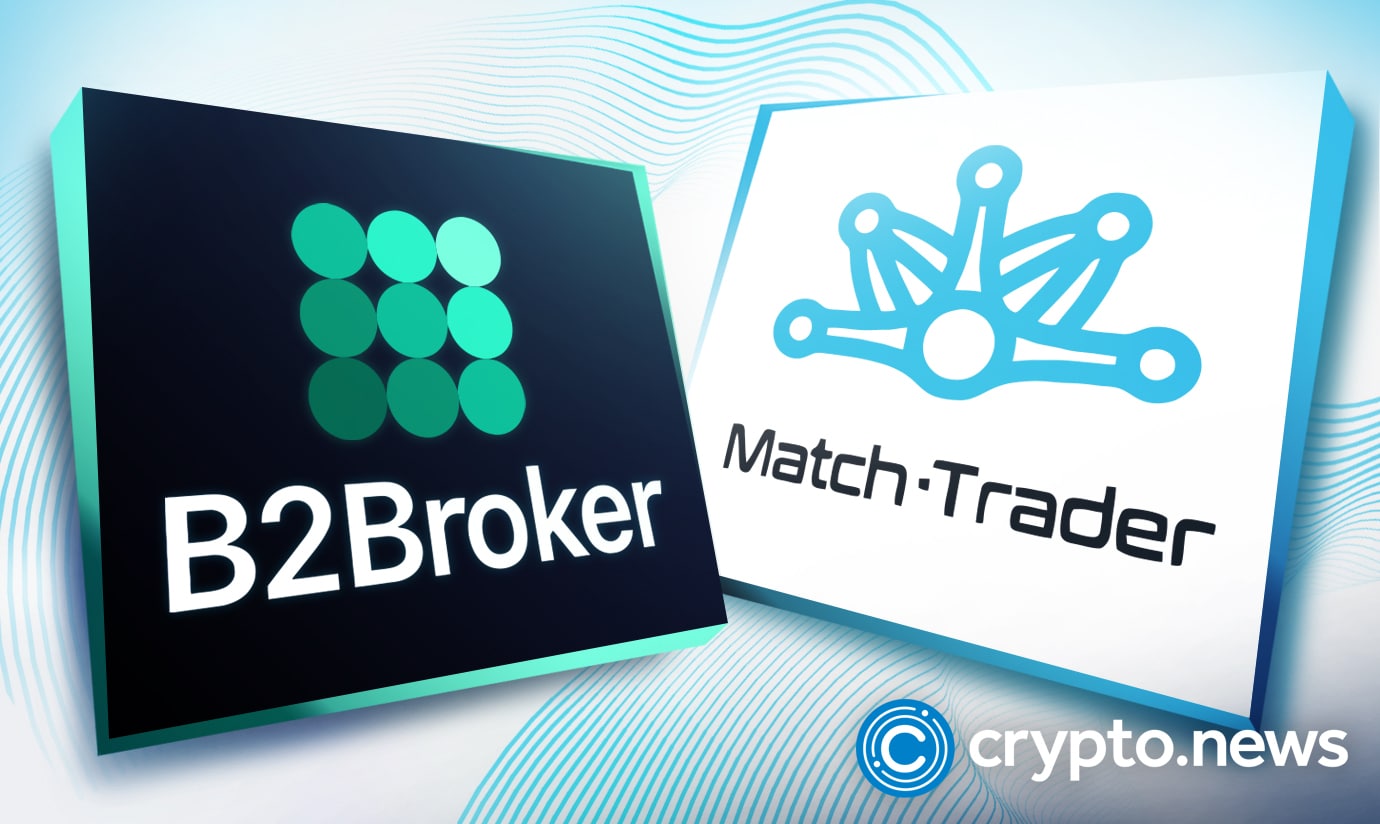 B2Broker, an FX and crypto industry leader, has just announced its latest expansion by integrating Match-Trader into its white-label liquidity offering. This integration gives clients a comprehensive solution with competitive prices and quick B2Core integration. This move followed the successful cTrader integration back in 2022. It shows B2Broker's commitment to providing customers with a flexible and reliable solution. With this integration, B2Broker continues to innovate and deliver its partners the best in liquidity and technology.
White Label Solution + Match-Trader
B2Broker recently released a new white-label solution to revolutionize the brokerage industry. The comprehensive Match-Trader experience consolidates all essential technology into one package, saving brokers high costs. This offering includes B2BinPay (crypto payment processing solution) and B2Core (CRM system) technologies and access to the Prime of Prime liquidity pool from B2Broker. With these features, the Match-Trader white-label package is poised to become essential to every broker's toolkit.
The Match-Trader white label makes online trading a breeze with its unique features and services. This package includes round-the-clock server support, 24/7 technical support, dedicated account managers, and our expertise to help navigate the brokerage space. Plus, training sessions are available to ensure that your staff is up to speed — making it easier for traders to navigate the ever-changing landscape of online trading.
The Match-Trader white-label platform offers businesses a competitive trading edge with favorable volume charges and no setup charge. Customers need only make an initial investment of the minimum liquidity fee for three months and benefit from a generous grace period of one calendar month plus the remaining days since set up on monthly minimum liquidity and connectivity fees. A great way to save on costs and access advanced trading features, the Match-Trader white-label platform is an excellent option for businesses looking to get ahead.
Match-Trader x B2Core integration
In addition to the white label solution, B2Broker offers a ready integration of Match-Trader with B2Core. Match-Trader will work similarly to other platforms inside the B2Core ecosystem. It implies that brokers may provide the same high-quality experience to their customers, with the ability to open/manage trading accounts directly in the trader's room and connect to the platform. Creating a margin trading account with Match-Trader through B2Core has always been challenging. All you need to do is register for a user account and link it to your margin trading account, and you are ready to trade.
Additionally, B2Core has added the Match-Trader section to its Platforms tab. This new addition provides users with various features and capabilities, including demo and live account creation and direct deposits, withdrawals, transfers, and internal transfers. Additionally, downloading the dedicated Match-Trader terminal is now easier than ever before. This updated system lets users make the most of their trading strategies in real time. And investors will appreciate these exciting new capabilities for sure.
Final claim
The brokerage industry is abuzz with news of B2Broker's integration with Match-Trader, a comprehensive online trading platform. As brokers look to provide their customers with the latest in cutting-edge technology, this powerful suite of tools allows them to maximize their advantage in the market. With an intuitive interface and advanced functionality, Match-Trader creates the perfect trading experience for businesses of all sizes.
Moreover, investors and traders can be geared up for the imminent integration of Match-Trader with Interactive Brokers (IB) programming. This move will open up a world of possibilities and allow traders to access user-friendly, professional-grade options tailored to fit their trading requirements. With Match-Trader's connection to IB, investors can now benefit from efficient trading solutions and are confident that their trading needs, regardless of size or complexity, will be met.
B2Broker is also introducing integration between Match-Trader and B2Core mobile, which will be available soon. It will allow brokers to provide customers with a seamless trading experience across both platforms soon. Don't miss out on this opportunity – check out B2Broker's Match-Trader white label system today.
Disclosure: This content is provided by a third party. crypto.news does not endorse any product mentioned on this page. Users must do their own research before taking any actions related to the company.