2022 Guide To Earning Your First Whole Bitcoin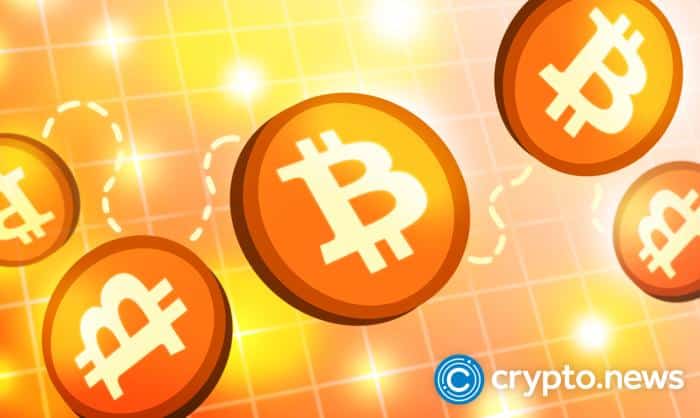 There are many ways for you to earn bitcoin online, such as staking and mining through crypto brokers, exchanges, and faucets.
Earning Your First Bitcoin
When the Bitcoin network first launched, there were only a limited number of ways to earn bitcoin. Back in the old days, you'd need to invest in a bitcoin mining rig, and those with the rigs with the most computing power had the fattest crypto wallets
Today, there are dozens of ways to earn bitcoins without having to spend on an expensive mining rig. You can earn by trading at a crypto exchange, playing games, or completing microtasks.
In this article, we'll go over the top 3 best ways you can earn yourself some crypto. Before you know it, you'll be well on your way to earning your first whole bitcoin.
Cryptocurrency Broker
Cryptocurrency brokers act in the same way as traditional brokers who provide investment advice. Your broker essentially manages the buying and selling of your bitcoins. You can hire a whole firm or an individual broker who acts as a middle-man between you and the cryptocurrency market.
Things to Consider When Choosing a Crypto Broker
Financial background: Consider brokers whose asset base is larger than your total investments. You don't want to entrust your digital assets to a broker whose capital base doesn't demonstrate that it can effectively manage the inherent risks in crypto trading.
Credibility and experience: Do a complete work background check on any brokers you're considering. Inquire about their credentials as a financial advisor, ask to see any relevant licenses and certifications, and read up on reviews online.
Customer service quality: Crypto trading follows a 24/7 online cycle. It's best to find a broker who can provide customer support round the clock.
Popular Online Cryptocurrency Brokers
Robinhood: Robinhood is one of the most popular choices for crypto brokers as it offers a 0% commission on trades. However, keep in that mind that you need to pay a built-in spread markup per trade.
Interactive Brokers: Interactive Brokers allows you to trade up to four types of cryptocurrency including Bitcoin and Ethereum. It offers among the lowest commissions on the market.
Charles Schwab: Charles Schwab is a full-service financial company that offers cryptocurrency brokering. It has no account minimum, and its commission fee is only $1.50 per contract.
Cryptocurrency Exchanges
Crypto exchanges are essentially marketplaces where you can buy and sell various forms of cryptocurrency. It can be used to trade other cryptocurrencies for bitcoin and vice-versa or purchase bitcoin directly using fiat currency. Once you've opened an account on a cryptocurrency exchange platform, you can purchase any type of crypto.
The market prices for these cryptos increase and decrease depending on availability, supply, demand, and other factors. Successful traders do extensive research and attempt to predict patterns, which they use as a basis for their buy/sell strategies.
Things to Consider When Choosing a Crypto Exchange
Reputation: The internet can be a notorious place for scams. It's extremely important to research whether the exchange you're considering has been involved in any shady dealings.
Volume: Being able to make sales of a certain value may often hinge on whether there are enough sellers on the market. For example, if you're looking to sell 100 bitcoins and there aren't enough sellers at the current listed market price, you may have no choice but to sell for lower.
Fees: Consider how much the crypto exchange will charge you per trade. Depending on your risk appetite, fees may affect your profits especially if it starts to pile up.
Tips for Crypto Trading
Research trading strategies: Cryptocurrency exchange market prices can get quite volatile. It's important that you research how the market is behaving before making any major decisions.
Diversify your portfolio: Even if you're gearing to earn your first bitcoin, it's still important to have your stake in multiple types of cryptocurrency. This will give you a certain amount of protection should bitcoin prices plummet in value.
Understand the risks: Understand that the crypto market can get quite volatile. So, make sure you have an effective risk management strategy to help minimize losses during bad market days.
Most Popular Cryptocurrency Exchange Platforms
Binance: Binance is the largest crypto exchange platform in the world in terms of trading volume. It's also known to have the lowest fees compared to other platforms.
Coinbase Exchange: Coinbase is an excellent choice for beginner traders. Its interface is very user-friendly, and it even offers educational material on crypto, blockchain, and other related topics.
Crypto.com: Crypto.com is known for its top-tier digital security. It is the first crypto exchange platform to be awarded the highest digital security level possible by the National Institute of Standards and Technology in the US.
Crypto Faucets
A crypto faucet allows you to earn crypto rewards by doing micro tasks like playing a game or watching a short ad. The rewards you can earn through crypto faucets are quite small, but they can eventually accumulate to something more substantial over time. This is where it takes its name from — it's a metaphor for how even a single droplet of water from a faucet can eventually fill a whole cup.
How Do Crypto Faucets Work?
You need to create an account on the crypto faucet platform and connect it to an existing crypto wallet. These platforms are typically available either on your browser or as a mobile app.
Once you have an account, you can start earning bitcoins by completing small tasks, such as playing simple games, reading articles, watching short videos, or completing surveys. You can also earn extra rewards by inviting a friend through a referral link or code.
For each task completed, you'll earn a small amount in satoshis, the smallest unit of BTC. Though it may not seem like much in the beginning, you can earn more substantial amounts in the long run.
Top Crypto Faucets
Coin Hunt World: Coin Hunt World is a geo-location game that lets you earn bitcoins by physically exploring the city you live in. However, it's not available worldwide yet – eligible countries include the USA, UK, Canada, El Salvador, Philippines, and Malaysia.
Cointiply: Cointiply lets you earn crypto rewards by completing "Cointiply Quests", which typically come in the form of taking surveys or watching videos.
Bitcoin Aliens: This is an adventure game available on mobile that allows you to earn satoshis with each milestone reached in-game.
Other Ways to Earn Bitcoin
The ways to earn bitcoin listed above have a generally low barrier to entry. That said, there are other ways to earn, especially if you have more assets. Let's take a look at these alternatives below:
Bitcoin Mining
Bitcoin mining was one of the few surefire ways you could earn bitcoin during the earlier days of cryptocurrency. Those with coin miner systems compete with each other to solve mathematical problems or equations that are used in the verification of transactions on the blockchain. When a crypto miner successfully solves one problem, they are awarded a predetermined amount of bitcoin.
The computational problems involved in bitcoin mining are extremely complex. This means that the more powerful the specs your system has, the faster it'll be able to solve a problem.
Bitcoin miners help support the framework on which cryptocurrency operates. They lend computational power to solve the complex problems required for secure and transparent crypto transactions. Since all the work is being done by the system itself, bitcoin mining can be a lucrative way to earn passive income.
Successful bitcoin miners invest in systems with high-tier components. Typically, a coin miner system will include multiple gaming GPUs and a reliable cooling system – this can get expensive.
Crypto Staking
When you've already earned some bitcoin, you can stake it to earn a bit of passive income and/or protect it from the rising inflation rate. When you deposit your bitcoin to a staking account, the platform will use your crypto in the blockchain verification process. You are essentially lending your funds to maintain the security and transparency of the crypto framework.
This process is similar to the high-yield savings accounts most banks offer. When you deposit fiat currency into these accounts, the bank uses it to invest or lend to others. Then, after a certain amount of time has passed, the bank will reward you with your deposited amount plus interest.
However, compared to crypto staking, the returns for high-yield savings accounts are minuscule. Crypto staking returns are generally much higher and more profitable. The catch is that, like with most passive investments, you need to stake a sizable amount of bitcoin to earn a decent amount.
Where to Store Your Earned Bitcoin
Your bitcoin is only as safe as the wallet or platform that holds it. As cryptocurrency technology evolves, there will be more ways for people to try and exploit it. So, it's important to research how you intend to store your bitcoin.
Hot Wallets
This type of wallet stores your crypto token online. It's highly convenient as you can access it on desktop, mobile, or tablet. However, since it's connected to the internet, it has a higher risk of being hacked.
The most popular hot wallets include:
Coinbase Wallet: Coinbase Wallet is a very popular choice regardless of which cryptocurrency you favor. It stores your wallet's private keys on your mobile device instead of on a crypto exchange.
Trust Wallet: Trust Wallet is an open-source crypto wallet app supported by Binance, a highly reputable cryptocurrency exchange platform.
Huobi Pro: Compared to other wallets, Huobi Pro's design is much more complex. While its UI feels a bit more formal, it does come with more highly comprehensive features.
Cold Wallets
This type of wallet is stored purely offline. There are two types of cold wallets: paper and hardware. As its name suggests, paper wallets are literally pieces of paper (or other physical materials like card or glass) with your private keys printed on them. Hardware wallets, on the other hand, are small physical devices that store your private keys.
Cold wallets are the crypto storage option that is least vulnerable to cyberattacks. However, it doesn't protect you from misplacing or damaging the paper/device or losing the key code.
Because of this, we highly recommend using hardware wallets instead. The most popular hardware cold wallets include:
Trezor: Trezor is arguable among the best cold wallets on the market. It supports over 1800 types of cryptocurrency and offers multiple levels of security.
Ledger: Ledger offers a combination of hardware wallets compatible with its mobile app Ledger Live to keep your crypto secure. The hardware itself looks very similar to a pen drive, so it's relatively inconspicuous.
Cool Wallet Pro: Unlike most cold wallets, Cool Wallet Pro sports a design similar to a debit card. It fits right into your wallet like your other cards, but it also has a small screen that displays transaction info.
Keep It on the Crypto Market Exchange
Alternatively, you can opt to not use a wallet at all and just leave your crypto on an exchange platform. However, do note that your digital assets are only as safe as the security of the platform it's in. So, make sure you research which exchange platforms are the most secure to protect your investments.
Final Thoughts
There are tons of ways to earn bitcoins nowadays. Some have a low barrier to entry, like crypto faucets that help you earn with minimal effort. If you're more serious and committed to earning your first whole bitcoin, hire a broker or take your chances on the cryptocurrency exchange platforms.
That said, we recommend that you do a bit of everything. When it comes to growing your crypto assets, it's important to diversify your portfolio. This ensures that you balance the risks and rewards of investing both your crypto and your time.