Litecoin: Supplanting Bitcoin as the Cypherpunk Cryptocurrency?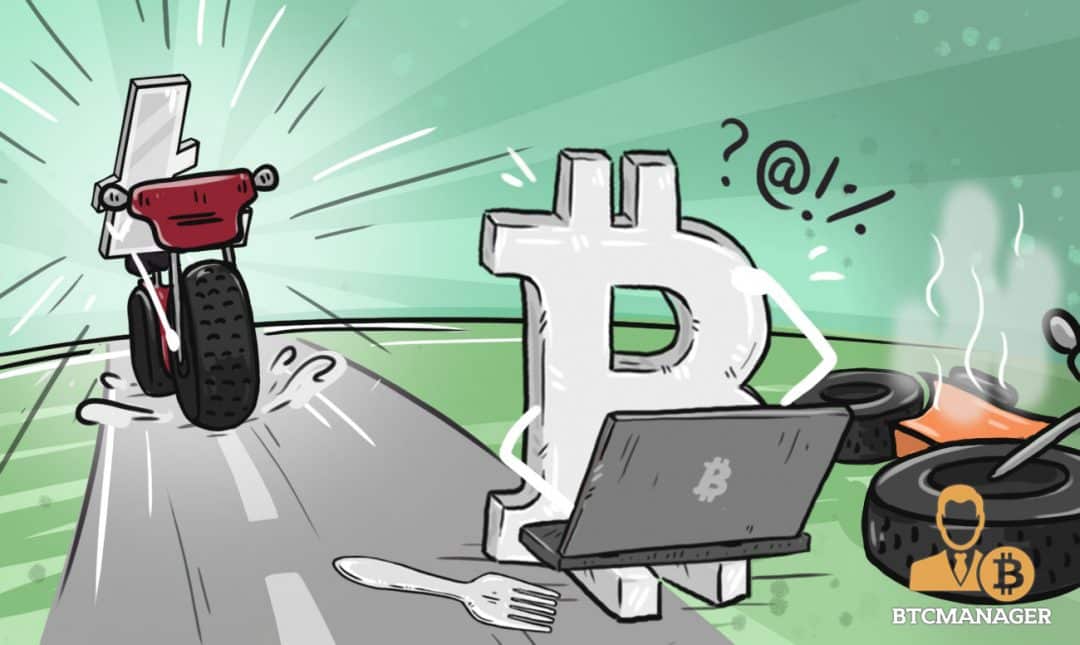 June 2017 may be remembered as the month that the true 'flippening' occurred, from bitcoin to litecoin, precipitated by a Prague-based group promoting and educating the public on crypto-anarchist philosophy.
The stakes are high for bitcoin, with a face-off between Bitmain, threatening a User-Activated Hard Fork, and those seeking to eliminate miner influence over SegWit adoption, the User-Activated Soft Fork crowd. The standoff threatens to split the network in two, with the UASF-styled 'independence day' slated for August 1. The inertia regarding progress in the scaling debate is also causing a cost for users in terms of higher fees for a bitcoin transaction.
The chart below shows that since June 2016, the median transaction fee for bitcoin and litecoin have decoupled, with a $2 differential. Consequently, we are seeing a higher average transaction value over the same period for litecoin, with spikes visible from April/May 2017 onward.


As a fork of bitcoin and pursuing an independent path, litecoin could supplant the world's most valuable cryptocurrency as it gains traction in terms of adoption, trading interest and development activity.
Litecoin Exceeds Bitcoin on Volume Terms

The altcoin recently saw a large influx of volume, pushing above 50 percent of the cryptocurrency's market capitalization and above trading volumes for bitcoin on June 17. At the time of writing, the past 24 hour volume for litecoin and bitcoin are similar, roughly $1.2 billion. The lion's share of volume is coming from two Chinese exchanges, Huobi and OKCoin, accounting for over 40 percent of the volume over the past 24 hours.
Litecoin's 24hr volume is over 50% of its marketcap. That's unheard of in crypto space as most coins are around 1%. People love trading LTC!

— Charlie Lee Ⓜ️🕸️ (@SatoshiLite) June 18, 2017
Also, looking at the charts below we see the highest ever volumes on a weekly basis for several exchanges such as Kraken and Coinbase. Trading volumes precede price action, suggesting litecoin will continue to experience appreciation. Higher volumes also tell us that more investors are becoming interested in litecoin, more so than any other cryptocurrency.
For the week beginning June 12, the market has managed to break the previous all-time high at $36, opening up the Fibonacci extension level at $56.47. We also see that the bullish break was also signaled by the weekly close for the week beginning June 5, where the market broke the resistance provided by the lagging line (purple, highlighted above), which BTCManager stated would be a key buy signal in our cryptocurrency report on June 6 .
The uptick in trading volume, along with the price rise, has seen litecoin knock Ethereum Classic from the number four spot on the market capitalization ranks. According to CoinMarketCap.com, litecoin's market cap is now $2.38 billion versus Ethereum Classic's $2.04 billion. 
The influx is expected to continue in June, as Bitstamp, the first fully-licensed bitcoin exchange in the EU and one of the biggest in the world, will introduce LTC/BTC, LTC/EUR and LTC/USD trading pairs on June 19.
ELECTRIFYING: #Litecoin launch on https://t.co/KveLmUWpd1 on Monday, 19th June. Get ready to trade #LTC pic.twitter.com/B3HELtxZB8

— Bitstamp (@Bitstamp) June 15, 2017
Looking at the long-term technicals, that is the monthly price action, we see that LTC-BTC has a strong chance of continuing its upward trend. A bottom was formed in March, as indicated by the lagging line (purple), which formed a trough and the market closed above the conversion line for April 2017. The market now lies immediately below the base line, providing resistance at 0.0177. A close above this level for June's candlestick will point to further appreciation and a test of resistance at 0.0322. Also, notice that the Awesome Oscillator has moved into positive territory for the first time since August 2014, indicating that long-term bullish momentum is just beginning to take hold.
Litecoin Welcomed by Bitcoin Pioneers

On top of investor and exchange adoption, litecoin is also seeing interest from a cypherpunk grassroots movement and a major hardware wallet provider, Trezor. Paralelní Polis, which hosts the Institute of Cryptoanarchy and the Hackers Congress every year, as well as Bitcoin Coffee, is probably the most significant actor in this true 'flippening'; maybe we should forget ether and come to terms with litecoin becoming the cryptocurrency that may stand dominant above bitcoin?
In a blog post explaining the switch over from bitcoin to litecoin, the coffee house started with one clear rule; no fiat currencies. They started with the goal in mind to show people that cryptocurrencies are easy and that they are the future. But, they argue, bitcoin transactions are now too similar to traditional banks in terms of fees. The rising fees have forced their hand into deriving their own solution for regular customers:
"We even had to develop our own application for members and regular customers, which would buy credits for bitcoins and then spend those credits to avoid bitcoin fees."
Resonating with many other voices in the community, they also explain that the risk that UASF bears is perhaps too high, as a chain split would be unavoidable if the support for UASF is low; they state, "it is unacceptable for any business running on bitcoin."
Because litecoin is so similar to bitcoin in terms of its codebase, it is easy for businesses to switch. Also, Paralelní Polis argued that with the SegWit activated on litecoin, this makes the cryptocurrency the most technologically advanced at present, with developers able to deliver new scaling services such as Lightning Network, echoing the sentiment from Bitstamp.
The post concludes that bitcoin will still be accepted as a payment method, but will not be their recommended method. Instead, they will educate and promote the use of litecoin as a cryptocurrency that better fulfils the role of a payment, rather than as a store of value: "We encourage everyone to start accepting Litecoin, as it is now one of the main ways to regain financial and economic freedom."
The Hackers Congress 2017 will focus on financial liberation, held in October, and it will be interesting the see how much litecoin will have developed by then. Given that it is being praised by such a forward-thinking and pioneering group, we could be witnessing a radical new shift in the cryptocurrency world. As reported by BTCManager in September 2016, litecoin is actively pursuing anonymity features with Confidential Transactions and this could be one of the developments that we could expect in 2017.
June 2017 also sees the announcement of the first hardware wallet to support SegWit, following closely from Trezor's integration of litecoin. With a cold storage option, this should serve to continue to increase demand for the crypto-asset.
A Boost for Development Activity
Litecoin's drive forward is also being galvanized by greater development activity. On June 9, Charlie Lee announced he would be leaving Coinbase, a large successful company, to work on the altcoin full-time. Shortly afterward, the Litecoin Foundation received a donation for approximately $14,000.
Today's my last day at @coinbase! I will miss working with you all.

I'm going to shift my focus to Litecoin now. To the moon! 😁 pic.twitter.com/Ys9dZwtTFO

— Charlie Lee Ⓜ️🕸️ (@SatoshiLite) June 10, 2017
Who made this donation of 438 LTC to @LTCFoundation? Thanks a lot! pic.twitter.com/E1TDdM9kuW

— Litecoin Foundation ⚡️ (@LTCFoundation) June 11, 2017
As well as Lee's full focus on the cryptocurrency, Bcoin, the alternative full node implementation of Bitcoin, announced June 18 it had ported litecoin, allowing developers to build applications using node.js. The motivation behind the move was due to demand from users and again the similar codebases. Lcoin, as it will be known, will diversify the ecosystem and bring on board a greater number of businesses and developer participation:
Contest: First litecoin dev to create a simple hosted wallet service using Lcoin gets 1yr of free @buyvpnservice https://t.co/Of3p7VtJ54

— bcoin (@Bcoin) June 19, 2017
So there we have it, with leaps of progress in adoption, litecoin may end up supplanting bitcoin as the cypherpunk cryptocurrency and surely has a promising road lying ahead of it. Particularly, with adoption by Paralelní Polis, a group at the forefront of the rise in crypto-anarchism, litecoin may have strayed into a pivotal time regarding its future success.
In the bigger scheme of things, the leaders in crypto-anarchy will set the trends and the way for us all in years to come. As The Guardian's Jamie Bartlett writes on June 4, exploring the global political landscape, rise of populism and the eventual rise of crypto-anarchism as a viable political alternative:
"More likely is that groups like the Prague crypto-anarchists, who will embrace the changes and experiment with entirely new forms of governance and society, will emerge. After all, they were right about digital technology, about surveillance and bitcoin and most of us ignored them."
If they were right about bitcoin, chances are they will be right about litecoin too.