Movie Studio Release NFT of One-Sheet for I'm Your Man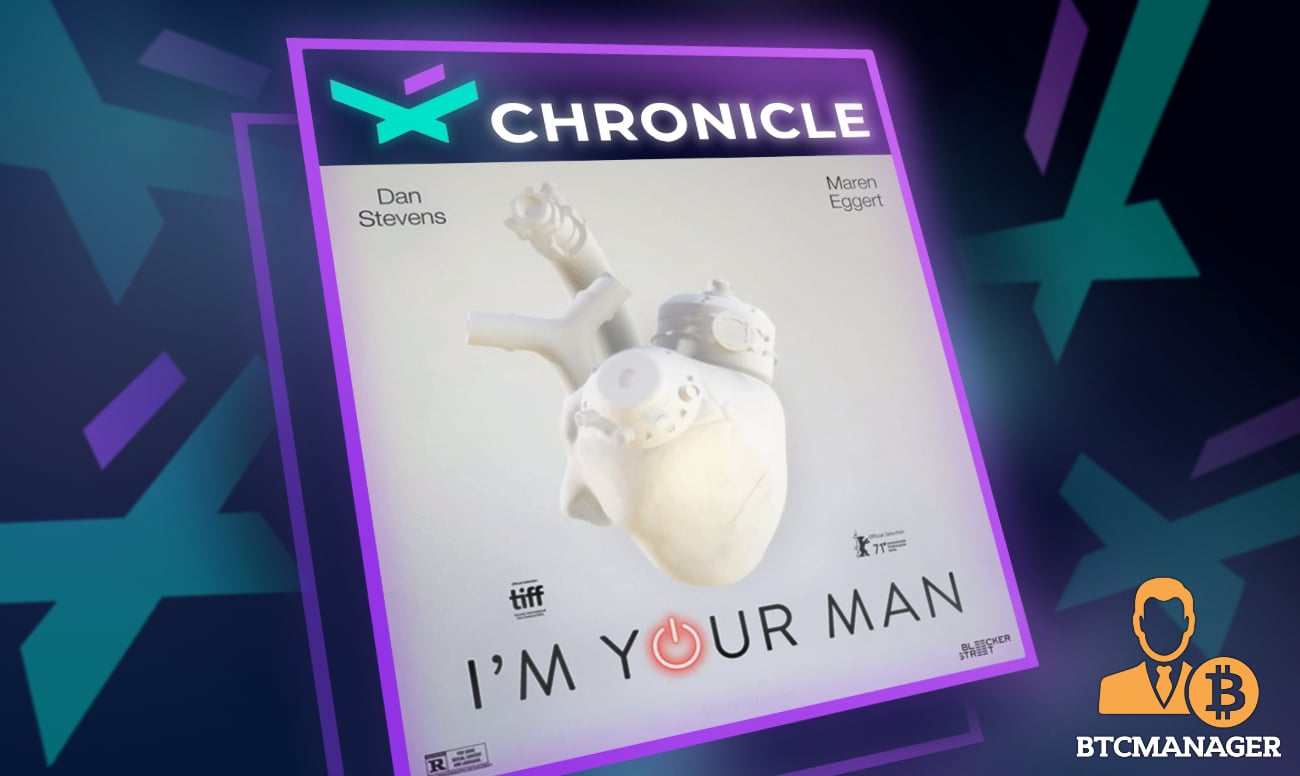 Film studio Bleecker Street is first to release a one-sheet as an NFT for the upcoming movie, I'm Your Man, on the Chronicle Platform
NFT's made a tremendous splash through the course of 2021 in the form of ownership of JPGs, MP3s, videos, GIFs, tweets, and so much more. The road to these unique digital assets becoming mainstream is less known, as it got its start in 2012. The idea at the time was to use the blockchain for assets like digital collectibles, coupons, property, company shares, and more. This idea has since taken on many forms, to the point of video games and rock albums being released as NFTs. 
The latest "first" in the NFT world is underway. This time, it is in the form of a teaser one-sheet for the upcoming release of Bleecker Street's new film, I'm Your Man. This will be on Chronicle, a studio and digital collectables marketplace platform built entirely by and for fans, in the form of a sweepstakes. The sweepstakes to promote I'm Your Man will be the very first NFT issued on the Chronicle platform.
"Chronicle's mission is to build an accessible marketplace for the top brands to offer digital collectible NFTs to their fans," says Tim Glover, co-founder of Chronicle. "We are excited to partner with Bleecker Street to bring the art for the I'm Your Man one-sheet to life through the creation of this unique NFT which anyone has the opportunity to win."
About I'm Your Man
I'm Your Man, is a German film (originally titled: Ich bin dein Mensch) with English subtitles. It blends elements of science fiction, comedy, and romance. The movie stars Maren Eggert as Alma, a scientist coerced into participating in a research study where she has to live with a humanoid robot tailored to be her perfect companion. This is where Tom (Dan Stevens) comes in. Tom is a charismatic machine in human form created solely to make Alma happy. The film questions what love actually means in the modern age and uniquely blurs the lines between machines and humanity. 
Eggert is also known for her roles in the German films Aimée & Jaguar, and Liebesleben. Earlier this year, she earned the award for best "non-gender" performance (the replacement for the best actor and best actress awards) for her acting I'm Your Man, in the Berlin International Film Festival. I'm Your Man had its world premiere at the festival, and ended up becoming one of the leading crowd-pleasers at the event.
Stevens is also known for his previous works, notably playing the Beast in Disney's live-action adaptation of Beauty and the Beast, and the role of Matthew Crawley in the ITV series Downton Abbey. 
The film, directed by Maria Schrader, will have a U.S. release date of September 24th, following its premiere in North America at the Toronto International Film Festival. Schrader is also known for directing the Netflix miniseries Unorthodox, which earned her a Primetime Emmy for Outstanding Directing for a Limited Series. 
Looking ahead
Chronicle's marketplace, which is launching in Q3 2021, will offer premium licensed digital collectibles from the world of film, TV music, sports, arts, culture, and beyond. Additionally, NFTs on the Chronicle platform are eco-friendly, rejecting high-energy "Proof of Work" systems. In response to growing global environmental concerns, Chronicle is "Proof of Stake" driven, committed to achieving zero net CO2 emissions. This will be done by utilizing the Aurora/NEAR Protocol blockchain solution and supporting tree planting projects worldwide.
Despite the array of applications for NFT's, it's safe to assume that we as a collective have barely scratched the surface in terms of its power and potential. According to a recent Forbes article, $174 million has been spent on NFTs since November 2017. The popularity of NFT's, combined with their long-term value, indicates that it's more than a bubble. In this increasingly digital, post-pandemic world, new and exciting applications of NFTs will continue to sprout, and investors will enthusiastically embrace each iteration.
For more information on the, I'm Your Man sweepstakes check out Chronicle's platform.