Pele NFTs to Drop on Ethernity Chain from May 2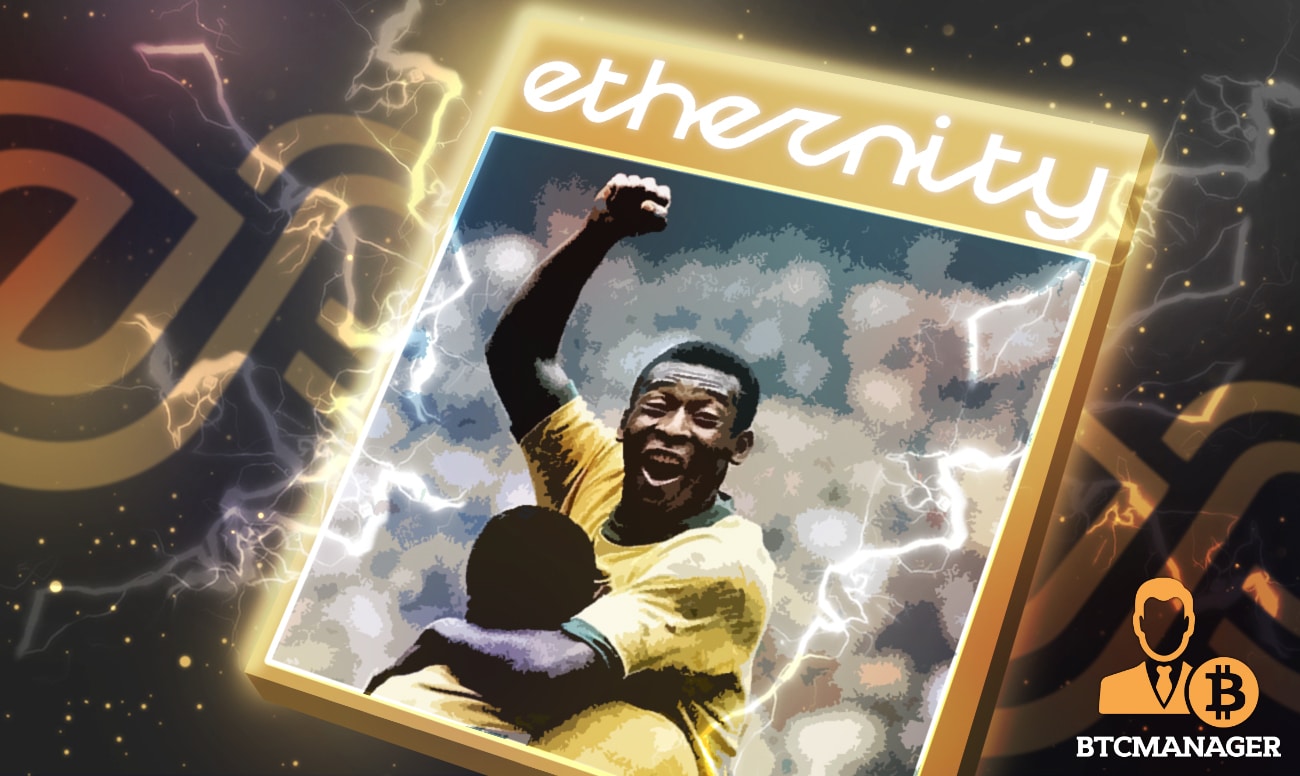 NFTs is about capturing value of precious moments compliantly. Ethernity Chain does this brilliantly, this time by dropping a new collection of NFTs honoring the legacy of the iconic Brazilian soccer player, a world cup winner, and a legend in soccer halls, Pele.
Pele is coming to Ethernity Chain
An announcement from Ethernity Chain—a differentiated platform introducing authenticated NFTs, on Apr 16, said Pele's collections would be available in two weeks from May 2.
– 1,282 goals 
– 1,363 games 
– The highest valued soccer trading card.
The first authentic #aNFT ⚽️

The GOAT @pele May 2, exclusively on https://t.co/WW1lmvXLUK 🔥 pic.twitter.com/kAsAKdZXqr

— ETHERNITY (@EthernityChain) April 16, 2021
These valuable collections are created by Kingsletter and Visual Lab–leading Australian Concept artists. It is the first time the legend's trading cards have been released digitally.
The second batch will be Pele NFTs will be released later this year.
It is easy to see why the physical vintage cards of Pele are worth millions and considered the most valuable in the world.
Pele's Golden Records make his NFTs Valuable
Pele is award-winning and honored severally in the last 60 years or so.
Together with Diego Maradona, they are joint winners of the FIFA's Player of the Century award.
He was also instrumental in three World Cup-winning teams of 1958, 1962, and 1970.
Besides, he was unplayable during his playing years. Thus far, he remains the highest goal scorer in Brazilian national team history, scoring 77 goals in just 92 appearances.
Before retiring in 1977, Pele scored 500 goals for Santos—a professional football club in Brazil.
For this, Pele is adored and endeared by football fans and bodies globally for his contribution to Soccer and tireless efforts in eradicating poverty. Through the Pele Foundation, the mega football star is empowering Children battling poverty.
For this reason, 90 percent of Ethernity Chain's sales will directly benefit the charity.
Jason Heuser's NFT Collections Sold out for Big Dollars
This collection will be the second following Ethernity Chain's partnership with Jason Heuser, which saw the drop of the "Welcome to the Internet" collection.
It was an immense success since the "Legendary Edition NFT" eventually sold for $162k from 22 bids. The NFT hard a reserve price of $35k.
Other NFTs—the "Limited Super Edition" sold for $173,824 while the "2012 Original" was scooped for a whopping $224,800.