SegWit Gaining Ground, Ethereum in State Clearing: BTCManager's Week in Review Nov. 28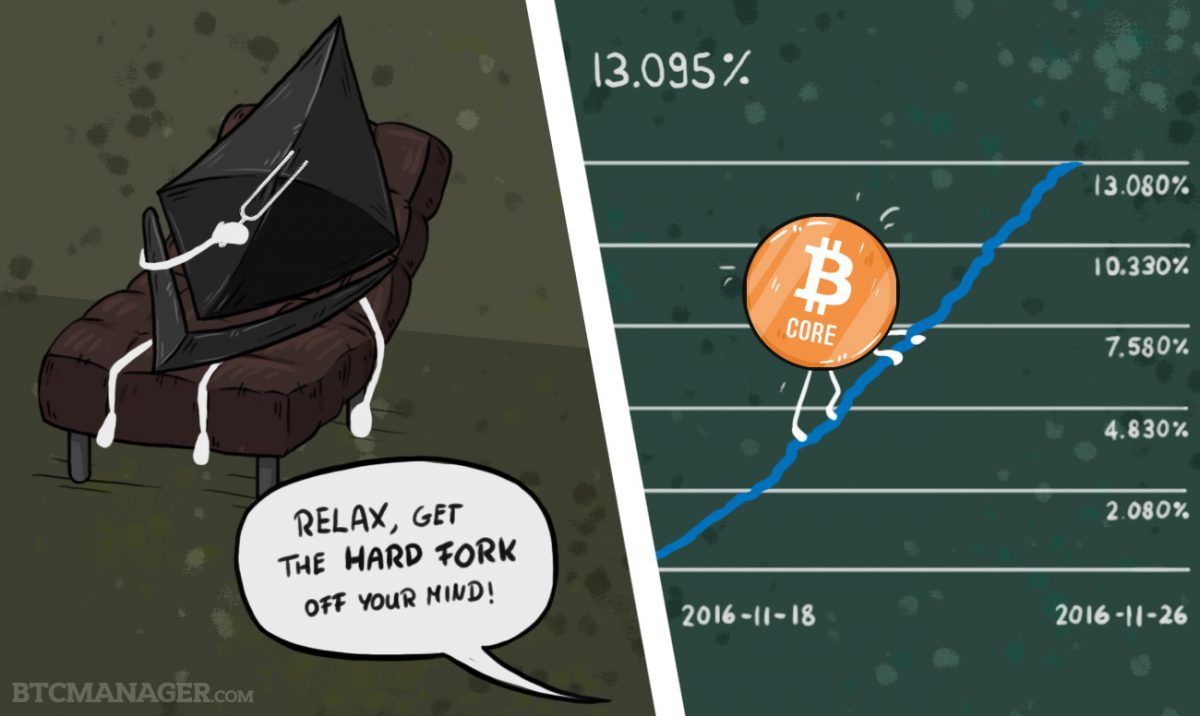 Bitcoin Core's scaling solution is making headway, with the percentage of blocks signalling SegWit support reaching for 20 percent, as shown below, with pools such as Slush, BitFury and YourBTCC supporting the protocol change. Bitcoin users may have noticed that fees are higher than usual, attributed to the ongoing conflict in the bitcoin community regarding block size:
Fees are high because people are fighting with each other to make it into a block. It's Bitcoin struggling to survive. Nothing good about it

— Olivier Janssens (@olivierjanss) November 24, 2016

The progress on the SegWit update can be tracked here.
Meanwhile, amidst India's ongoing currency crisis, the US Dollar price for bitcoin came very close to the critical $1000 handle and the volume on LocalBitcoins has broken previous records, hitting an all-time high.
In response to the huge interest shown in the cryptocurrency, Indian exchange Unocoin have released a mobile app to making buying, selling and storing bitcoin easier, the first such app in the country. The buy price on the Unocoin exchange is 62,638 Rupees at the time of writing, equivalent to approximately $910.
Ethereum hard-forked last week to address problems with the network but the price has not remained stable, breaking below the $9.00 handle. Users may be put off by syncing problems experienced with the two main Ethereum clients, Geth and Parity, contributing to negative sentiment. While the hard fork was a success, at block 2,686,351, the two main clients disagreed with each other.
Ethereum is now in the process of 'state clearing', that is the removing the 19 million 'empty' accounts the DoS attacker created to spam the network, and is expected to be completed this week.
This week's review is complied from contributions by Alexander Lielacher, Christoph Bergmann, James Ryan Moreau, Jamie Holmes and Joseph Young.
The Ballot Regarding Bitcoin's Future has Begun
SegWit or Unlimited? The miners will proceed to vote on how to scale Bitcoin. Everything depends on the decision of the mining pools. If no solution wins, Bitcoin will remain unchanged. One of the selling points of SegWit is that it can be done as a 'soft fork'. This means, only the miners have to update, while nodes are free to update or not to update. The activation of the soft fork follows the standard procedure; 95 percent of the miners have to signal their support on a period of 2,016 blocks.
Ethereum's Fourth Hard Fork, Criticisms on Security
Ethereum has completed the execution of yet another hard fork. "Spurious Dragon" is the Ethereum network's fourth hard fork to date and is expected to mitigate various DoS attacks targeting the network. Technically, the hard fork was a success. Ethereum developers state that general technical problems have been addressed and it is presumed to prevent more attacks on the Ethereum network for the foreseeable future. BUt while the markets initially reacted positively to the hard fork, whereby ETH-USD posted a fresh, one-week high at $10.30, the cryptocurrency has since broken below $9.00.
R3, Wall Street's Answer to Bitcoin, is Shaken by a Bank Drain
New York's blockchain startup R3 has been hit by the departure of Goldman Sachs, Morgan Stanley, and Banco Santander. Experts begin to doubt that the company, that serves as a blockchain consortium of the world's biggest banks, will be able to develop a valuable product. On November 18, the world seemed to be fine for R3. The blockchain consortium, consisting of around 70 of the biggest banks and financial institutions in the world, published a press release titled: "It's Blockchain, Not Bitcoin, That's Relevant to Finance." Only one week later everything seems to have changed. You could say: "It's Blockchain or Bitcoin, but not R3, That's Relevant."
'Ethical Hackers' Hijack Zcash with the Creation of Ebitz
A group of European 'ethical hackers' have taken steps to launch a newer, improved version of Zcash; two significant changes to the protocol have been made and the launch of the improved version, named Ebitz, due November 28. Firstly, Ebitz does not support the "founder's reward." This feature has been criticized by many in the crypto-community. Secondly, the consensus algorithm in Ebitz has shifted to Proof of Stake from Zcash's Proof of Work. The reason; to prevent the centralization of mining and avoiding the platform being controlled by a handful of GPU mining farms.
Rootstock Announces Turmeric Testnet Release; Interview with Chief Scientist, Sergio Lerner
In what has been a highly anticipated view into the progress of Rootstock's (RSK) technology, the official testnet called Turmeric was released earlier this month at the Labitconf in Buenos Aires, Argentina, where the RSK team is headquartered. BTCManager interviewed RSK's Chief Scientist Sergio Lerner, where he discusses what the team is looking forward to in coming months in regards to both RSK's protocol development as well as how the community can become involved by building with RSK.
Mitsui Sumimoto Launches Insurance Coverage For Cryptocurrency Exchanges
Japanese insurance giant Mitsui Sumitomo Insurance, as revealed by Nikkei Asian Review, will be launching insurance coverage for cryptocurrency exchanges, designed to insure against damages and losses resulting from cyber attacks and operational issues. The new insurance product is being developed in partnership with Tokyo-based bitcoin exchange bitFlyer, aimed at protecting both exchanges and their customers against losses. The coverage will range from ¥10 million to ¥1 billion and will insure against hacks and other unauthorized accesses as well as operational errors, such as mistakes or embezzlement by exchange employees.