A Beginner's Guide to Trading on Bittrex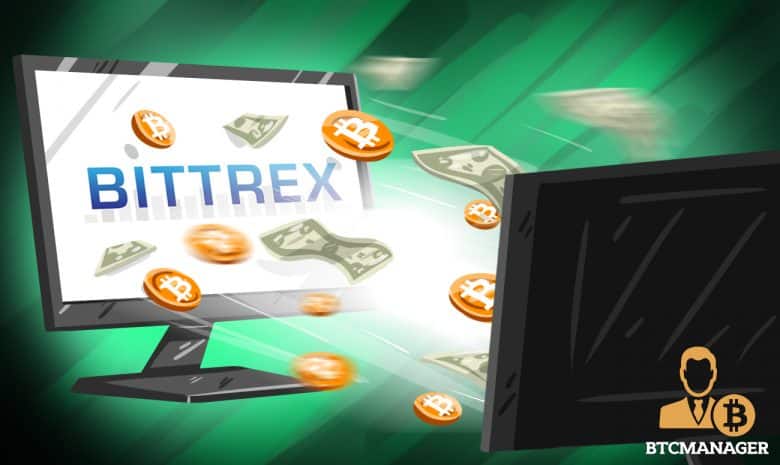 Bittrex is a U.S.-based cryptocurrency exchange that has been in operation since 2014. Despite the fact it's not even in the top 10 exchanges, it is one of the most popular crypto exchanges in the crypto space.
Bittrex was
founded
by Bill Shihara, a former security engineer at Amazon and
Blackberry. Bittrex exchange is mainly focused on high security and reliability.
Today, close to 300 cryptocurrencies are featured on the exchange, in addition to speedy deposits, withdrawals and strong customer support.
Registering on Bittrex
The first step is to create an account by providing an email and a secure password. Bittrex
recommends that all users use 2 factor authentication (2FA) to secure their account. 
This can be accessed through Google's authenticator app.
ID verification is a requirement
on Bittrex before withdrawals can be made, and it is strongly advised that users not
deposit funds into their account until they have completed the ID verification process.
Complete all fields on the page, then click the "Identity verification" tab to start
verification:
As a crypto exchange operating in a highly-regulated market, Bittrex requires users to submit a picture of your officially-issued government IDs or passport.
This has obvious drawbacks for users who want to remain anonymous. However,
Bittrex has always been clear about its position as a centralized and regulatory-compliant
exchange. Once users are verified, they can begin safely making deposits and withdrawals.
Trading on the Bittrex Exchange
Navigate to the homepage to search for the various trading pairs on offer.
Clicking on a trading pair directs users to the market page where they can see the live pair's chart. Charts on Bittrex can be adjusted to show a different time frame, style (colored bar, line, etc.), indicators (oscillator, RSI, etc.) and select tools.
Bittrex also features an intuitive order book below the chart.
Advanced Features
Stop-loss commands are also available on Bittrex using the Conditional orders feature.
Stop-loss is a function on an exchange that allows users to set their price to sell a coin to
avoid the risk of further losses. Traders often use it as a way to ensure they can exit a
position with minimal damage if it goes against them.
Conditional orders are a type of advanced trading feature that gives the exchange permission to create or cancel orders based on specific events occurring automatically.
Examples of Conditional orders on Bittrex are when orders are "greater than or equal
to" or "less than or equal to" a target price.
"Time in Force" orders provide two options: "Immediate-Or-Cancel Order" or
"Good-Til-Cancelled Order."
An Immediate-Or-Cancel (IOC) order means that the order to buy or sell a coin must be executed immediately. Any portion of an IOC order is not immediately filled will be canceled.
A Good-Til-Cancelled (GTC) order means that the order to buy or sell a coin can stay open
until it is completed, expired, or canceled. The maximum lifetime of any order is 28 days.
Open orders and order history can be viewed at the bottom of the same page, and also on
the "orders page."
Bittrex Fees
The cost of making a trade (buying or selling) on Bittrex is 0.25 percent of the funds used
in the trade. This is 0.15 percent more than
Binance's
fees of 0.10 percent. No fees are
charged for deposits, but there are charges for withdrawals to compensate for the
network transfer fees that are often built into different coins.
Supported Assets
Around
300 coins
are supported on Bittrex, including
ERC20
tokens, coins from
alternative distributed ledger technologies like
DAG
(directed acyclic graph) and coins
from other Blockchains such as TRX or Cardano. By comparison, Binance has 460 coins,
and KuCoin has 401.
Bittrex Customer Support
Compared to other exchanges at the same level of volume, Bittrex ranks high because of
its effects and quick response. As a highly-popular exchange, Bittrex manages large
amounts of customer support tickets.  
Despite this traffic, the exchange does generally respond to questions promptly
(one to two days on average) and is also known for keeping the lines of communication
open via social media channels. Bittrex also has a dedicated
support page
and frequently
asked questions page where directions about how to use all functions on the site are
described in detail.
Is Bittrex a Safe Exchange?
Bittrex states that it places a lot of its energy on security, requiring identity verification, 2-factor
authentication, and email confirmation each time you sign in from a new IP address.
There have been no major hacking incidents on Bittrex for over three years, yet this does not
include incidents that may have occurred to individual users from phishing emails or fake
website URLs that resemble Bittrex's official website address.
Bittrex API
Bittrex's API allows for trading bots to be linked to users accounts via API keys. These
bots can automate buying and selling orders based on a predefined set of rules.
Site Status
In an attempt to provide additional transparency, Bittrex displays a site
status
page where
users can see how well the exchange's systems are functioning. Users can view status
information for Bittrex hot wallets and markets (such as whether there is ongoing
maintenance, or whether the wallet will be removed). These status updates are made
every five minutes.
The page shows the status, currency, block height, connections and last update of each
coin listed on the exchange.
Cons
There have been
complaints
of user accounts being temporarily suspended pending
completion of a review. In these cases, users expressed their frustrations online but did
not receive a response. Mandatory
KYC
and
AML
processes can sometimes force
U.S.-based exchanges to take drastic measures when there are activities that seem even
slightly suspicious.
A High-Performing Service
Overall, the Bittrex exchange offers a consistent, high-performing service that would be
useful for the typical crypto trader. In addition to providing hundreds of popular coins,
Bittrex provides a full stack of features for advanced traders and developers.
The most significant advantage is the exchanges emphasis on security and usability through their
support page and site status page. Its disadvantages are highly dependant on user
expectations.
If users prefer faster-performing exchanges with excellent customer support, then a
centralized exchange like Bittrex is right for you. If you prefer privacy and censorship
resistance, then it may not be the best option.