How to Get Free Bitcoins in 2023
Bitcoin, the pioneering cryptocurrency, has gained significant popularity and recognition since its inception. While it may sound too good to be true, there are numerous websites where you can get free Bitcoins. You can earn crypto by playing online games, participating in referral programs, using crypto faucets, and even studying.
However, none of them are get-rich-quick schemes. Making a decent income from such platforms requires time, dedication, and patience. Additionally, they often have a specific threshold to be reached before the user can withdraw the coins.
On this page, we will provide insights on how to get free Bitcoin.
Table of Contents
Free Bitcoins for playing games
BC.game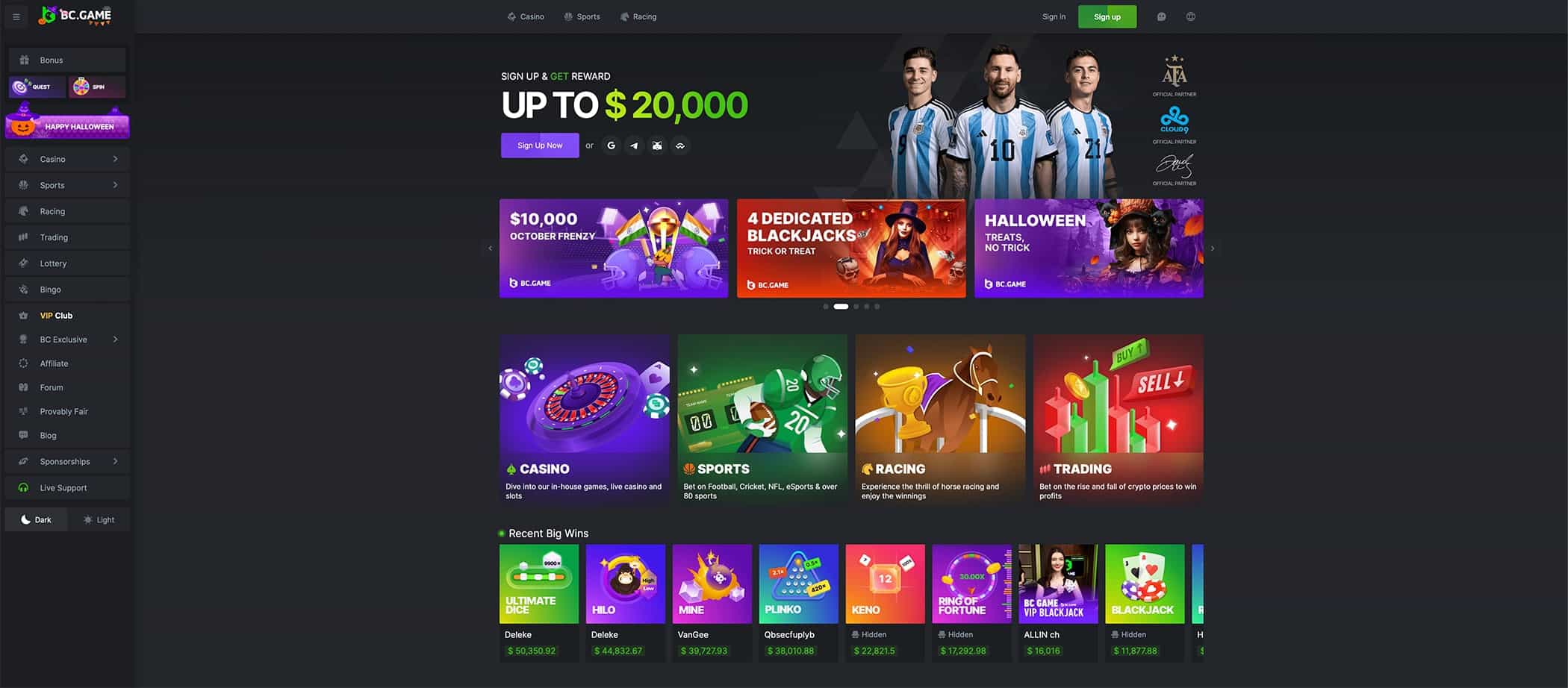 BC.Game, a versatile gaming platform, offers 6,000+ games, Lightning Network integration, supports 30+ cryptocurrencies, and provides bonuses.
Vave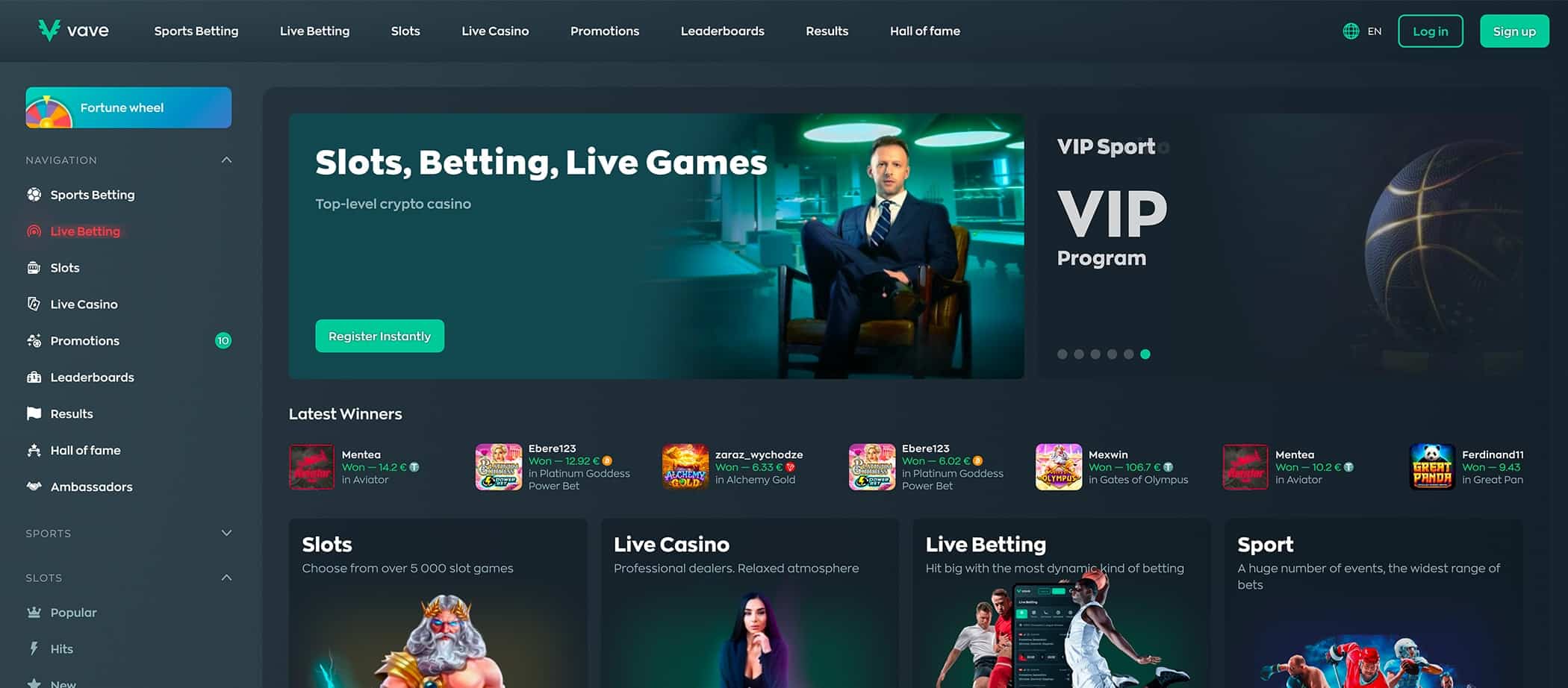 Vave is a platform that prioritizes player anonymity and security. It offers various games, and allows for cryptocurrency purchases with fiat within the account. Player winnings are kept private.
Satoshi Hero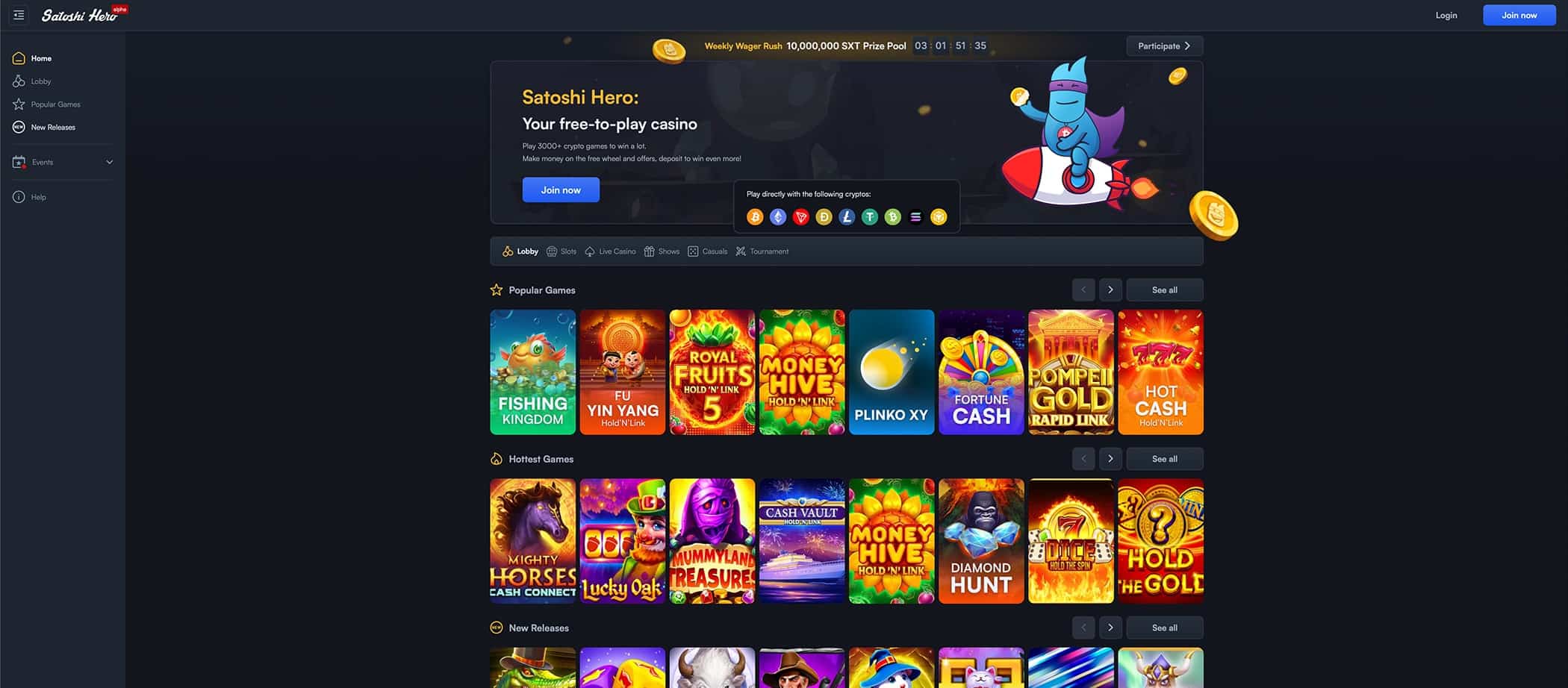 Satoshi Hero, once a faucet, is now offering 3500+ licensed games and multiple cryptocurrencies.
Ways to Get Bitcoins for Free
Free Cash – Answering quizzes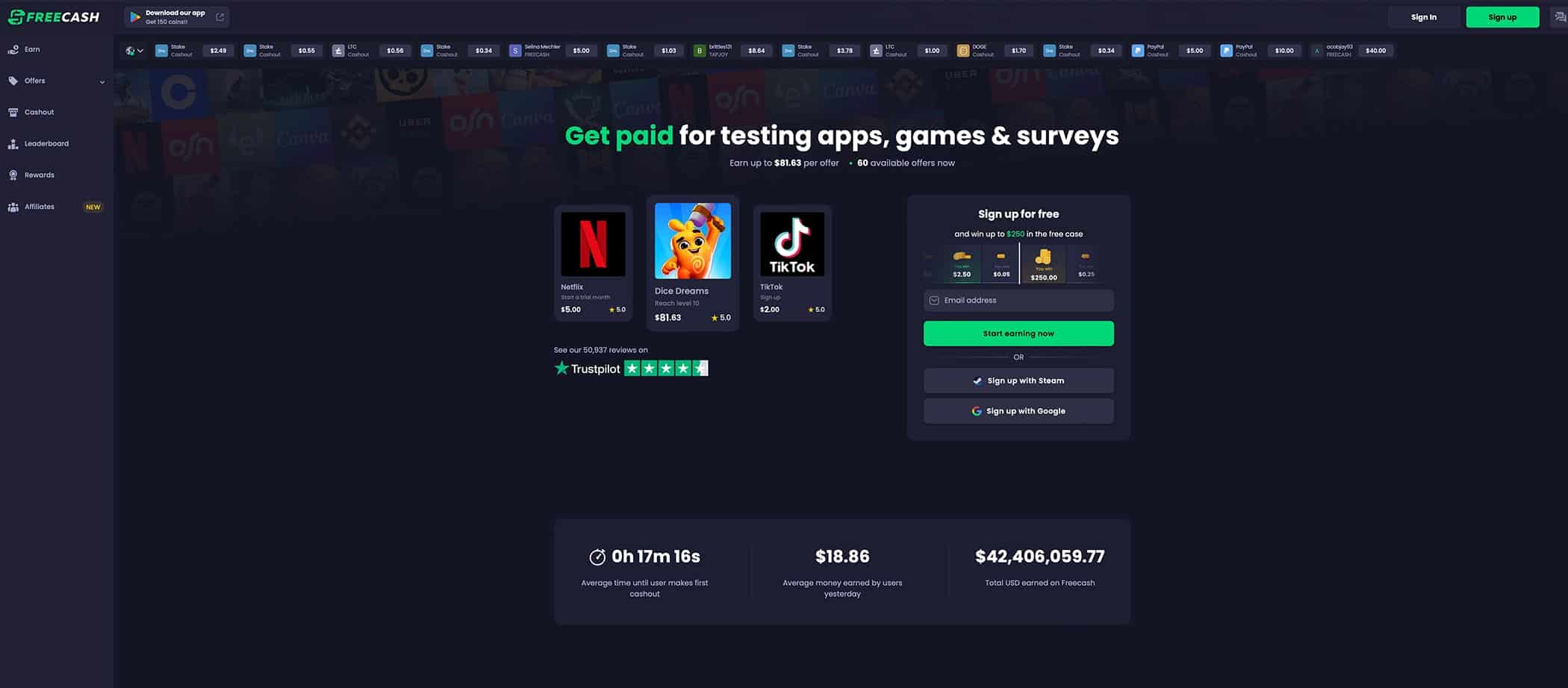 This legit platform offers prompt payments, various rewards, and flexible payout options. Complete tasks like answering quizzes, playing games, signing up on websites, or downloading apps, and get free Bitcoins, get paid in cash or game skins. Being up to 13 years old and having a Google account is required.
StormGain – Trading crypto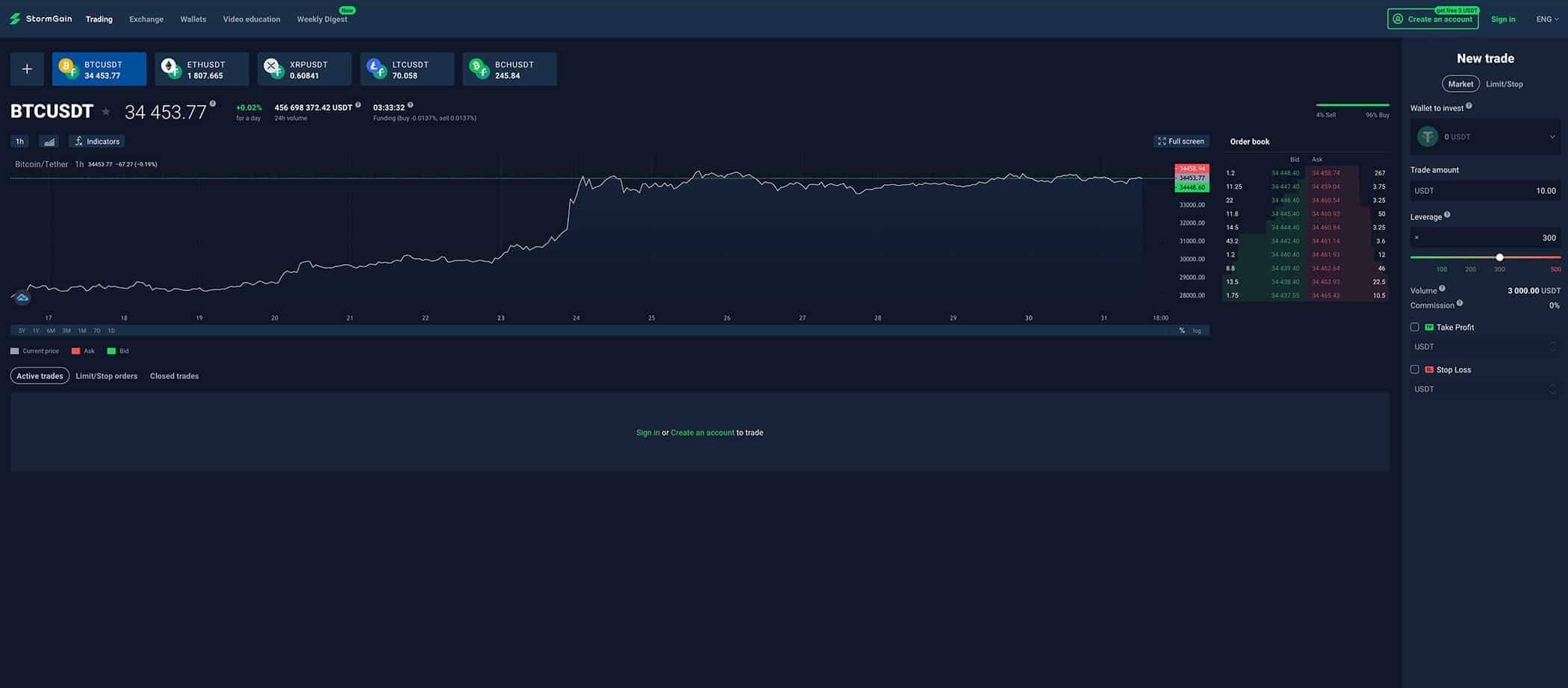 StormGain is a crypto trading platform for trading via cryptocurrency futures contracts. Accessible on any device, it enables trading with up to a 500x multiplier, caters to both bullish and bearish markets, and provides various order types. StormGain aims to enhance cryptocurrency trading accessibility.
RollerCoin – Play games and mine free BTC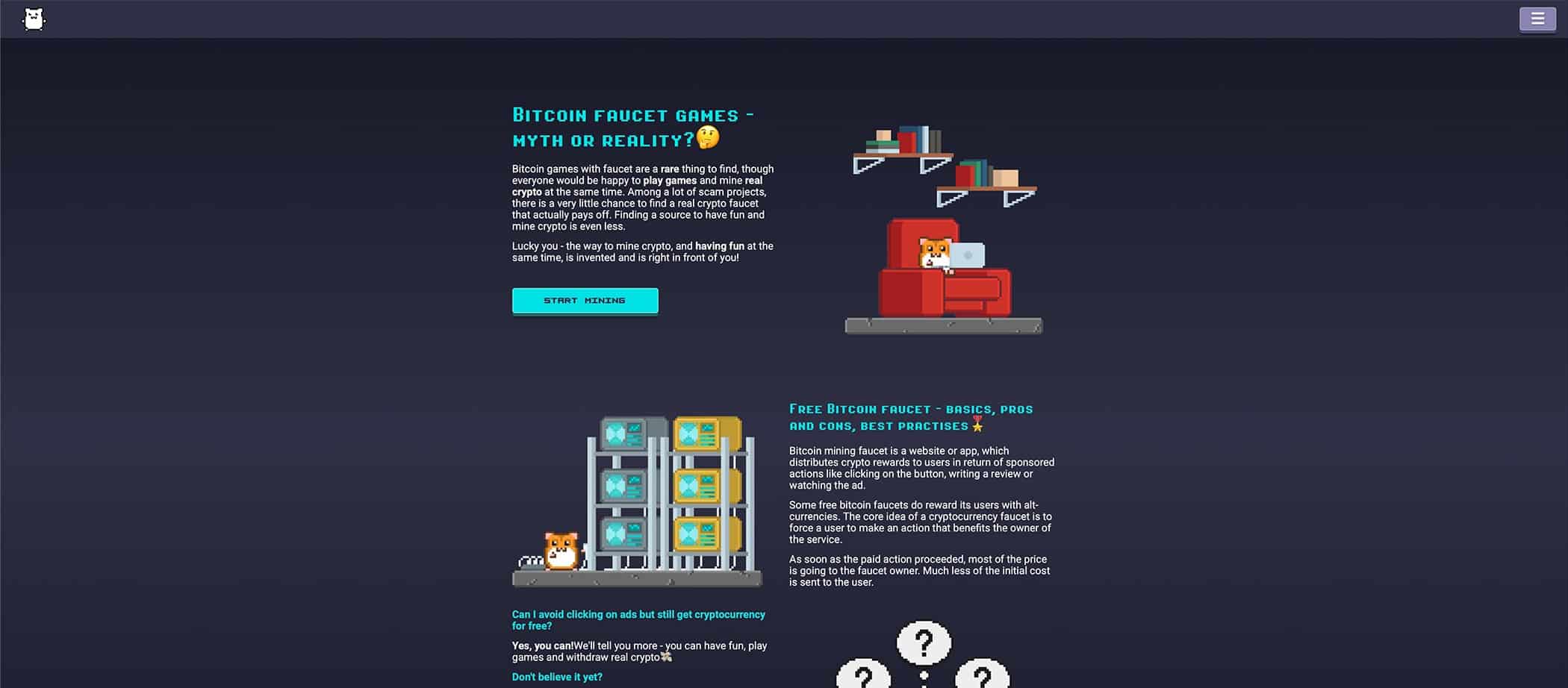 RollerCoin is a virtual Bitcoin mining game that involves competing with friends to develop your mining empire. Enhance your mining prowess by playing mini-games, completing tasks, and embarking on missions. Advancing your data center can propel you to become a top-tier miner. Additionally, inviting friends yields bonuses, and you can earn free Bitcoins every ten minutes.
NiceHash – Online mining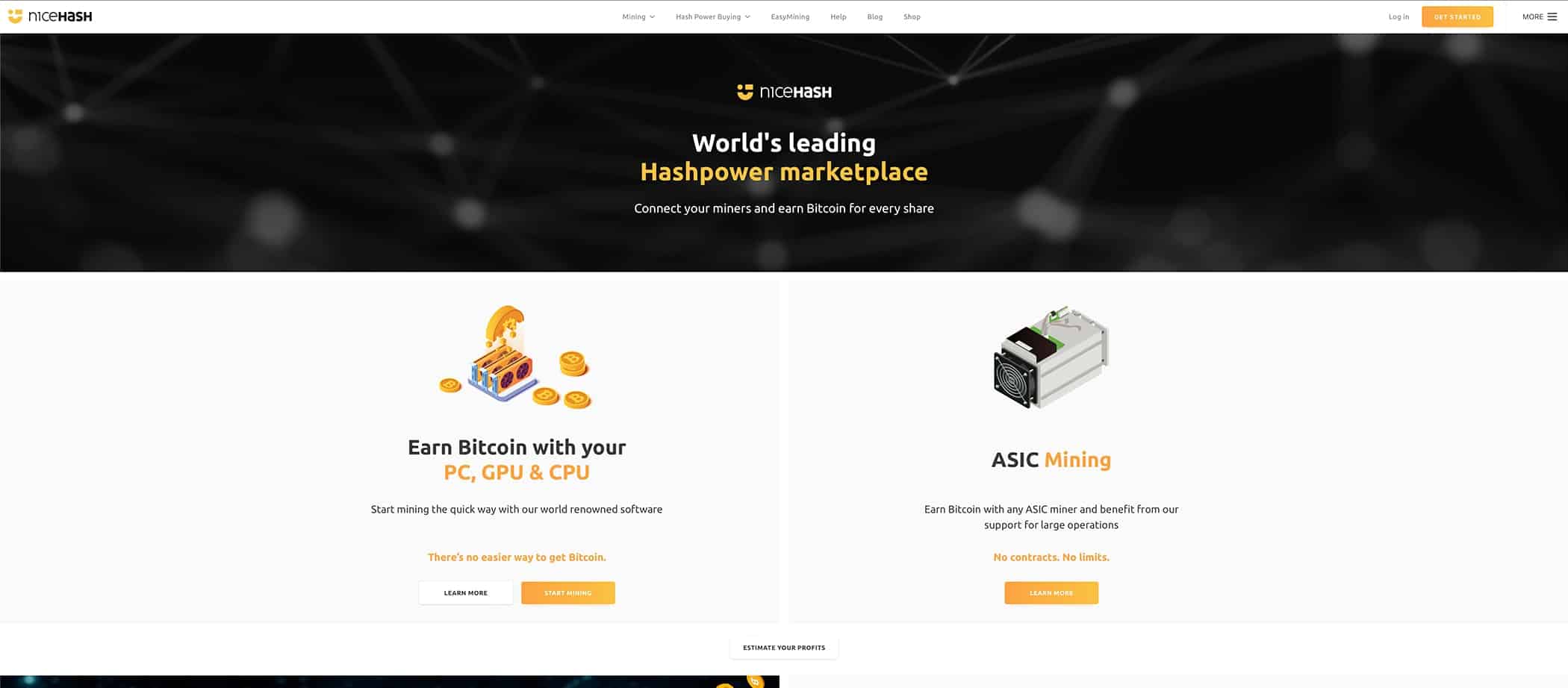 Mining digital coins requires special gear that may be expensive, but you can use online tools to do it, although you might not get huge returns. NiceHash offers a way to mine Bitcoin using your computer's software. They have two options: QuickMiner or the regular Miner, depending on what you like. When you mine with software, your computer's CPU does the work, but the rewards are small. If you have an NVIDIA graphics card, QuickMiner might give you slightly better results. However, many people are trying to mine Bitcoin right now, so your computer won't make a big difference. Still, you can earn a bit of free BTC, though your computer will use more electricity than usual.
Firefaucet – Filling out surveys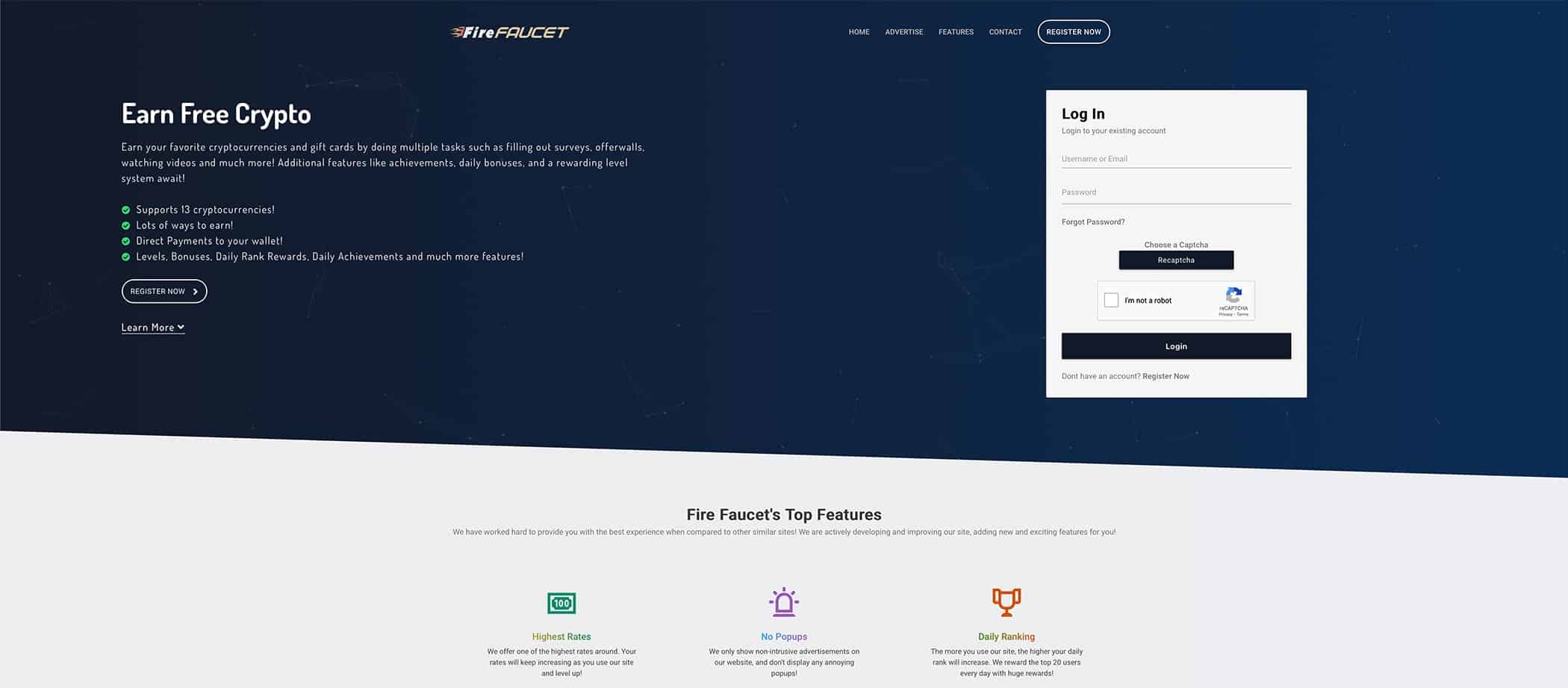 One of the most popular ways to get free Bitcoin is through crypto faucets. A crypto faucet is a reward system, usually in the form of a website or software application. These faucets give Bitcoin and altcoin rewards to users when they carry out various tasks on the platform, including completing captcha, solving simple puzzles, viewing ads, and more. Crypto faucets are free to use, require no initial investment from users, and you don't need to be a blockchain expert to participate.
Firefaucet allows you to earn cryptocurrencies and gift cards by filling out surveys, watching videos, and more. Features include achievements, bonuses, and a level system. Payments go directly to your wallet and daily ranking rewards top users. You can level up with each task, increasing your bonus.
Cryptowin – Earning interest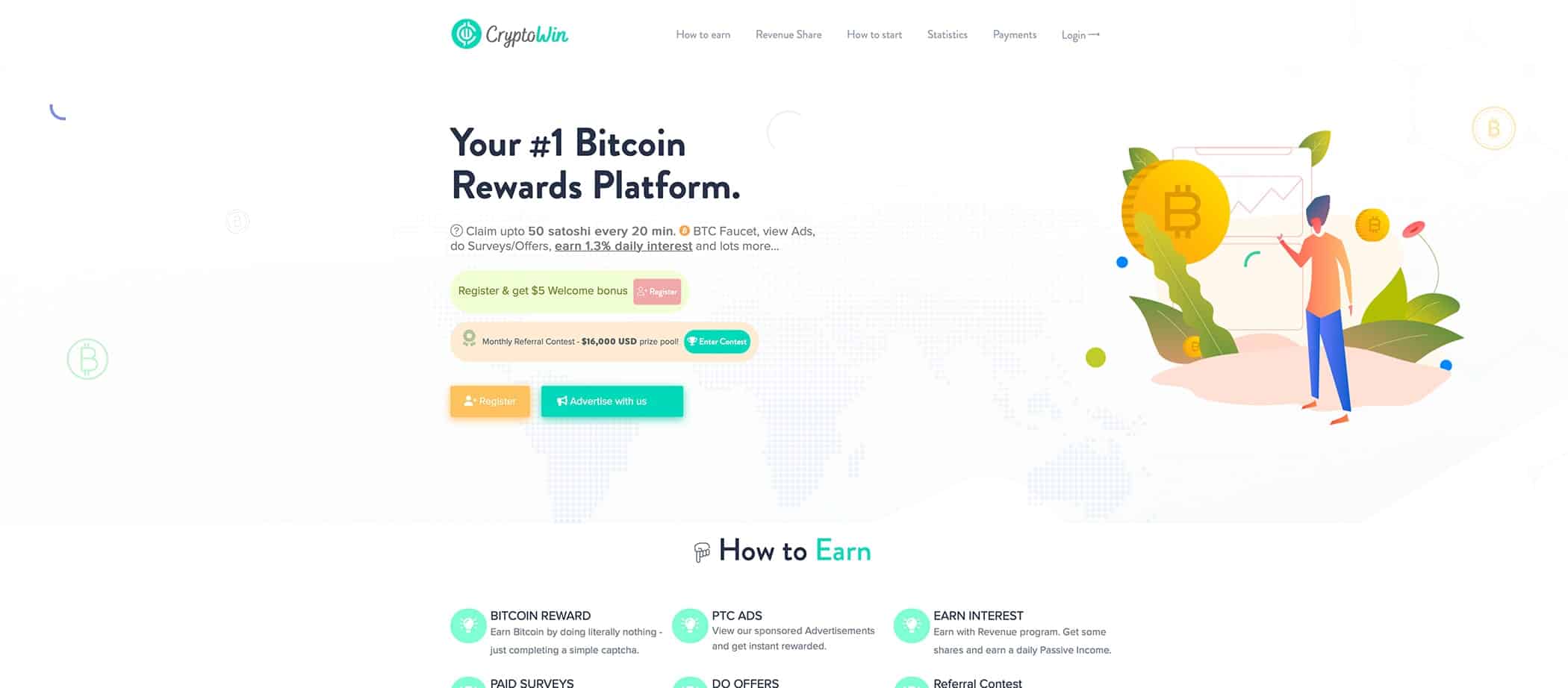 CryptoWin.io is a platform to earn Bitcoin through various online activities. It includes an interest-earning program with a 0.7% daily interest rate for 180 days, a referral program, and a growing user base with positive testimonials.
Cointiply – Doing shopping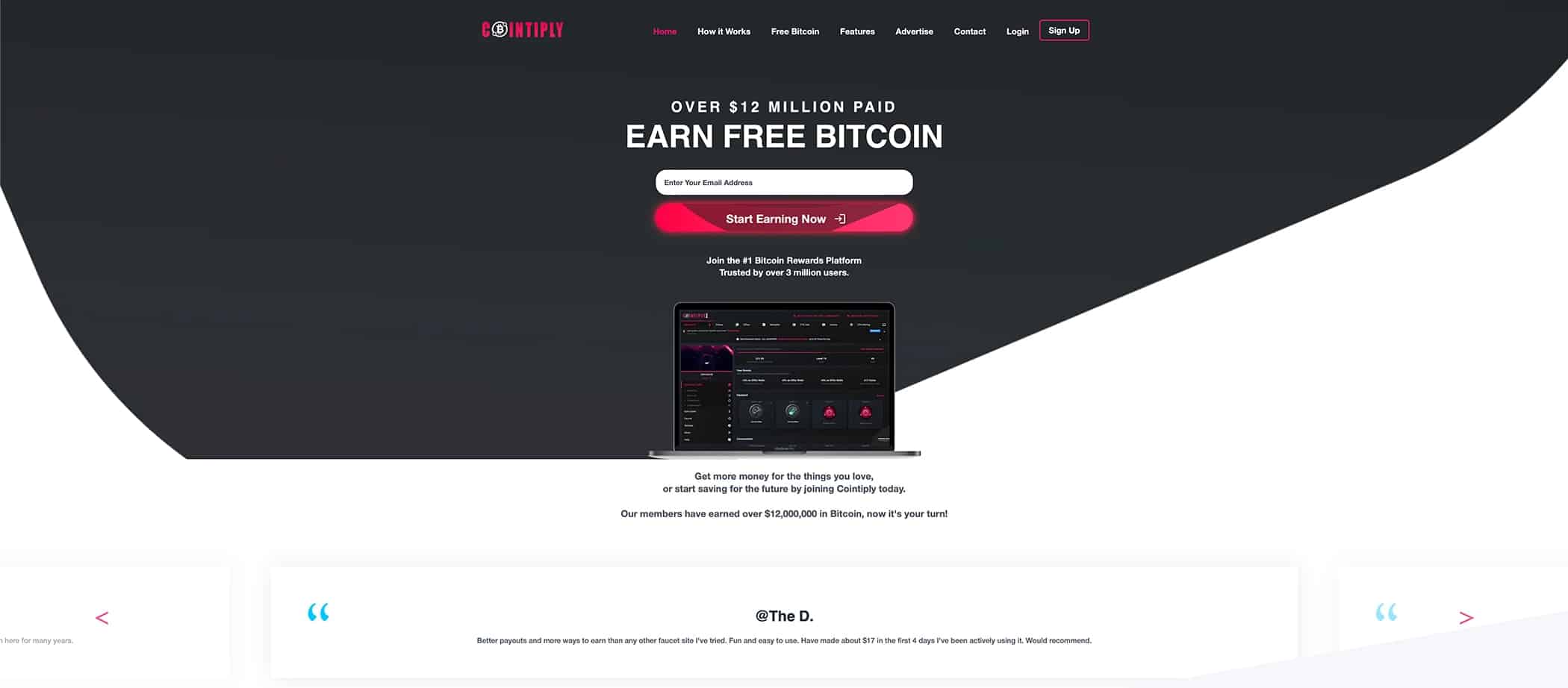 Cointiply offers a way to earn cryptocurrency by completing various tasks. There are multiple ways to earn BTC, including playing fun games online, watching videos, shopping, or signing up for new services. You can share your opinion on some products and earn real cryptocurrency. Users can also earn interest on their coin balances.
Daily Free Bits – Solving reCaptchas and claiming satoshis every hour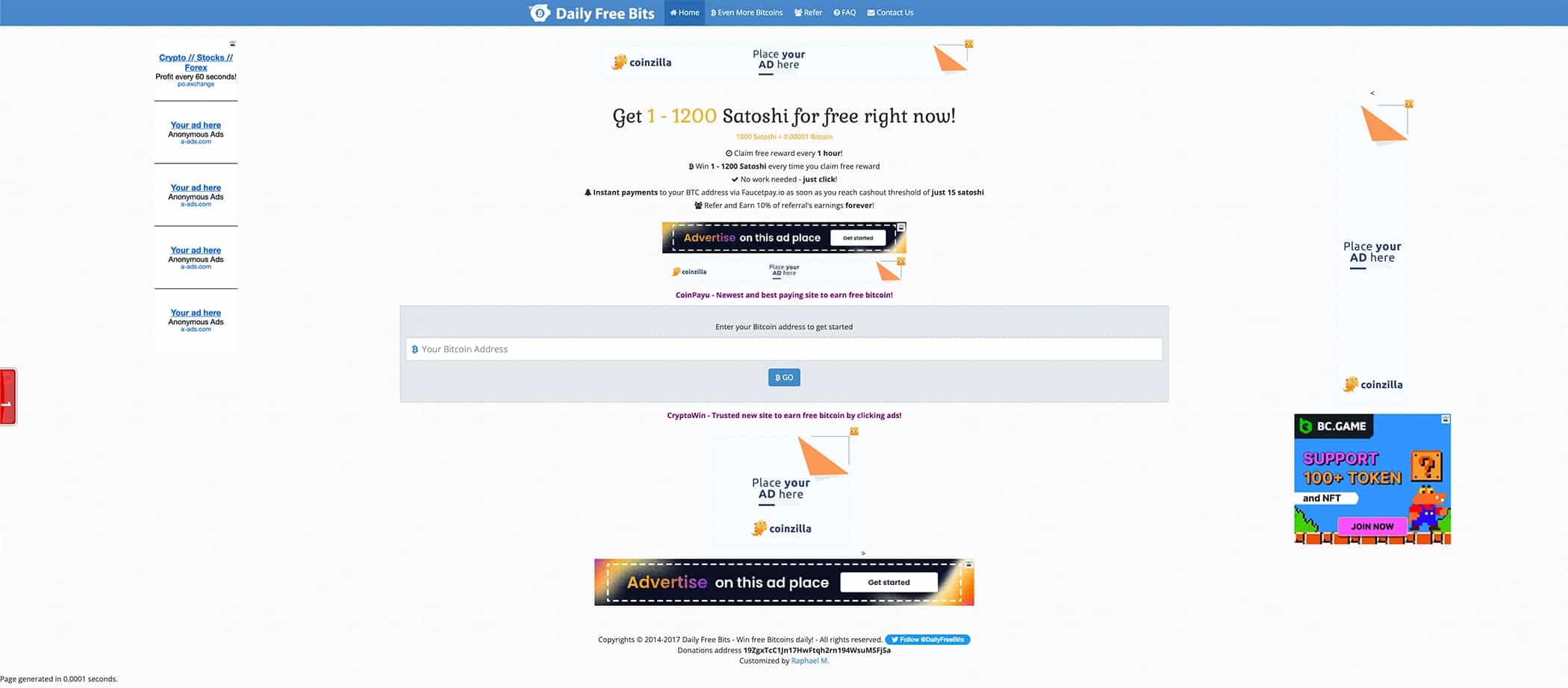 Daily Free Bits is a Bitcoin faucet where users can earn free satoshis every hour. It's been around for a while and has a rating of 3.5 stars on Trustpilot. Users earn by solving reCaptchas and clicking Claim.
GoBits – Solving reCaptchas and claiming satoshis every 15 minutes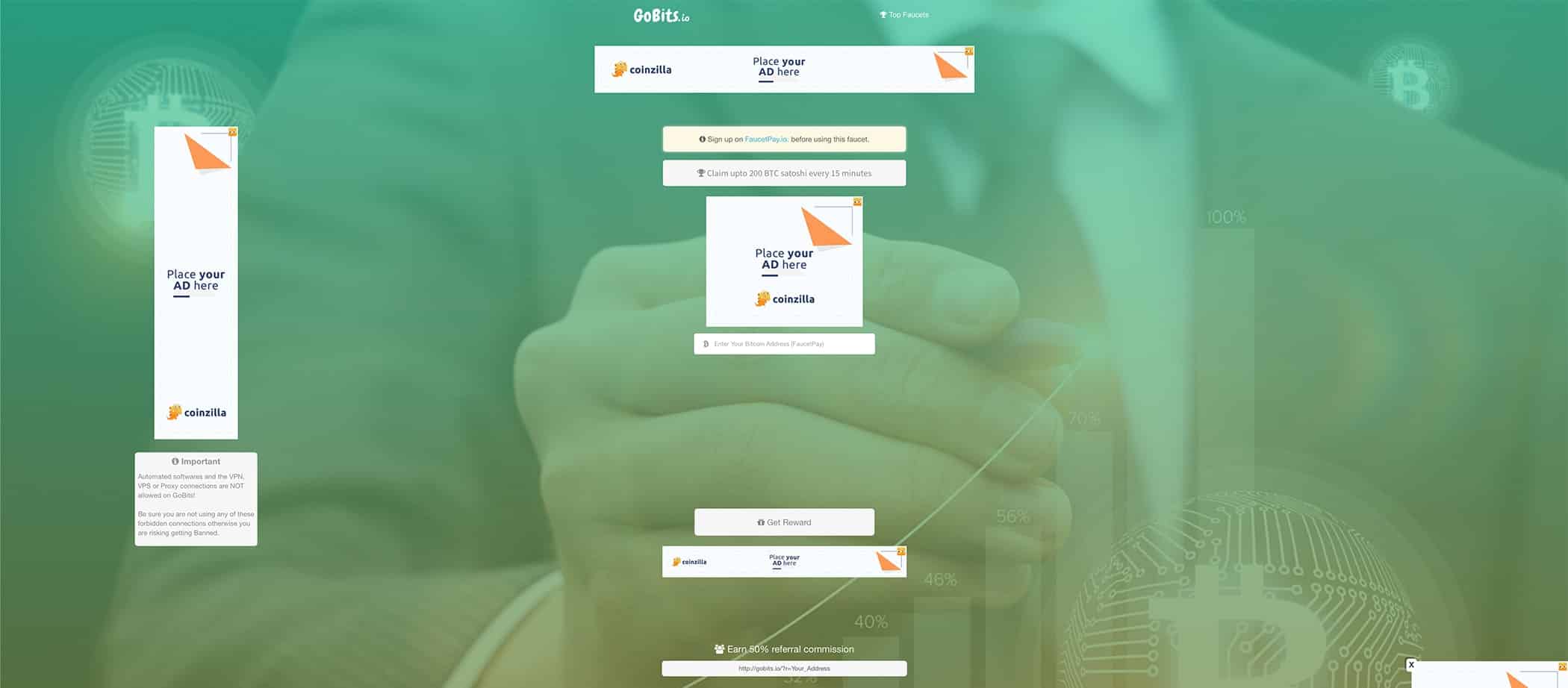 GoBits lets users claim up to 200 satoshis every 15 minutes. Sign-up on FaucetPay.io is necessary as earnings are processed there. GoBits.io only requires solving a ReCaptcha to claim rewards, with no additional tasks.
U24 – Watching ads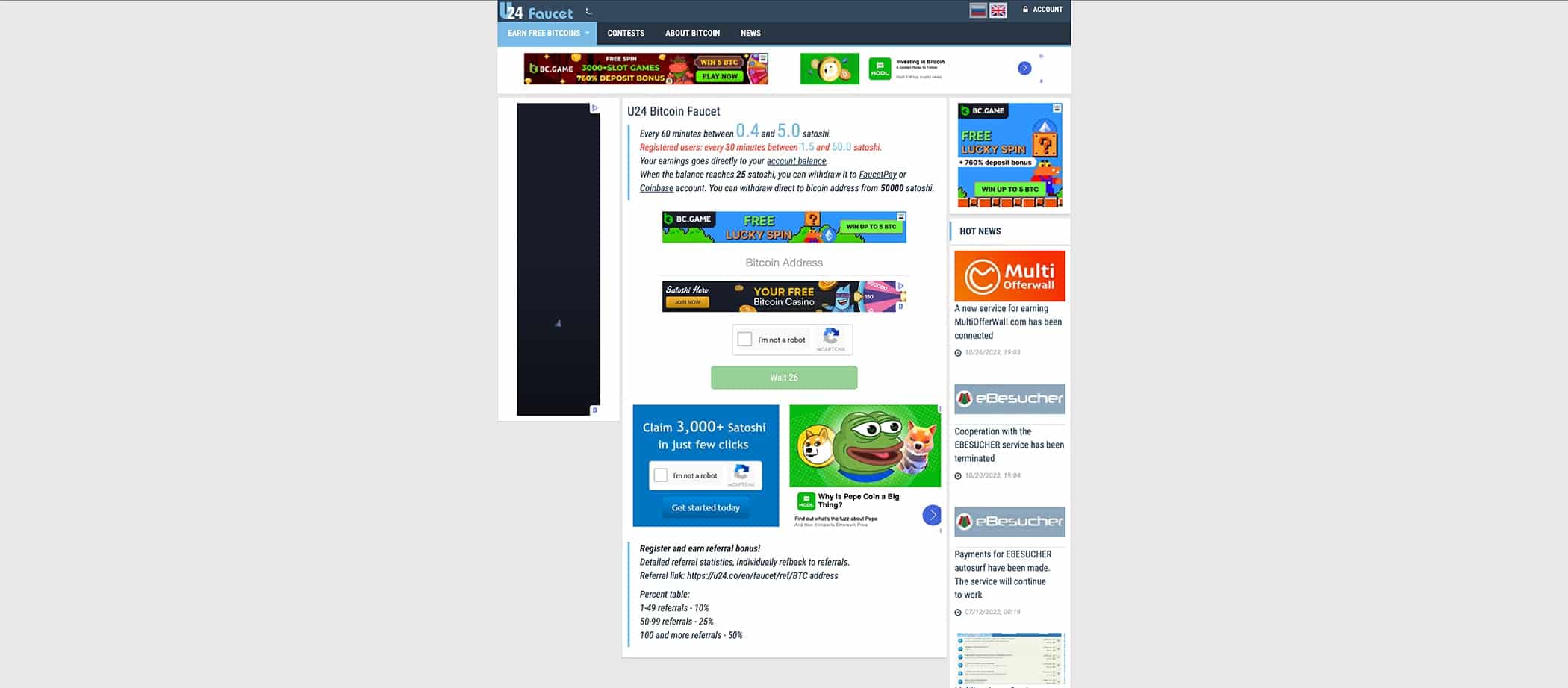 U24.co is among the longest-running crypto faucets. By doing tasks such as viewing ads, unregistered users can claim 0.2 to 2.0 satoshis every 90 mins, registered users get 0.3 to 10.0 satoshis every 45 mins. Withdrawals are possible once you reach 25 satoshis, or 50,000 satoshis, to a BTC wallet. Users can participate in contests and earn referral bonuses based on the number of people they refer to the platform. Earnings and bonuses may vary according to market conditions.
Earning Bitcoin with CryptoTab and Brave Browsers
While traditional crypto mining often requires expensive hardware, there are alternative web browser methods. CryptoTab is a prime example of browser-based Bitcoin mining. Although this process can strain your computer's hardware and consume more electricity, it gradually rewards you with Satoshis, the smallest units of Bitcoin.
The Brave browser offers a slightly different approach to mining Bitcoin. It doesn't tax your computer's energy; instead, it encourages you to click on ads delivered through browser notifications. Users earn BAT tokens for engaging with these ads, which can later be converted into Bitcoin. What's convenient is that the Brave browser is available on both computers and mobile devices, making it an accessible entry point into the world of cryptocurrency.
CryptoTab operates on the Chromium platform, boasting a built-in mining mechanism and enhanced features that enable you to earn BTC while simply using a web browser.
On the other hand, the Brave browser prioritizes user privacy and allows you to earn Bitcoin, tokens, or gift cards effortlessly just by browsing the web.
Bitcoin bounties
Bitcoin bounties offer a way for people to earn Bitcoin by completing tasks related to coding and engineering. There's a dedicated platform bitcoinbounties.org, where users can regularly earn up to 1 BTC for completing these tasks. However, these opportunities may only be available to some. These bounties are designed to motivate those who have a passion for coding and want to gain a deeper understanding of how Bitcoin functions.
Other platforms like Bounty0x allow users to contribute to the broader crypto ecosystem and earn rewards. While not all of these rewards may be in BTC, it's relatively easy to convert them into Bitcoin. So, if you're interested in earning Bitcoin through tasks and contributions, these platforms offer a valuable opportunity.
Both platforms offer opportunities for learning through educational videos and quizzes, rewarding you with the cryptocurrency you've studied. You need to register on these websites to enhance your understanding of blockchain, complete quizzes, and earn crypto without any cost.
Referral programs
Affiliate programs are prevalent in the cryptocurrency industry. For instance, you can introduce a friend to a service, and both of you can enjoy discounts, earn reward points, or receive BTC and fiat currency bonuses.
Take, for example, Binance's Bitcoin referral program, which allows you to earn free Bitcoin. When you refer friends and they make transactions, you get a 20% commission, and your friend receives a 20% discount. All payouts on the Binance platform are made in BTC and other altcoins, and you can easily withdraw these earnings using Binance P2P.
Crypto airdrops
Despite a recent decrease in popularity, crypto airdrops still offer opportunities for earning. New projects regularly enter the market, and many of them distribute airdrops in exchange for social activities to create excitement around their launch. While the rewards may not be directly in BTC, you can convert your earnings into Bitcoin through exchanges and trading platforms.
Airdrops are accessible to newcomers in the crypto space, as they don't require specific expertise or complex tasks. Numerous platforms, including Airdrops.io, ICOMarks, CoinMarketCap, and others, track airdrop opportunities.
Receiving salary in Bitcoin
For those seeking a rapid way to acquire Bitcoin, consider receiving your salary in Bitcoin if you work as a freelancer for a reputable cryptocurrency business. You can even request your employer to pay your salary in Bitcoin, providing you with a quick path to obtaining this cryptocurrency.
FAQs
What are free Bitcoins?
Free Bitcoins are small fractions of the Bitcoin cryptocurrency that you can get without making a monetary investment. They are typically obtained through various online activities, such as completing tasks, watching ads, playing games, or participating in surveys on platforms known as crypto faucets.
How can I get free Bitcoins?
To get free Bitcoins, you can engage in activities like completing tasks on crypto faucet websites, participating in online surveys, playing games, and watching advertisements. Some platforms also offer rewards for referring friends or contributing to the crypto ecosystem through bounties and airdrops.
How to start Bitcoin mining for free?
Starting Bitcoin mining for free can be done through browser-based mining using platforms like CryptoTab or by participating in online mining games like RollerCoin. These methods allow you to mine Bitcoin without investing in expensive hardware, although the rewards may be modest. Remember, free Bitcoin mining often requires time and patience.
Is the app free Bitcoin legit?
While many apps claim to offer free Bitcoin, it's essential to exercise caution. Not all of them are legitimate, and some may be scams. Ensure you research the app's credibility and reviews before using it, as there are dishonest platforms that create fake faucets to manipulate and waste users' time for their own gain.
What is the best Bitcoin faucet?
The best Bitcoin faucet can vary depending on individual preferences and goals. Look for faucets that offer a clear and transparent process, reasonable payout thresholds, and a variety of earning options. Keep in mind that crypto faucets are not get-rich-quick schemes, so manage your expectations accordingly and be prepared to put in effort to accumulate enough coins before withdrawal.