3rd Annual Conversational AI Summit Dubai 2023 hosted in partnership with crypto.news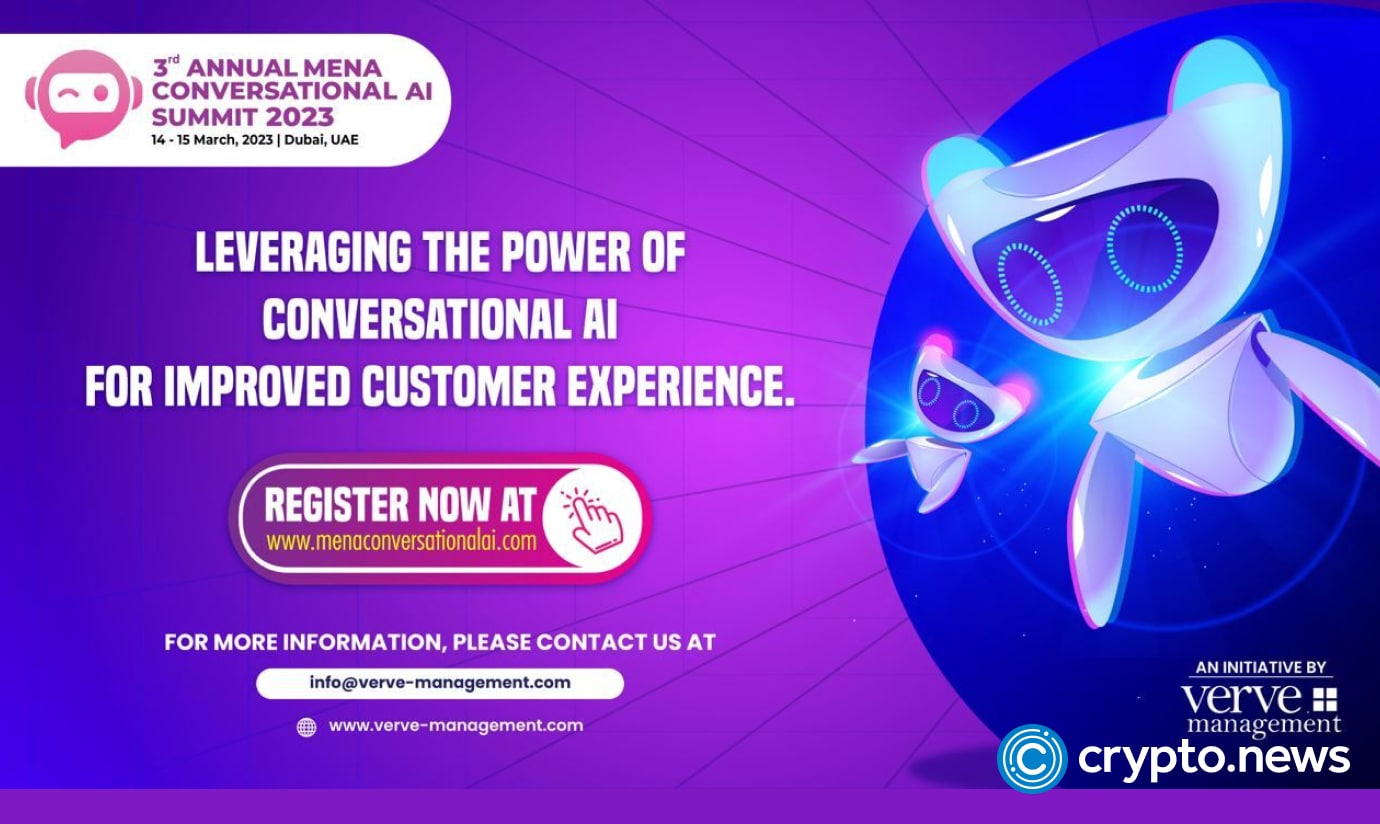 Conversational AI uses technologies that allow for the synthetic generation of brainpower, enabling machines to understand, process, and even respond to human language. It encompasses many technologies that work cohesively to encourage efficient, automated communication via text, speech, or other mediums to decipher consumer intent, decipher language context, and respond using humane mannerisms. It has been successfully used in marketing, retail, and banking to enhance the customer experience.  
With this momentum, Verve Management is proud to present the 3rd Annual Conversational AI Summit on the Mar. 14 to 15 at the Swissôtel Al Murooj Dubai, UAE.
The summit will be a gathering of digital strategy and consumer experience professionals. The event will feature a diverse line-up of speakers who will delve into the latest challenges, developments, and opportunities the world of Conversational AI offers.
The 3rd Annual Conversational AI Summit will bring together top industry leaders, experts, and innovators to share their insights and experiences on the current state of Conversational AI and its expected future trajectory. Attendees can hear from keynote speakers and network with the industry's leading professionals and like-minded individuals.
The event will range in various topics, including Conversational AI and its impact and collaboration with the Metaverse, the reach of AI into banking and automated consumer experiences, and the inclusion of Conversational AI and blockchain technologies and their impact on the consumer experience.
The concept of Conversational AI's reach today in improving our consumer interaction, problem-solving, and service delivery is also a focus of what the summit offers. Immerse yourself into the world of Conversational AI and learn more about its role in shaping the world and how it can be leveraged to pioneer a positive shift in society. 
A brief mention of only some of the speakers set to speak at the summit to lead worldly discussions of our new reality are:
Srinivasan Sampath – acting chief technology officer at First Abu Dhabi Bank (FAB)
Sachin Gadoya – co-founder and CEO of Musafir.com & Musafir Business
Wael Khaleel AbuRizq – AI & advanced analytics advisor, Abu Dhabi Digital Authority
Rob Beswick – managing director, Virgin Mobile UAE
Lubna Salah Zaitouni – senior specialist – Economics, Ministry of Economy
Srinivasan Sampath said:
"As we accelerate into the future of banking, we need to leverage the latest innovations to underpin our ongoing digital transformation efforts to meet our customers' increasing digital needs."
This showcases our objective for this event: a world where Conversational AI is recognized, utilized and innovated for the seamless integration and provision of the most refined consumer experience in the dynamic arena of consumer satisfaction.
Join us for the 3rd Annual Conversational AI Summit and delve deeper into the minds of some of today's leading professionals and absorb what they and the discussions yet to come to have to offer.
To register to be a part of this summit,
Reach out at: [email protected]
Visit our website: https://menaconversationalai.com/ 
Disclosure: This content is provided by a third party. crypto.news does not endorse any product mentioned on this page. Users must do their own research before taking any actions related to the company.