4 play-to-earn gaming cryptos to consider in 2023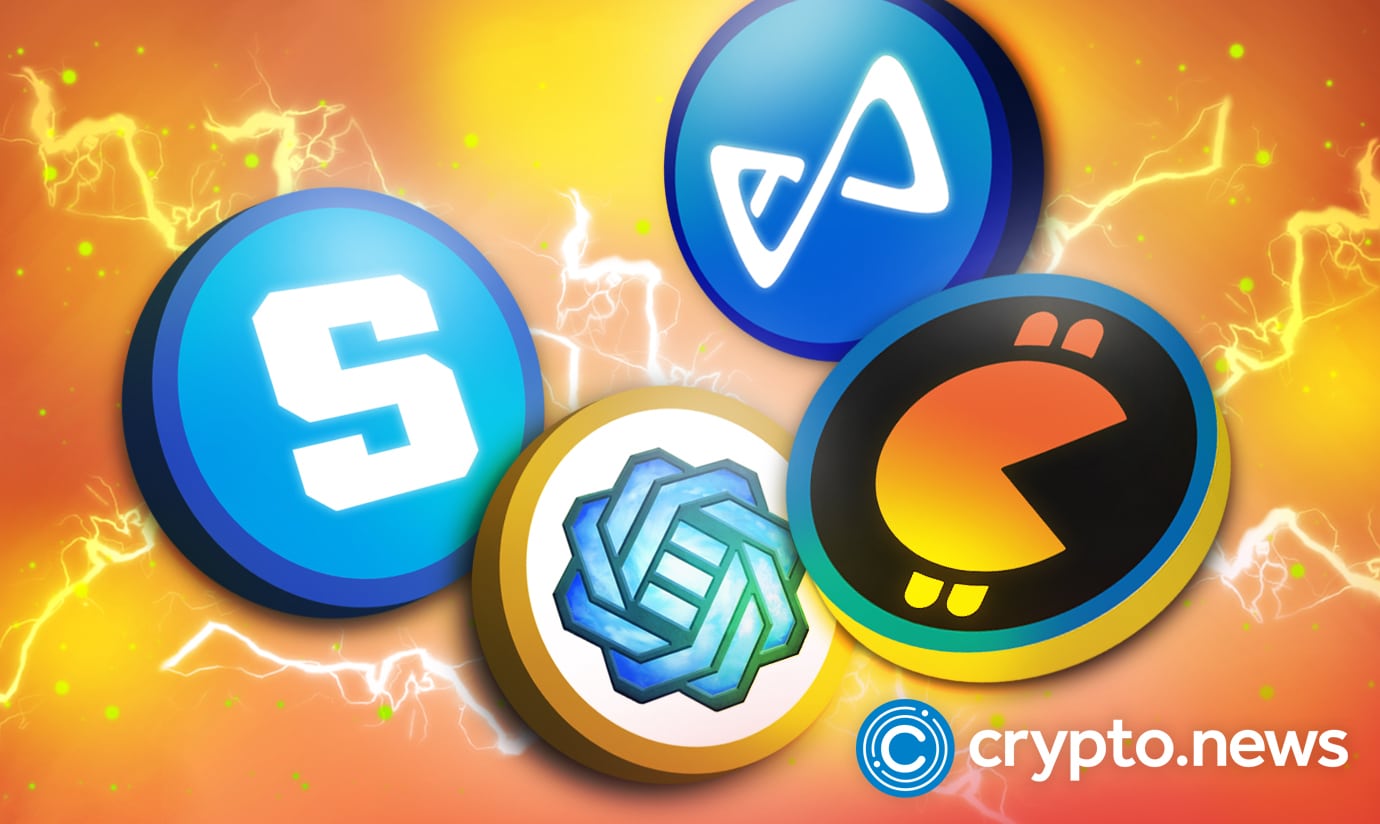 According to the latest available figures, $1.3b was raised in Q3 2022 by blockchain games despite tumultuous crypto market conditions. Growth in GameFi is projected to continue over the next five years, meaning that investors are continuously searching for opportunities.
With nearly 1m daily active wallet transactions interacting with the below titles, the play-to-earn (P2E) gaming sector can be lucrative.
These are the top four play-to-earn crypto games currently on the market:
Metacade (MCADE)
The Sandbox (SAND)
Axie Infinity (AXS)
Gods Unchained (GODS)
What is play-to-earn gaming?
Play-to-earn gaming is often referred to in crypto circles as GameFi. P2E gaming platforms allow gamers to earn crypto rewards as they play. Rewards are usually made with crypto tokens and are gained through progress in online tournaments, rising the leader-board, beating personal bests, and winning battles in player-versus-player (P2P) duels.
Many traditional video games have an in-game currency that enables gamers to purchase character skins and weapons, similar to which P2E gamers can reinvest their reward tokens for NFTs or character enhancements. The critical advantage of P2E gaming is that users can withdraw their funds from the game at any point, providing themselves with real-world earnings.
The P2E industry is forecasted to continue growing through the years to 2028, with technological advancements such as the adoption of virtual reality capabilities providing an evolution to the gameplay experience for gamers.
DappRadar currently lists more than 2,000 GameFi titles on its website. This number is likely to increase substantially in 2023 as the loyalty of existing GameFi enthusiasts continues and a new generation of fans turn increasingly from console gaming to P2E titles.
Metacade: A P2E game gaining momentum after the presale
Metacade is a new platform that brings the broadest range of P2E titles into one place with its ground-breaking virtual gaming arcade. It is a community-led hub where gamers can hang out with friends and like-minded enthusiasts while earning passive income as they progress through their favorite games and compete against friends and strangers.
While the vast P2E capability of Metacade is its main selling point, community members have other opportunities to earn while interacting with the hub. Primary amongst these is the Create2Earn initiative, which sees gamers earn crypto rewards for writing game reviews, sharing alpha, helping fellow users progress through games with tips, and contributing to live chats on the platform.
In addition, Metacade aims to lead innovation within the play-to-earn crypto gaming sector with its revolutionary Metagrants scheme. A program designed to support the development of new exclusive titles, developers submit applications for community voting to gain funding to support their ideas. The members can vote for the games they most want to see. Meanwhile, developers have the opportunity to gain essential Web3 experience.
Why MCADE?
A successful and fast-moving presale is the best way to get investors' attention. Metacade has already raised more than $4.5m in just ten weeks. With momentum building behind Metacade's rich and diverse project roadmap, MCADE is a GameFi token that can offer returns.
With further developments due between now and Q4 2024, when it becomes a fully-fledged DAO, including the launch of external titles on the platform and a Web3 jobs board from Q1 2024 onwards, demand for MCADE tokens may increase following the conclusion of the current presale when the coin price will be $0.02.
>>> You can participate in the Metacade presale here <<<
The Sandbox: A P2E digital real estate platform
The Sandbox (SAND) is a GameFi platform with Roblox and Minecraft-like aesthetics providing a reassuring home for many gaming enthusiasts. Gamers use the native SAND token to purchase digital real estate plots, which can be monetized in several ways, including through developing P2E gaming titles.
The Sandbox has simple-to-use creative tools, allowing users access to intuitive plug-and-play tools to produce unique characters, accessories, and games. It makes it an entry point for budding game developers with minimal or no coding experience. There, they can build in-depth worlds and compelling games for other users to enjoy.
Earning potential increases as users create a greater range of NFTs to trade and sell or develop their plots to increase their appeal and usability by other users.
Why SAND?
The Sandbox has support from players in business, fashion, and popular culture. Those with real estate plots on the platform include Snoop Dogg, Paris Hilton, Adidas, Gucci, and skateboard legend Tony Hawk. Examples of uses for digital real estate plots can be found with Hawk's plans for a virtual skate park and Warner Music's virtual musically-themed amusement park.
Celebrity backing makes it appealing to investors. SAND's current price of $0.432549 is more than 95% below its all-time high (ATH) of $8.44. As the market recovers, investors may benefit from accumulating SAND, banking on the project's long-term appeal and possible retest of historical highs.
Axie Infinity: P2E leader capitalizing on blockchain development in 2023
Axie Infinity is one of the metaverse's biggest P2E titles. It will be familiar to any gamer that enjoyed Pokemon Go when it was all the rage a few years ago with its ground-breaking Augmented Reality technology. Axie Infinity gamers collect virtual pets, known as Axis, each of which has different skills and strengths. Axies can be trained, equipped, and upgraded to win battles against other users' Axies, gaining rewards in the process.
The game's tried-and-tested formula has proven extremely popular with GameFi fans, clocking more than 2m users in October 2021 and gaining a large, loyal, global user base. In South-East Asia, Axie Infinity is looking to utilize the Ronin bridge, an Ethereum sidechain built for the platform, to provide an improved user experience in 2023.
Why AXS?
While the aim and gameplay of Axis Infinity remain familiar to its huge fanbase, it would be wrong to accuse the platform of stagnating. Developments continue behind the scenes to employ the latest Web3 technologies and enhance gameplay. The Ronin bridge could also fully harness the potential of Ethereum's blockchain capability.
Nonetheless, AXS wasn't immune to the bear market conditions of 2022. It fell from its all-time high of $166 and is currently trading at a fraction of the price at $6.68. Analysts believe AXS may recover in 2023, providing an opportunity for long-term investors.
Gods Unchained: A P2E NFT trading game
Gods Unchained offers a vast NFT card trading gameplay experience. It has proven itself an entry point into the P2E gaming sector through its free2play gateway. However, earning potential has increased for users who purchased the native GODS token.
The gameplay experience mimics real-world fantasy card trading titles, with gamers collecting NFT cards of characters to build the most substantial cast possible before competing in battles against other users to gain rewards. The in-game marketplace enables the sale, purchase, and trade of cards, all underpinned by the GODS coin.
Why GODS?
Gods Unchained maintains the loyalty and interest of its vast user base with the regular release of new card packs. These include new characters with different strengths and capabilities, meaning that a player's cast of characters is never complete. There's always space for them to strengthen their hand. This evolution has ensured that the platform remains relevant.
This longevity offers investors assurance that their long-term investment is sound.
With the GODS currently trading at $0.2103, down from its all-time high of $7.26 in 2021's bull market, its position as a popular play-to-earn crypto game may be a reason for long-term investors to consider the token.
These four titles are some of the top play-to-earn crypto games on the market. With sector growth expected in the next five years, long-term investors may benefit from a recovering market following the losses of 2022.
Metacade can be a play-to-earn crypto game with potential in the long haul. As part of the Metacade roadmap, the Metagrants program, Work2Earn capability, and a transition to becoming a community-owned DAO by Q4 2024 could shape the P2E sector in the years ahead.
There was notable demand for Metacade's token during its presale, which may spill over to 2023 once it lists on crypto exchanges.
You can buy the best play-to-earn crypto game tokens at eToro here.
You can participate in the Metacade presale here.
Disclosure: This content is provided by a third party. crypto.news does not endorse any product mentioned on this page. Users must do their own research before taking any actions related to the company.