5 Best & Trusted Cloud Mining Sites In 2021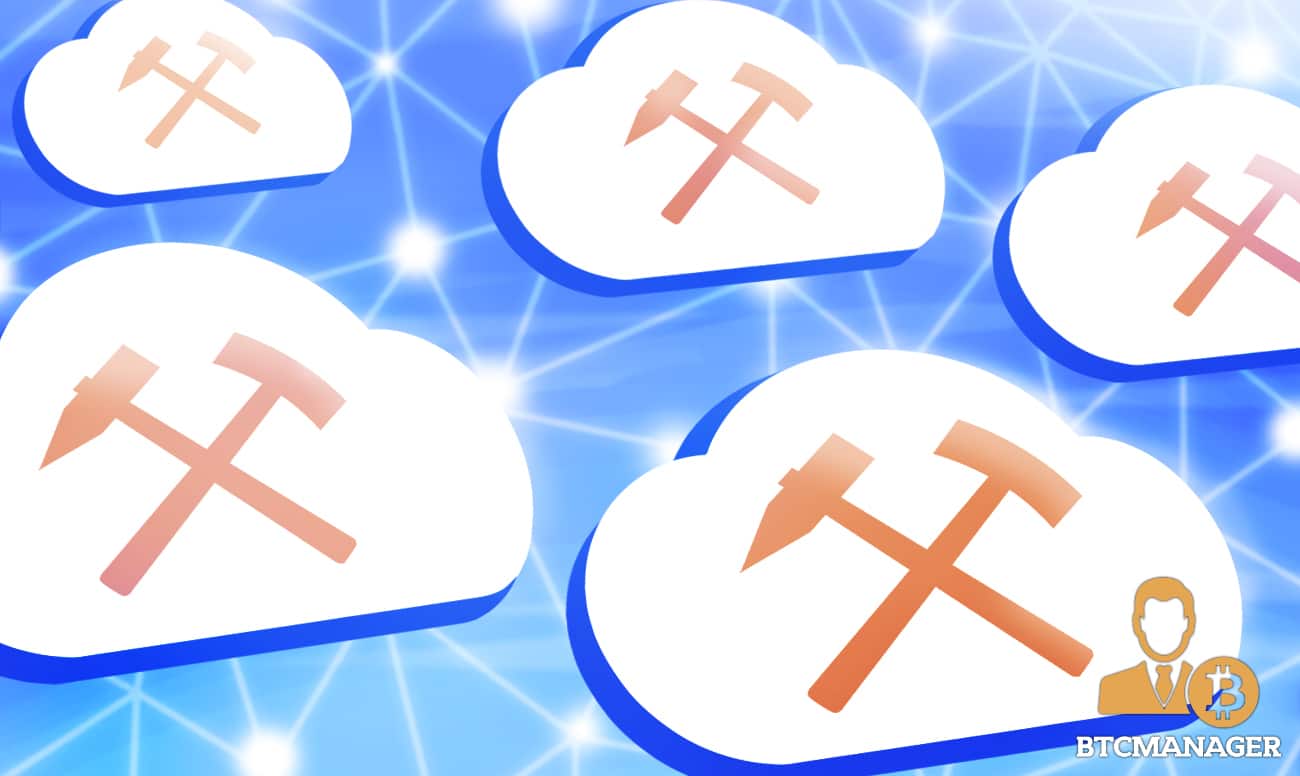 Looking for the best and trusted cloud mining platform? Here comes our personal Top 5 of secure and profitable cloud mining websites that allow you to make BTC in 2021.
Bitcoin and altcoins have been around almost for a decade now. The key thing about that kind of digital money is mining, a process of creating new coins by solving complex computational math problems. To put it another way, before you can use your crypto, the digital currency has to be mined. It seems easy, and yet it is not. The biggest issue is the fact mining Bitcoins is a very expensive affair, and as such, not everyone interested can do it. To start mining cryptocurrency by yourself, you have to buy mining equipment, software, among other accessories that are extremely high-priced. High electricity bills, noise, and heat are the other cons of the mining process.
The alternative is cloud mining that allows mining BTC and altcoins by using the shared processing power which is hosted on the remote Data Centers. The only mining hardware you need is your computer (or even smartphone). Choose a provider, rent a miner and just track your steady passive income daily. 
By the way, cloud mining brings a lot of benefits for both beginner miners and experienced cryptocurrency investors. Let's start here, it could help you to save on costs. With cloud mining, you don't have to buy any hardware as well as software. Plus, you don't have to incur any other kind of extra costs (such as power bills). While mining cryptocurrencies by yourself is a complex undertaking, crypto cloud mining with a trusted cloud mining website is a pretty simple affair. 
Let's have a look at some best and trusted cloud mining websites that offer to mine coins with a small investment. Here are our personal favorites so far. 
1) ECOS
ECOS was established in 2017 and remains one of the best cloud mining providers today. Launched in the Free Economic Zone, it is the first cloud mining provider to operate with legal status. It has more than 200,000 users from all over the world.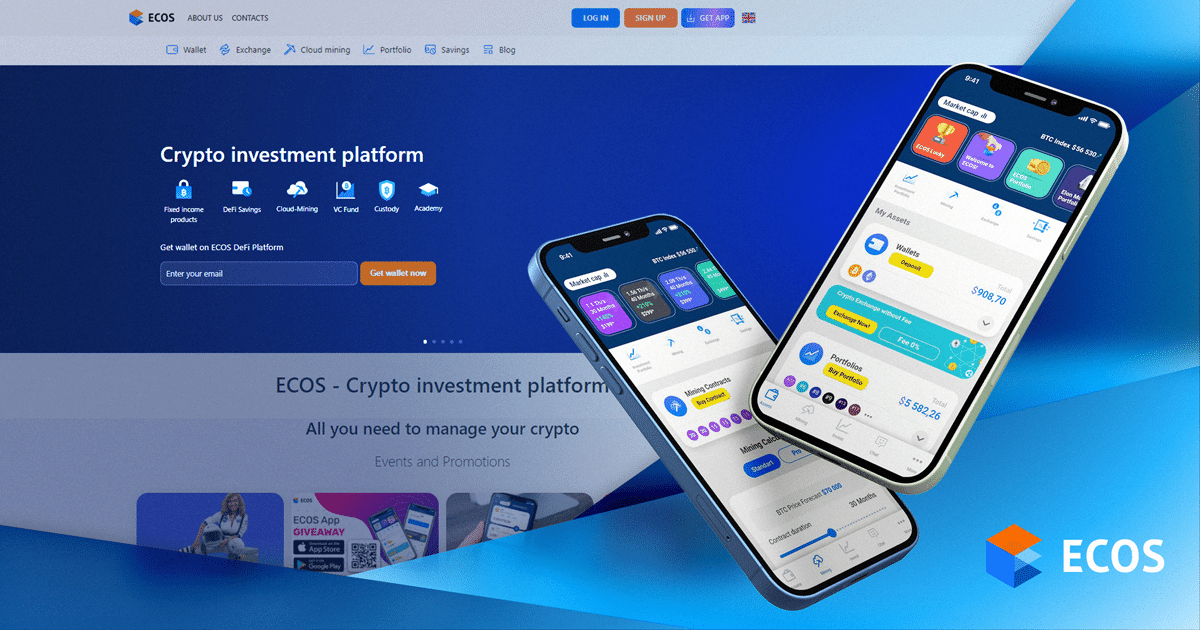 The company offers a wide variety of mining contracts to users. The minimum price for a mining contract is $100. This contract remains active for a period of twenty four to fifty months. Additionally, there are different options available for you that you can use for deposits or withdrawals. These include Credit Cards and cryptocurrencies such as BTC, ETH, XRP, and LTC.
Features:
– Daily payments.
– The very low minimum withdrawal from 0.001 BTC.
– Convenient calculator on the website for choosing a mining contract with profitability forecast (has standard and pro versions)
– ECOS is a full-fledged investment platform. It includes not only cloud mining but also a wallet, exchange, investment portfolios, and all infrastructure for building your own mining farm.
– ECOS has a convenient mobile app. It is available in App Store and Google Play
– Get a free trial mining contract for 1 month after registration
2) BeMine.club
BeMine is a cloud mining hosting that combines the largest Russian data centers, as well as miners and ordinary users who want to start mining cryptocurrencies.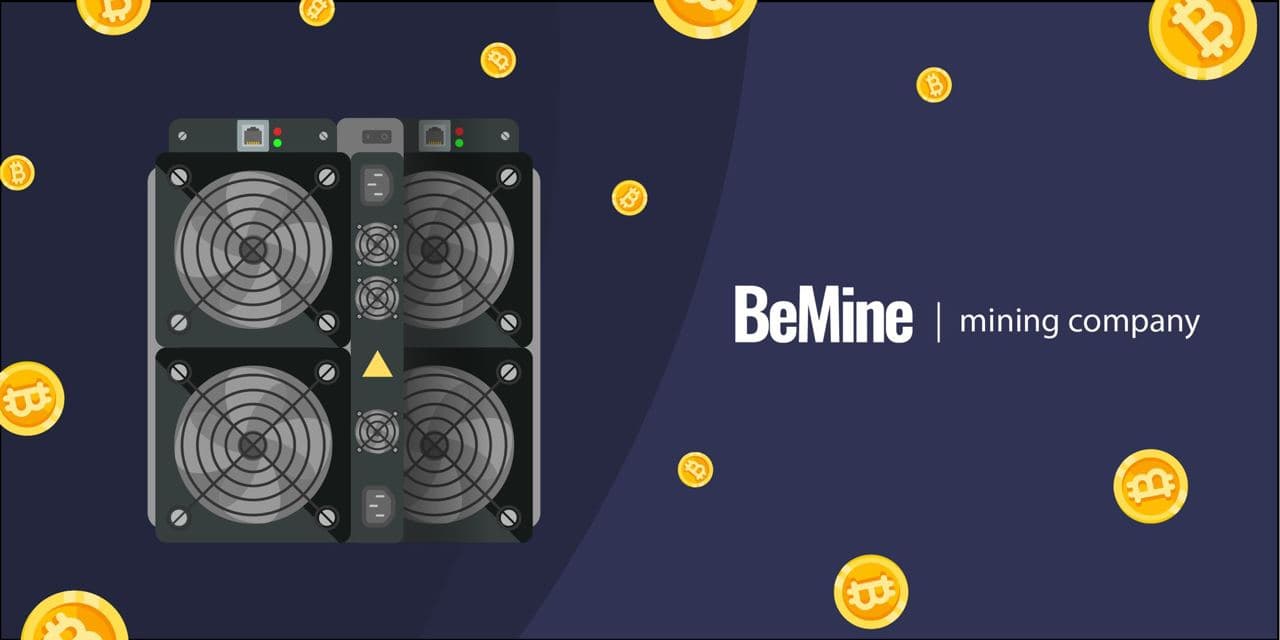 A team of blockchain specialists gathered in 2016 worked on the creation of the project. The founders of the project are graduates of leading Russian universities in the field of blockchain technology.
A special feature of the service is the very low cost of equipment maintenance, also taking into account the fact that the complex offers legal and technical support to users.
During its work in the Russian market, the company has reached the international level and does not intend to stop there. For the convenience of users, the service interface has been translated into Russian and English.
BeMine is a team of professionals with great prospects and ambitions. The service offers a range of services for bringing cryptocurrency mining to a new level, profitable even for beginners without knowledge and investments.
2) SHAMINING
Our first object of interest is SHAMINING, a UK-based company that offers cloud mining under several kinds of contracts. Launched in 2018, today it can be marked as the best and trusted cloud mining website (especially for the beginners). Currently, the company provides global customer service successfully sharing its capacity hosted in three Data Centers (in South Africa, England, and California, US).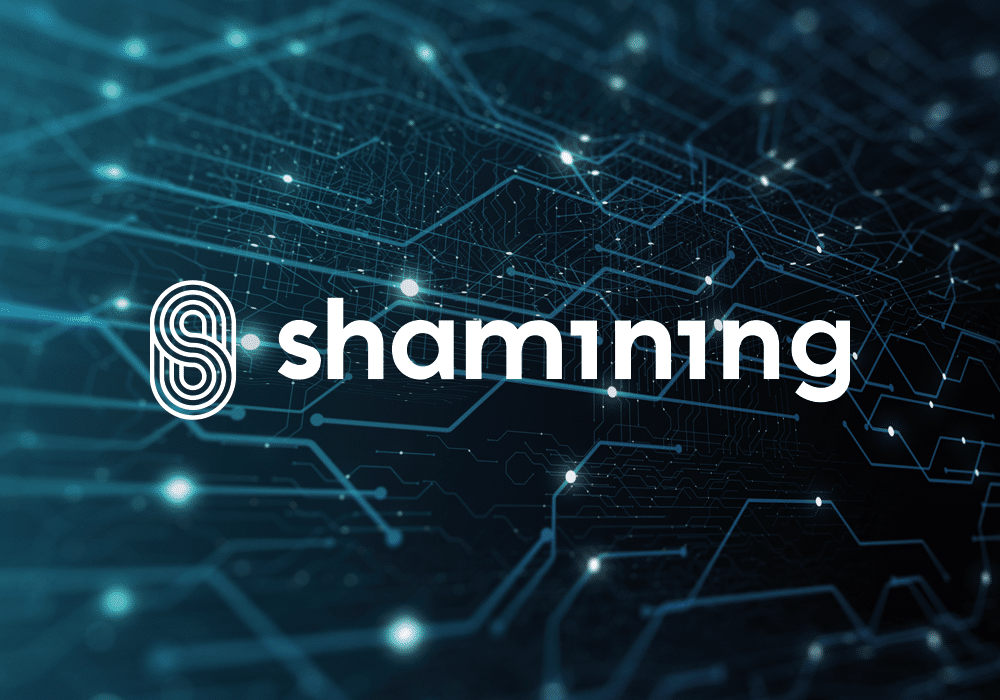 A minimum deposit amount is only $250, while a rate of return is 143% on SHAMINING. With pretty good indicators, it seems like such a profitable deal. For instance, with a $5 000 cloud mining contract, you will make $890 income within just one month of mining coins (and mind it's really passive income, literally doing nothing). So within just one year using this type of cloud mining contract, you will achieve a $10 680 net profit rate. The extra benefits of this UK-based cloud mining provider are 24/7 customer support, fast payouts, and really fun user-friendly interface. So we mark SHAMINING as a trusted cloud mining platform to earn Bitcoins from home (or any other spot all around the world). 
Available contract options:
– CPU miners (23 580 GH/s). The current price per 1 GH/s is $0.0120. The return rate is 143%.
– GPU miners (94 340 GH/s). The current price per 1 GH/s is $0.0113. The return rate is 149%.
– ASIC miners (235 849 GH/s). The current price per 1 GH/s is $0.0109. The return rate is 156%.
To start making crypto on the SHAMINING cloud mining platform sign up and deposit using the preferred payment method: by your BTC wallet, by IBAN bank transfer, or via Visa or MasterCard credit card. Note the cloud mining process starts straight after you purchased a contract. Another pro is an extra bonus for every new customer. Sign up now and get a +37% bonus on your first investment.
4) TrustCloudMining
TrustCloudMining is a cloud mining and investment firm that caters to small investors with low entrance barriers. The firm offers the opportunity to quickly enter the cryptocurrency market without incurring any upfront costs because they handle all of the mining for you. Trust Cloud Mining now supports three algorithms: SHA256, Ethash, and Equihash. You choose the algorithm you want, and we'll supply the necessary resources.
For the past three years, TrustCloudMining has been effectively providing cloud mining services. By offering everyone a taste of becoming a miner, the firm hopes to normalize the bitcoin mining sector. TrustCloudMining does not use video cards because it believes that video cards should be used for what they were designed for: visual acceleration, gaming, and rendering.
To decrease energy usage and carbon footprint, the firm employs sophisticated ASIC miners intended for cryptocurrency mining.
Why choose Trust Cloud Mining?
lets collect the skim of this platofrm in the below bullets to make things more easier.
the minimum depost is as low as $250. Unlimited withdrwals are available at a time. You can withdraw as low as 0.001 BTC from Trust Mininig..
According to the platofrm, grreen energy is used during the mining process.
The customer support is remarkable at Trust Mining. You can get your query resolved in no time. the option of live chat is also available..
There are no payout delays. Several depost methods are avaialble to leverage the user as much as they can.
All "A" list coins are avalable to mine. Morever they do add coins to their portfolio on customer recommendations.
Trust Mining is doing all possible to stay current with technological developments by acquiring the best equipment on the market. Mining has become easier for us, however there is still much work to be done every day to guarantee that "US" users have no issues. The Trust Mining setup procedure is straight forward and perfect for beginners.
Trust mining looks after its customers in case that they want assistance. The platform's customer service staff provides outstanding support.
5) HashBiter
HashBiter is an investment company and cloud mining firm with data centers located around the globe. Since physical miners back their crypto-mining capabilities, they can offer relatively low fees while maintaining a stronger crypto mining punch. They have over 785k investors, processing over $821k in withdrawals and over 3.2 million transactions. 
Getting started with HashBiter is easy. All a user needs is a valid email address. Upon registering, the user needs to select a cryptocurrency mining plan that suits them, depending on risk profile and preference, before paying for the mining plan of choice. HashBiter currently supports USDT-TRC20, BTC, ETH, LTC, and XRP—these are top coins higher up the liquidity ranking. HashBiter processes all users' withdrawal requests within 24 hours—an advantage for miners who might want to book their profits faster before prices turn.
HashBiter has profitable cryptocurrency cloud mining plans. Cloud miners can start with the "New User Experience Plan" for $100, where a user will be locked in a one-day contract offering a return of $2 mining USDT. There is no maintenance fee charged in all plans. An ambitious cloud miner searching for higher profits can choose to mine USDT, ETH, or BTC at an advanced level. Specifically, there are two Litecoin mining plans. A miner can choose to invest $7k for a seven-day contract or $15k and get bound by a 40-day contract. There are also two ETH plans where a miner can invest $3k or $30k with varying contract periods of 15 days and 45 days, respectively. Bitcoin enthusiasts keen on supporting the network can invest $8k for a 30-day contract where the expected return will be $6,720.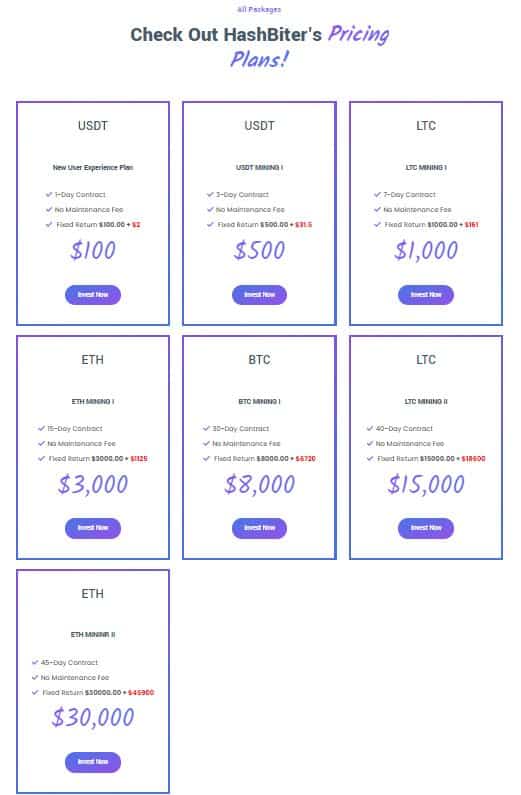 The investment company also has a referral program which rewards a three percent commission for every new user referred who chooses to invest with HashBiter. 
6) CryptoUniverse
Our next stop is CryptoUniverse, a well-known and one of the largest cloud mining services offering to receive a stable passive income day after day, and month after month. You can rent a shared hash rate and create a personal plan to earn Bitcoins daily on CryptoUniverse. Rent duration options are 180, 360, or 540 days. Investments start from $48.5 only, and we think it is one of the lowest entry amounts among cloud mining platforms so far. 
The company provides several kinds of cloud mining contracts for pros and beginners with any investment amount. Let's take a look at the most popular options.
 – Promo. The current price is $35 per 0.5 TH/s for 365 days. The daily income from cloud mining is $0.19. The daily electricity fee is $0.005. The daily management extra fee is 4.9%. 
– Beginner. The current price is $1 426 per 30 TH/s for 180 days. The daily income from cloud mining is $11.63. The daily electricity fee is $1.8. The daily management extra fee is 4.9%.
– Professional. The current price is $3 871 per 50 TH/s for 360 days. The daily income from cloud mining is $19.38. The daily electricity fee is $4. The daily management extra fee is 4.9%.
– Exclusive. The current price is $9 702 per 100 TH/s for 540 days. The daily income from cloud mining is $38.76. The daily electricity fee is $9. The daily management extra fee is 4.9%.
Another option that allows you to make Bitcoins on CryptoUniverse cloud mining site is an affiliate program. Every registered member can easily create an affiliate link for sharing it with friends and making an extra income from purchases made by any new user invited via the referral link. So you can get up to 10% depending on the referral's spent amount under the CryptoUniverse affiliate program. 
7) Hashmart
Hashmart is a trusted cloud capacity provider that shares its miners taking care of everything from equipment provision to regular maintenance. The company brings an opportunity to rent a capacity for cloud mining with zero downtime risks. The Data Centers are located in Siberia, Russia, and contain the powerful ASIC miners pools that allow mining cryptocurrency in the most efficient manner. 
The cloud mining provider supports several plans that vary in their hash power, maintenance fees, and some other details. The most popular option on Hashmart is a twelve-month Bitcoin cloud mining contract. Also, there is an open-ended one that provides 300 Gh/s and 250 Gh/s capacities to choose from. The higher hash power rate brings the biggest cloud mining opportunities the user can take advantage of. Currently, a platform supports payments in both crypto and fiat currencies. You can purchase your cloud mining contract on Hashpower by credit card, by any kind of Bitcoin wallet, or via bank transfer (in EUR only in favor of the Cyprus Bank).
Hashmart provides Bitcoin cloud mining only for now. But they keep in mind an idea to increase and add Ethereum as well as other cloud mining contracts soon.
FAQ
What is cloud mining? How does it work?
Cloud mining is a most simple way to mine cryptocurrency without buying and managing any special equipment. It is the process of creating new digital coins utilizing a provider's remote Data Centers with shared processing power. Since cloud mining is provided as a service, it commonly includes some costs and fees. 
To put it another way, cloud mining involves the process of mining Bitcoins by leasing mining hardware from a third-party cloud provider company that is fully responsible for maintaining the equipment and paying service/electricity bills.
What are the advantages of Cloud Mining?
The major benefit of cloud mining is an opportunity to make cryptocurrency without purchasing expensive equipment from anywhere in the world. There are some extra advantages. 
– Reasonable prices for cloud mining contracts.
– Quick and simple registration process.
– Cloud mining won't create an uncomfortable environment in your home (while traditional hardware mining will surely do it).
– Finally, you don't have to pay high-priced power bills.
Is cloud mining safe for me?
While investments in cryptocurrency bring some risks, cloud mining is safe in the case you're purchasing a contract on a legit, trusted website.
How can I convert crypto to cash?
There is no issue converting a cryptocurrency you made from cloud mining to fiat money like USD or EUR. The most popular options are cryptocurrency exchanges and stock exchanges as well as Bitcoin ATMs. Then, a lot of cloud mining providers support direct transfers to Visa and MasterCard credit cards.
What is Hash Rate in cloud mining?
When we talk about the hash rate in cloud mining we mean a unit measuring the computational processing power of the BTC network. For instance, when it reaches a hash rate of 7 TH/s, it means the network makes 7 trillion math calculations per one second.
Is cloud mining legit?
Mind that cloud mining is completely legal in most countries in the world (except certain places just like Pakistan, Egypt, Ecuador, Morocco, or Bolivia). So when you make Bitcoins using cloud mining sites features, you do it completely under the law.