5,800% BTC rally is coming, Bitcoin S2F model creator PlanB says
PlanB — the pseudonymous analyst behind the famous Bitcoin (BTC) stock-to-flow (S2F) model — anticipates that Bitcoin could soon see a 5,800% rally.
During a recent interview, PlanB suggested that Bitcoin could be headed significantly higher and that his stock-to-flow model has not yet been invalidated. He said:
"If we assume that the old model, the original 2019 model is correct, the $55,000 model, then the next halving could lead to prices somewhere — and I'm making a very wide range, some people don't like it — but somewhere between $100,000 and a $1 million."

PlanB, crypto analyst
PlanB has gone as far as to say that he is confident that the forecast will hold unless his model is completely invalidated or "Bitcoin dies." He highlighted:
"I have no doubt whatsoever that we go to that $100,000—$1 million range, and no matter how you look at it, the current price is a steal if that's what you believe. So yeah, I'm very optimistic."

PlanB, crypto analyst
Talking about the near term, PlanB suggested that Bitcoin would likely hit the bottom of the ongoing bear market over the next few months.
The stock-to-flow model is a type of economic quantitative model that prices commodities based on the total existing supply (stock) and the new supply created in a given time (flow.) In the case of Bitcoin, the current supply is the stock, and the newly-mined Bitcoin is the flow.
Bitcoin halvings are pre-scheduled events that cut the rate at which new Bitcoin is mined in half by reducing the BTC mining rewards for each new block by 50%. Halvings have a great influence on this model's price prediction. Looking at the 463-day version of the model, which "smooths out" the price increases following halvings by averaging out, we can see that the model has predicted Bitcoin's performance to an impressive degree.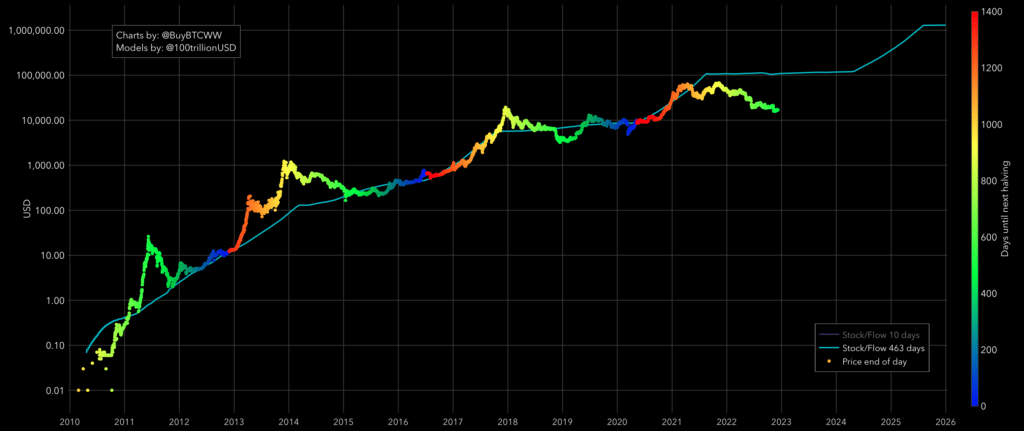 Many have claimed that the latest bear market invalidated the Bitcoin stock-to-flow. Others reported that the coin's price had ventured further away from the model's prediction than anytime before. Still, looking at the stock-to-flow deflection chart available on the blockchain data service Glassnode we can observe that the latter statement is not true.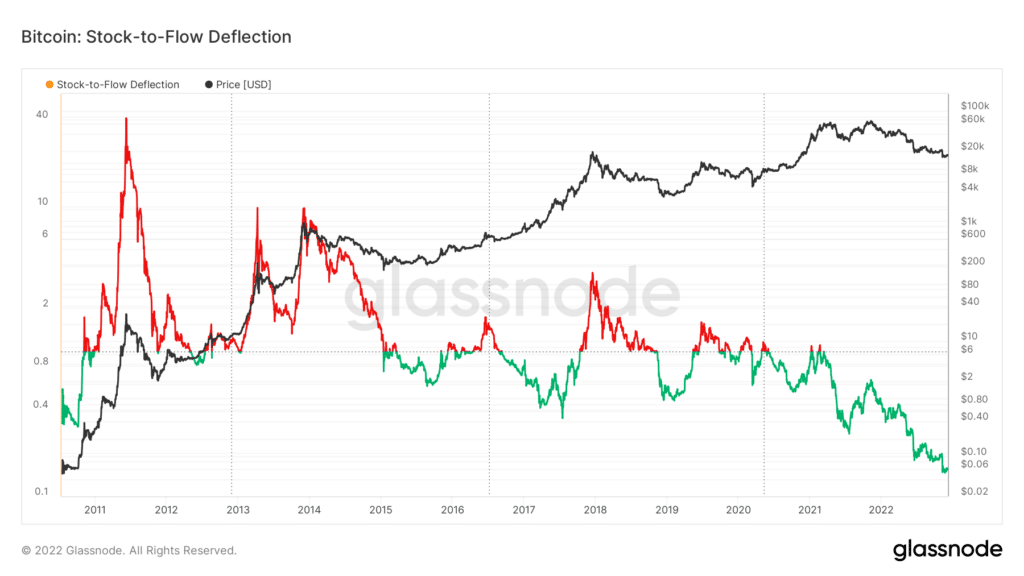 The chart clearly shows that Bitcoin is currently worth under 15,3% of what the stock-to-flow suggests it should be. Still, during 2011's bull market, the price was worth almost 40 times higher than the model estimated its value to be. The price ventured much further from the S2F estimates before than it is now, just never in the negative.