Announcing Zebu Live! Immerse yourself in London's growing Web3 scene this September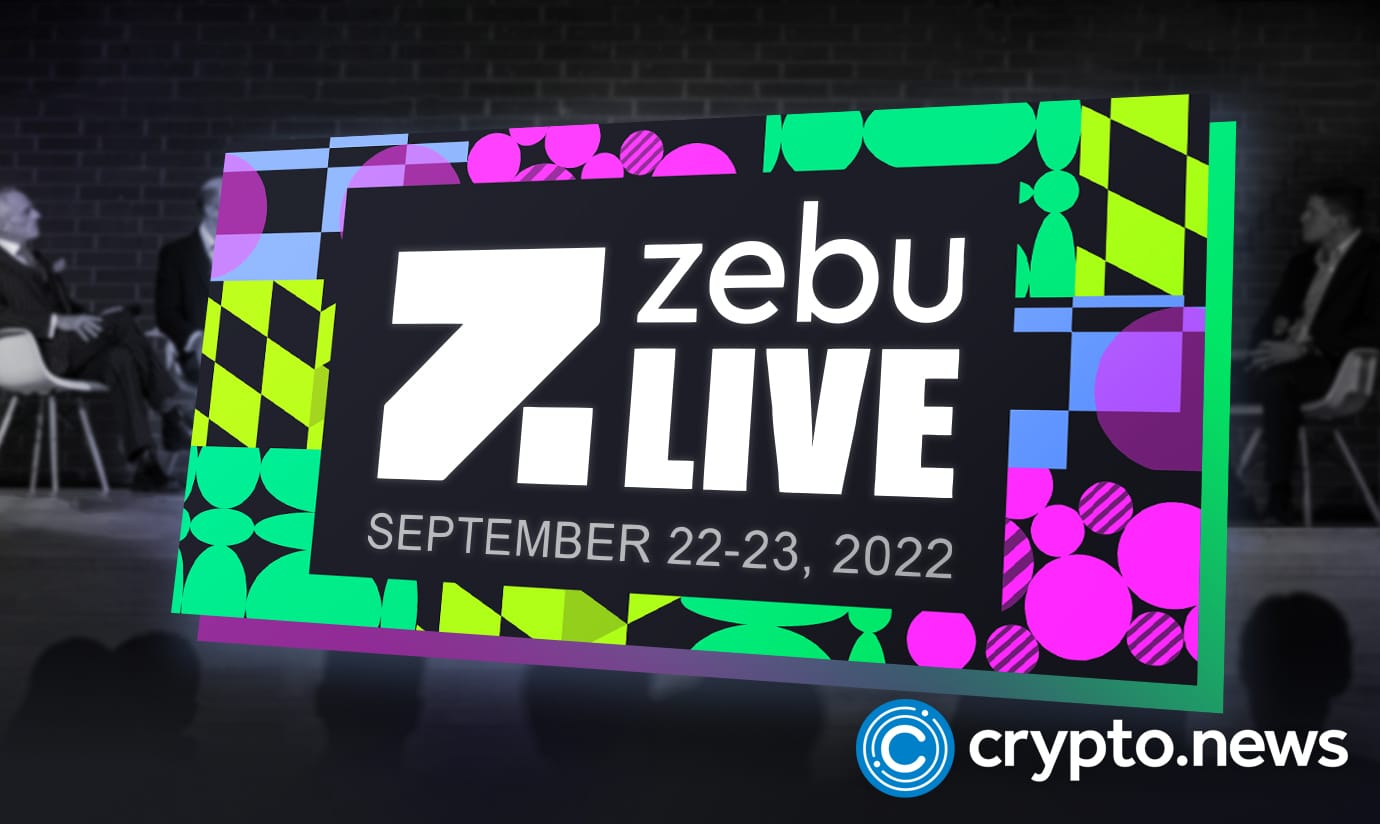 London, UK, 06th June 2022 – Following the incredibly successful DeFi Live event in November 2021 in London, Zebu Live is the natural evolution of the event as organizers, Zebu Digital double the size of the agenda and attendees, focusing on topics from all across Web 3.0 this September 22-23.
Attendees last year highlighted that it was one of the best groups of people they've ever met at a crypto conference, consisting of high-value investors, the hottest startups, as well as up and coming innovators ready to pave the way of decentralisation.
From DeFi Live to Zebu Live
As Zebu Digital has grown as an agency reaching their 1-year mark, the maturity of their brand sees the creation of more thought leadership material and resources, culminating in the annual event now known as Zebu Live. With over 40 staff and 20 completed client projects, the Zebu team are able to walk the walk as well as talk the talk, and will be proving it at this unmissable event.
Mark Sugden, Head of Community at NEAR,
"After attending DeFi Live in 2021 as a panellist, I couldn't wait for NEAR to get involved in the next event in an official capacity. The sense of curiosity and desire to create was evident and NEAR as a blockchain are passionate about supporting creators. We are looking forward to the event being a melting pot of creativity."
Zebu Live is quickly becoming one of the top Web3 events brands in the world, successfully planning some of the most anticipated events of the year. The team travel across the world attending events, reporting on them, and learning how to create the best conferences possible. Most recently, they organised a variety of events, from local London meetups and side-events such as networking sessions at global conferences. Their past events include Drink 2 Earn during the Avalanche Summit in Barcelona and IRL NFT in London.
London Web3 Week
Zebu Live is also proud to announce that they will be cohosting London Web3 Week (Sept 19-25) that will feature an array of networking events, afterparties, meals and more that will be organised by some of the top Web3 brands and projects in the space including Luno, Kudos, NEAR, Algorand and Harmony.
What to Expect
With over 75 speakers from across the world lined up, expect to hear from some of the brightest minds and passionate degens in the space. The Zebu Live team have just released their first batch of ~45 speakers live on their website. Go check them out: https://www.zebulive.xyz/speakers
The organisers aim to bring together all the biggest communities to work together towards the goal of mainstream adoption. Some of the topics that will be covered at the event include:
Putting the UK on the Web3 map
Creating a sustainable Web3 community
Bringing DeFi to the masses
How big brands can enter the NFT space
Musical experiences in the metaverse
How to really DAO it
…and many more! For the full agenda, check out the latest lineup here: https://www.zebulive.xyz/agenda
"We're super excited to do what we did last year but even better, with the goal to more than double our audience. The team and I have been traveling to events all around the world the past few months expanding the community, meeting awesome people, and making sure they come out to London this September. Zebu Live is quickly becoming more than just an event but a brand focused on creating the best possible web3 events around the world. We're thrilled for our second annual multi-day conference in Central London, this time focusing on the people and communities behind the web3 revolution." – Ashton Barger, Head of Partnerships & Events, Zebu Digital.
Exceeding Expectations:
Last year's 100+ speakers such as Paul Gordon of Coinscrum and Brian Rose of London Real need no introduction, and the list of sponsors speaks for itself, but potential attendees should expect the same enormously-high quality standards of the Zebu Live team, speakers and partners:
Stay tuned
The Zebu Live London Web3 Conference has yet to announce their big headliners and title sponsor, so stay tuned for more big news.
Make sure to grab your tickets on eventbrite before the next wave sells out:
https://www.eventbrite.co.uk/e/zebu-live-2022-london-web-3-crypto-conference-tickets-266434742487
You can reach out to the team directly with any inquiries:
[email protected]
About Zebu Live
A huge international Crypto & Blockchain event that will showcase the "People Of Web 3.0." Set to hit Central London 22-23 September 2022. Come out and see 75+ of the biggest speakers in the crypto, Web3, DeFi, NFTs, DAOs, metaverse, and gaming industries. Enjoy 2 days consisting of 30+ sessions focused on mapping out the Web3 revolution, where we're at, and where we still have left to go. There will be incredible features like an NFT Gallery, Startup Pitch Competition, Afterparty, and big side events and parties planned by some of the most well-known brands and ecosystems in the space like Luno, NEAR, Algorand, and much more!