Arts Broker Partner with Coinbase, to Accept BTC and ETH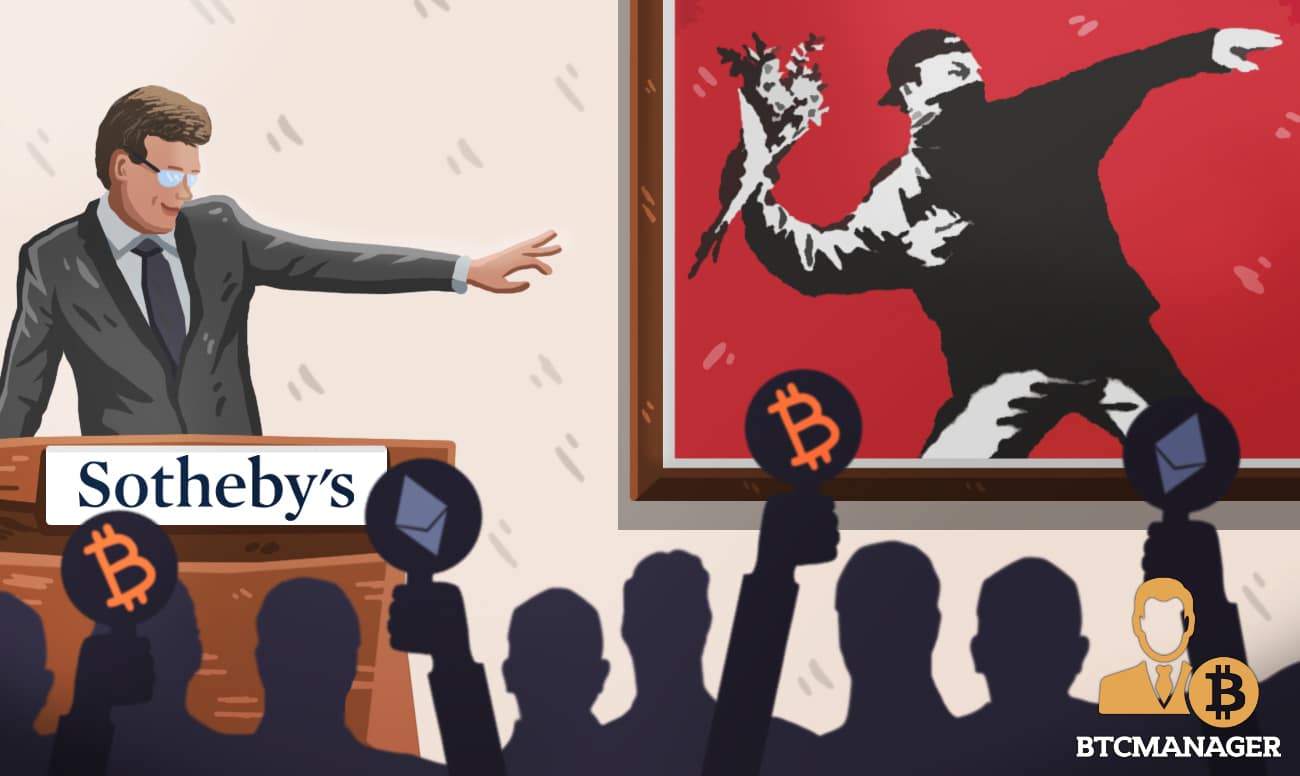 Sotheby's, which maintains a significant presence in the U.K. and is the world's largest broker of fine arts and collectibles, will–for the first time–accept BTC and ETH in their upcoming auction of Banksy's "Love is in The Air."
Sotheby's Accepting ETH and BTC
Revealing via CNBC's Squawk Box, Charles Stewart, the CEO, said the auction of Banksy's work was "the right time to introduce" crypto.
This deal will be in partnership with Coinbase—one of the world's oldest exchanges that recently went public and is valued at over $50 billion.
"What better combination to introduce crypto than an iconic Banksy painting. It may well be that the winner of this painting pays in dollars and not crypto, but I think for us, creating the possibility for this is interesting."
Banksy Painting is valued at between $3 and $5 Million
The piece valued at around $3 to $5 million is described as a "quintessential Banksy painting that's instantly recognizable."
Through this painting, the artist demonstrates his "indelible graphic style, wry humor, and galvanizing political commentary."
Although cryptocurrencies would be accepted, the winning bid on May 12 would still have the option of paying in USD.
Depending on their agreement with the winner, the auction house can opt to hold the coin.
However, the payment can still be processed by Coinbase for cash.
"We have an agreement with the owner of the painting, the consigner of the painting, so that will ultimately be up to them. Part of the partnership with Coinbase gives us not only the ability to process the payment but that possibility as well."
Plunging into NFTs
In April, the broker sold Pak's NFTs called the "Fungible," generating $16.8 million.
The event, which attracted over 3,000 buyers, was divided into three categories: open editions—said to be the most innovative and central to Pak's collection–, reserved pieces, and auctions. What's notable about this partnership is that the event broke two records.
On one part, the artist's work attracted the most number of bids for an auction item on the Nifty Gateway. Second, it had the highest number of open editions.
As Crypto.news reports, the creator of Barbie Doll, Mattel Inc., has begun issuing NFTs.