Spain: BBVA Bank to Support of Crypto Trading and Custody Is Imminent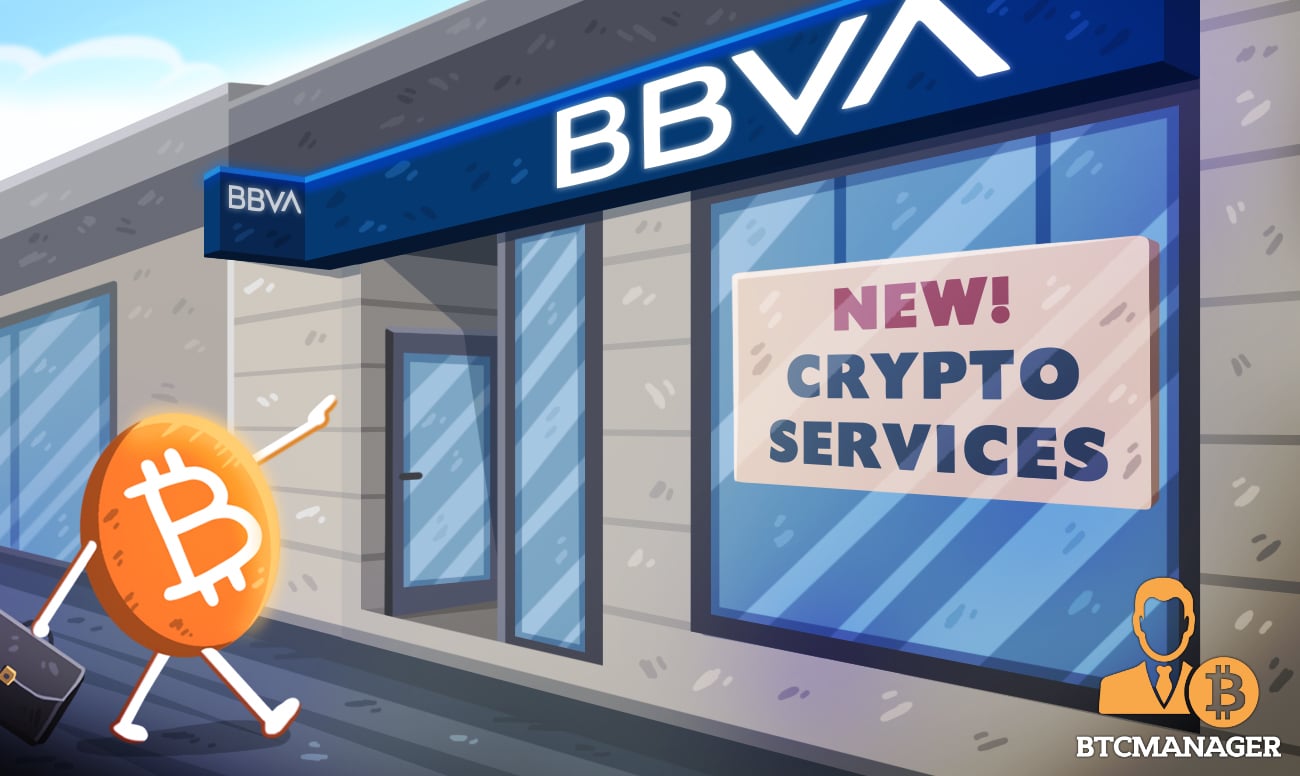 According to sources, BBVA, the second-largest bank in Spain–with an estimated $840 billion of assets under management, is planning to offer crypto trading and custody services first in Switzerland as per a CoinDesk report on Dec 7.
Launching from Switzerland
The stellar performance of the cryptocurrency market and the increasing interest from institutional investors now make banks to reconsider crypto assets. Although laws are being formulated in different jurisdictions to combat what authorities say is money laundering and tax evasion, they vary depending on zones.
For this reason, BBVA–according to people familiar with the matter, will first opt to launch crypto trading and custody from Switzerland because of their well-developed laws. 
Of note, BBVA will use the same digital asset storage solution used by Gazprom bank called SILO. Already, the bank has been working with METACO and Avaloq—a software provider, in the last six months. METACO is also working with Standard Chartered for the integration of a custodial solution. 
It will be by anchoring on Financial Market Supervisory Authority (FINMA) that BBVA will launch a Europe-wide crypto initiative starting from 2021 or once they fully comply with the regulator's stipulations.
BBVA is No Stranger to Blockchain and Crypto
Last year, Iberpay ran a Proof-of-Concept for a Blockchain-based smart payment system featuring five banks including Santander and BBVA. The objective of the project was to test the viability of automated payments for corporations by leveraging smart contracting. Here, payments would be dispensed once certain conditions, like delivery of goods or services, are met. 
A year before, in 2018, Francisco Gonzalez, the Executive Chairman of BBVA Group, called for a better understanding of Cryptocurrencies in an interview with CNBC. The emergence of digital assets represented a revolution. In his assessment, cryptos are perfect but get a bad rap for being used by nefarious agents. 
"Cryptocurrencies are perfect, but are used for bad purposes today, so [one has to be] careful. Blockchain and distributed ledger technologies are also perfect, they are big, big tools. But the cryptocurrencies must be understood, [especially] the corner where the malpractices are going."
Earlier, <em>BTCManager reported</em> of the bank issuing a green energy bond using the Blockchain to negotiate for terms and conditions in partnership with Spanish insurance house, MAPFRE.