BestChange.com Offers Best Industry Rates on Cryptocurrency Trading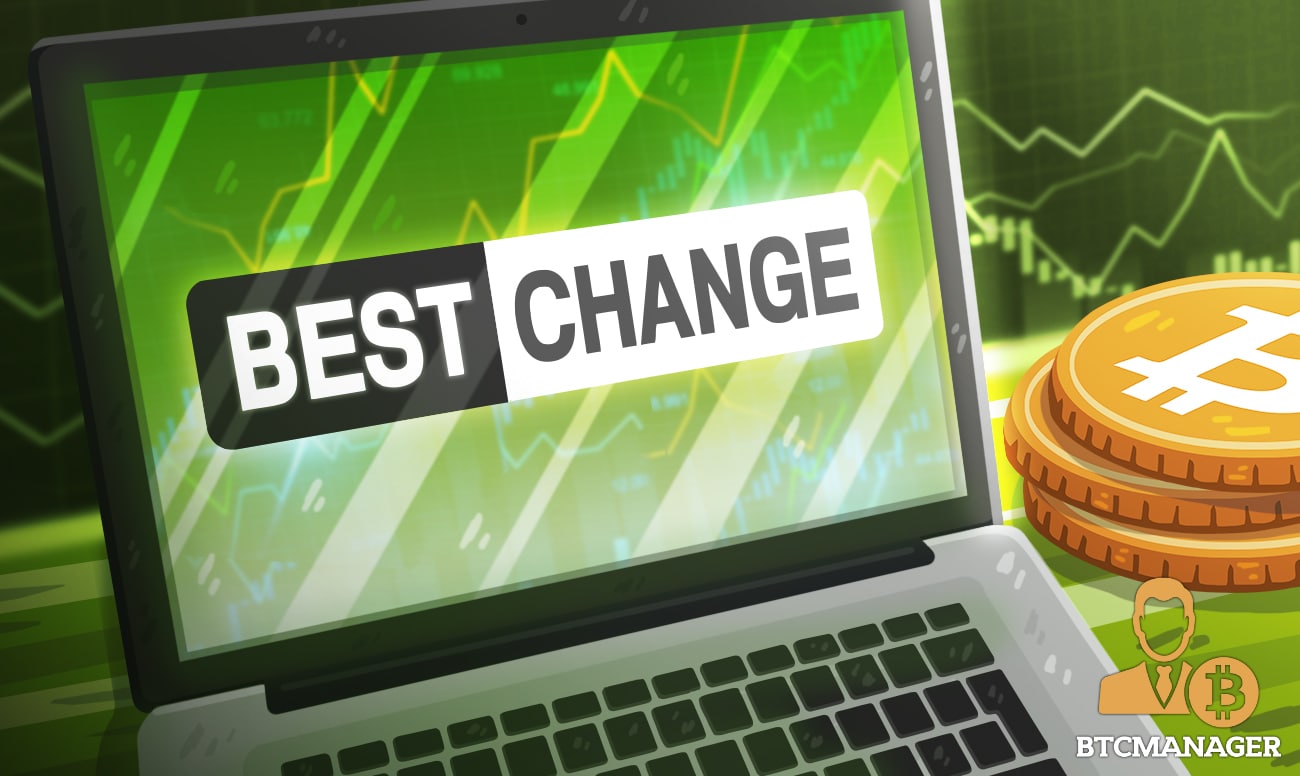 Obtaining the best rate for cryptocurrencies can prove to be a big challenge for crypto traders. Especially, in an industry typically dominated by centralized exchanges, awareness surrounding alternative avenues for trading cryptocurrencies and e-currencies is minimal. Thankfully, BestChange.com solves this problem by offering individuals a solution to swap cryptocurrencies or purchase them with fiat money and other payment mechanisms.
Crypto Trading Done Right With BestChange.com
BestChange.com is a leading directory of selected, trusted, and reliable cryptocurrency and e-money exchangers.
For the uninitiated, a crypto exchanger directory/aggregator keeps track of the most attractive offers from reliable cryptocurrency exchangers and relays the information to users who can then choose to compare the various exchangers and go ahead with the one they deem the most suitable.
BestChange aims to provide its users with an alternative platform to help them get attractive cryptocurrency rates in the industry. BestChange's vast database of verified and legitimate cryptocurrency exchangers (250+ exchangers) enables users to purchase, sell or exchange dozens of popular cryptocurrencies, including Bitcoin, Ethereum and Litecoin, and e-currencies without any hassle.
What's more, the platform also supports MasterCard and Visa cards through which users can buy cryptocurrencies with popular fiat currencies including USD, EURO, and GBP. BestChange also supports other e-payment systems including PayPal, Skrill, Advanced Cash, and Bank Wires.
How to Use BestChange.com?
Using BestChange is easier than one could ever imagine. With a simple and intuitive user interface, trading through BestChange is a completely hassle-free affair.
On the platform's homepage, on the panel to the left, users can choose the currency they currently own and the currency they want to buy/exchange to. In our example, we have chosen to trade Ethereum (ETH) for Bitcoin (BTC).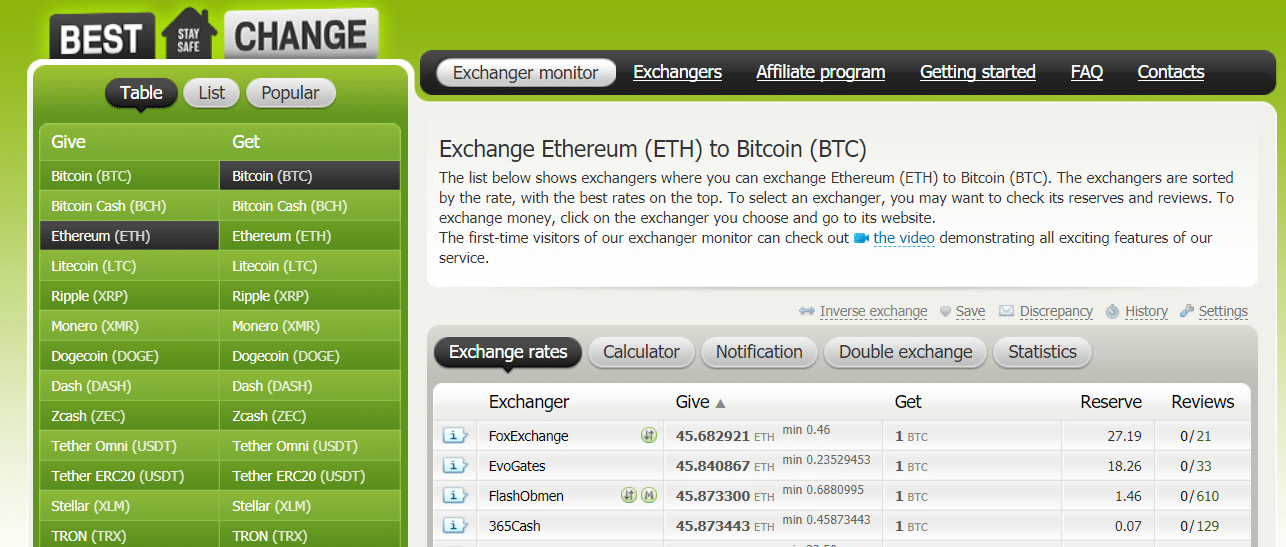 Choosing the Exchanger
After specifying the crypto asset you'd want to buy, sell, or trade, the next step is to find the appropriate exchanger on the platform. On BestChange, a user can find all the details pertaining to an exchanger including their asset reserves, status, rates, and reviews, among others.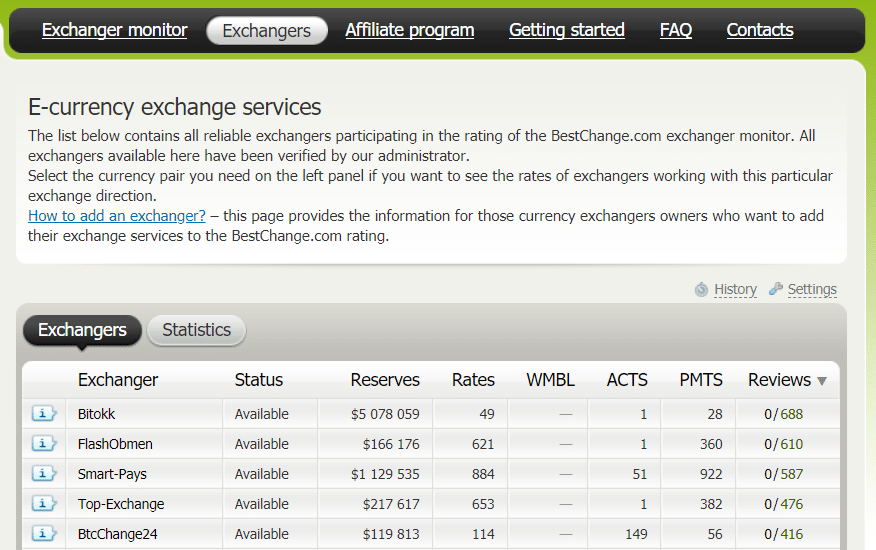 Here, it's worth highlighting that the exchangers with the best rates are at the top of the list by default. Users can choose to navigate through the list to trade with the exchanger of their choice by checking all their details.
Calculator
BestChange's 'Calculator' feature gives a clear picture of the entire trade to the user. Essentially, it helps the users check the exact amount of the cryptocurrency or the e-currency they would receive after the conversion.
In our example, as we had chosen to trade Ethereum for Bitcoin, the calculator tells us that trading 10ETH with exchanger "FoxExchange" will get us approximately 0.2186 BTC in return. It's also worth noting that BestChange offers the option to set up notifications that can alert users when an exchanger offers the desired exchange rate or has the necessary amount of reserves.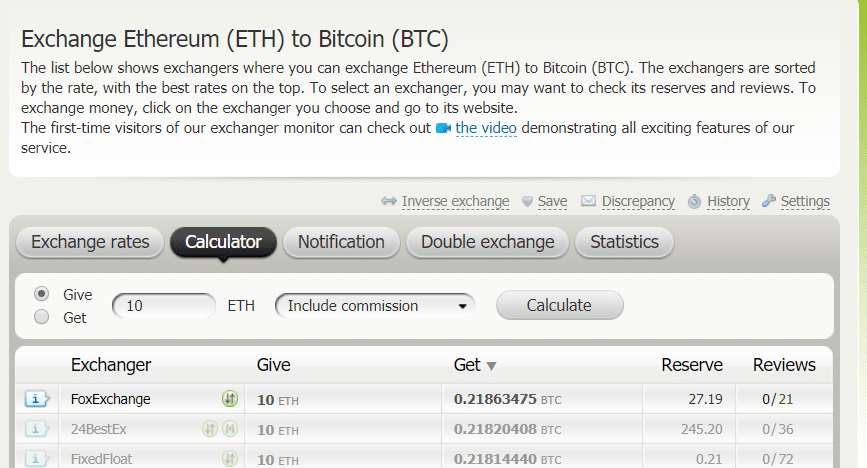 Notably, users can also choose to view the finer details of the trade with or without including the commission from the drop-down option.
Closing the Deal
Once you've identified the exchanger you'd want to make a deal with, simply click on the exchanger's display name. You will be redirected to the respective exchanger's official website from where you can follow the instructions to close the trade.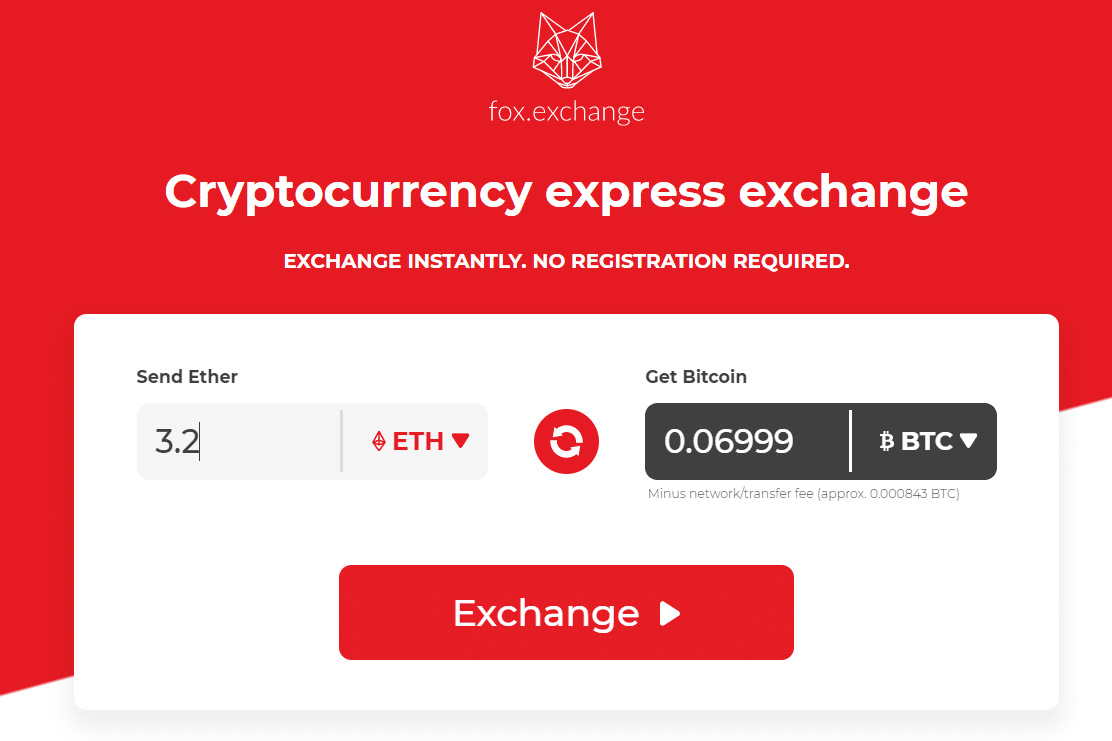 That's it, doing a transaction on BestExchange.com is just that easy.
Prioritizing User Security
Keeping user safety at the top of its priority list, BestChange conducts extensive background checks and due diligence to verify the legitimacy and the industry goodwill of all the listed exchangers.
BestChange is a reputed name in the cryptocurrency and e-currency trading space with a history of more than 13 years. The aggregator has a strict policy against scammers and crypto exchangers running low on liquidity and conducts in-depth analysis to ensure that only trusted and legitimate exchangers are reflected in its monitor.
In addition to focusing on security, BestChange also values transparency that is evident from its calculator feature. The aggregator also gives users the option to give feedback on their trading experience with the particular exchanger to enable it to better serve its users.
Final Thoughts
BestChange is a breath of fresh air in the seemingly complex cryptocurrency trading space that often keeps users interested in entering the market on the fence.
BestChange's interface offers users an array of functionalities including icons that inform about special conditions on an exchange, exchanger's details, and reviews left by real customers. The platform offers the possibility to exchange assets without verification at best market rates. It also offers an exhaustive pool of more than 30,000 exchange direction pairs to trade with.
Concluding, BestChange has cemented itself as a trusted trading platform among traders that provides them with the best industry rates for cryptocurrencies and e-currencies. The platform's user-friendly interface, coupled with easy on-screen instructions helps novel crypto traders feel at ease throughout their trading experience. To know more about BestChange, interested users can click here.