Bitcoin and Ether Market Update December 10, 2020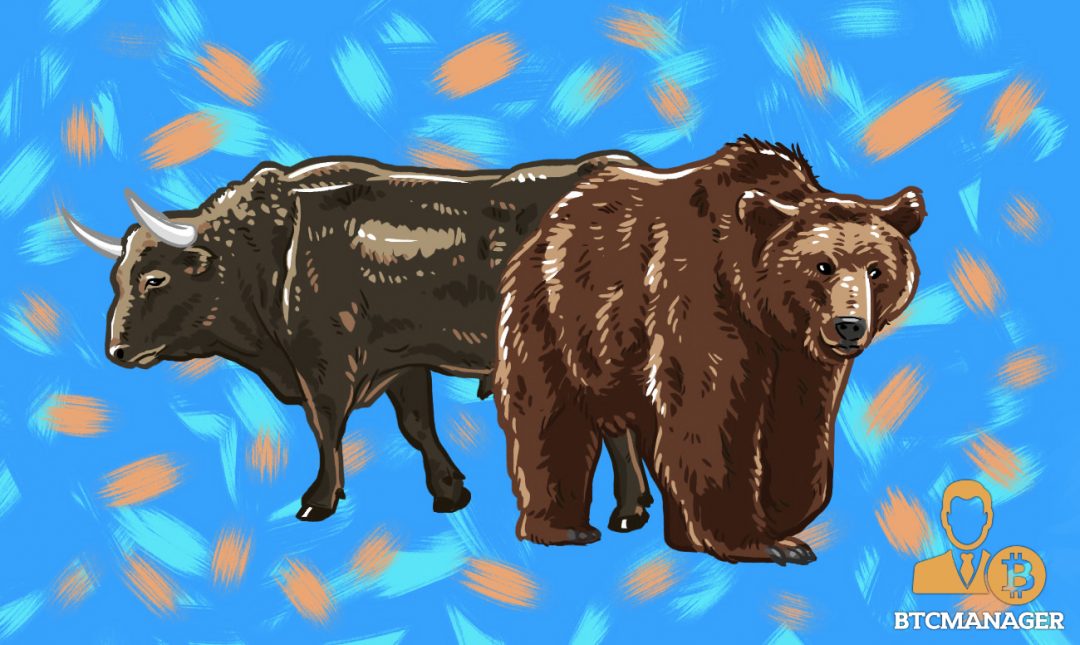 Total crypto market cap lost $25.2 billion of its value for the period since Monday morning and now stands at $547.5 billion. The top ten coins are all in green for the last 24 hours with XRP  and Cardano (ADA) being the best performers with 13.5 and 10.4 percent of increase respectively. At the time of writing bitcoin (BTC) is trading at $18,423 on the Bitstamp daily chart, ether (ETH) is hovering around $566. Ripple's XRP fell to $0.581.
BTC/USD
Bitcoin closed the trading session on Sunday, December 6 at $19,369 and after two consecutive green candles on the daily chart managed to close the week with a 6.4 percent price increase.
To many, BTC was starting to regain its momentum, and was just a matter of time before it breaks out of the bullish pennant pattern seen on the lower timeframes.
That was not exactly the case on Monday. The leading cryptocurrency moved down to $19,185 and completely erased all gains from the previous day.
The move was followed by a sharp drop on Tuesday, December 8. The BTC/USD pair nosedived to $18,300 and lost another 4.6 percent. Looking at the higher timeframes, BTC lost its weekly support situated around $19,000 and was rejected at the all-time high monthly.
The mid-week session on Wednesday saw BTC finding stability at the next weekly support line at $18,150 and the short, 26-day EMA and then climbing up to $18,556 at the end of the day. It's worth noting that bears were even to push the price all the way down to $17,600 during intraday.
The 24-hour trading volumes began to pick up steam on Monday morning and increased from $21 billion to $31 billion on Wednesday evening.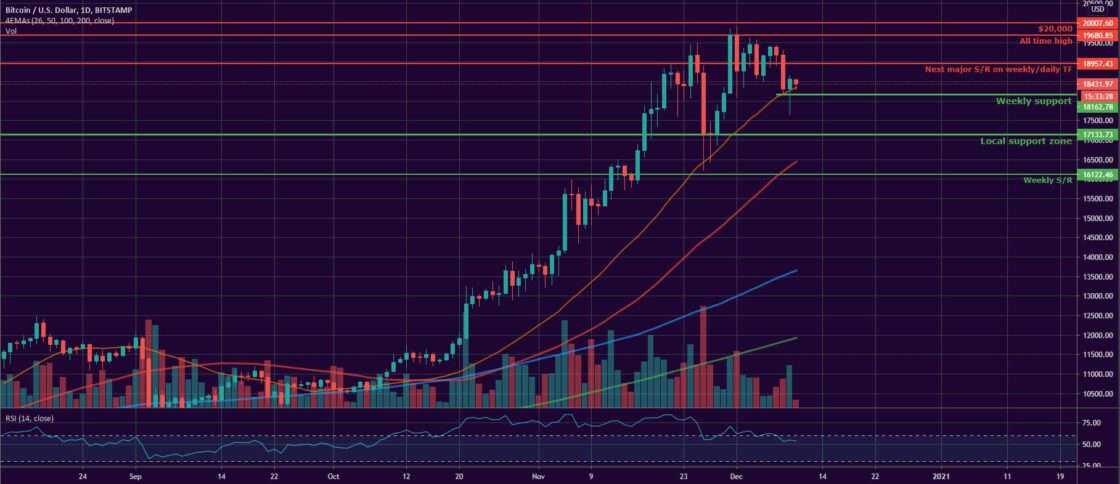 ETH/USD
The ETH/USD pair was struggling to regain positions above the daily resistance at $600. The coin closed at $602 on Sunday, December 6, but started losing momentum on the very next day. Still, it was 4.3 percent up on a weekly basis.
As mentioned, the ether started dropping on Monday by forming a short red candle to $590.
The downward correction was resumed on Tuesday, December 8, and the biggest altcoin erased 6 percent of its valuation by ending the session at $555. Bears were even able to push the price of ETH below the next horizontal support on the weekly timeframe situated at $560.
The third day of the workweek brought some relief for buyers and they saw the Ethereum token successfully recovering to $574 after hitting a daily low of $531 in the morning.
In terms of trading volumes for the first half of the week, they registered a 45 percent jump, up from $11 billion on Monday to $16 billion on Wednesday.