Bitcoin and Ether Market Update May 6, 2021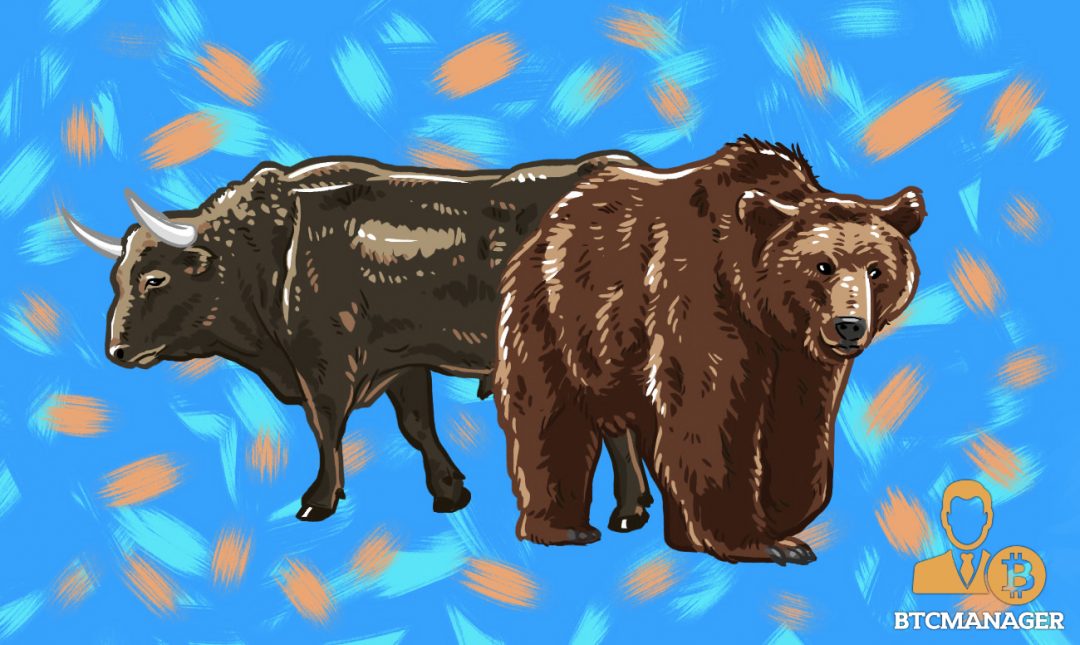 Total crypto market cap added $8 billion to its value for the period since Monday and now stands at $2.36 trillion. The top ten coins are mostly in green for the last 24 hours with Bitcoin Cash (BCH) and Cardano (ADA) leading the pack with a 25 and 14 percent increase respectively. At the time of writing bitcoin (BTC) is trading at $57,300, ether (ETH) is hovering around $3,457.
BTC/USD
Bitcoin closed the trading day on Sunday, May 2 at $56,630 after successfully rebounding from the lower $50,000s earlier in the week. The short-term reversal to the upside resulted in a 15 percent price increase.
The BTC bulls regained positions above both the 21-day EMA on the daily timeframe and the lower boundary of the old $56,000 -$59,500 range but were still struggling to make a new high on the weekly timeframe.
On Monday, the BTC/USDT pair hit the $59,000 mark during intraday, but the longs were quickly absorbed and the coin ended the session close to its opening mark.
The second day of the seven-day period came with a sharp 7 percent drop to $53,188, but the zone around $53,000 was rapidly becoming the next point of stability for buyers making it a tough obstacle for bears.
The mid-week session brought the exact same candle formation but in the opposite direction as bitcoin completely erased the losses from the previous day and stopped at $57,500.
The next target in front of bulls is to ensure a weekly close on positive territory in order to confirm the bullish engulfment on both daily and weekly timeframes, then find a way to break the $59,000 resistance.
The leading cryptocurrency is trading at $57,300 in the early hours of trading on May 6.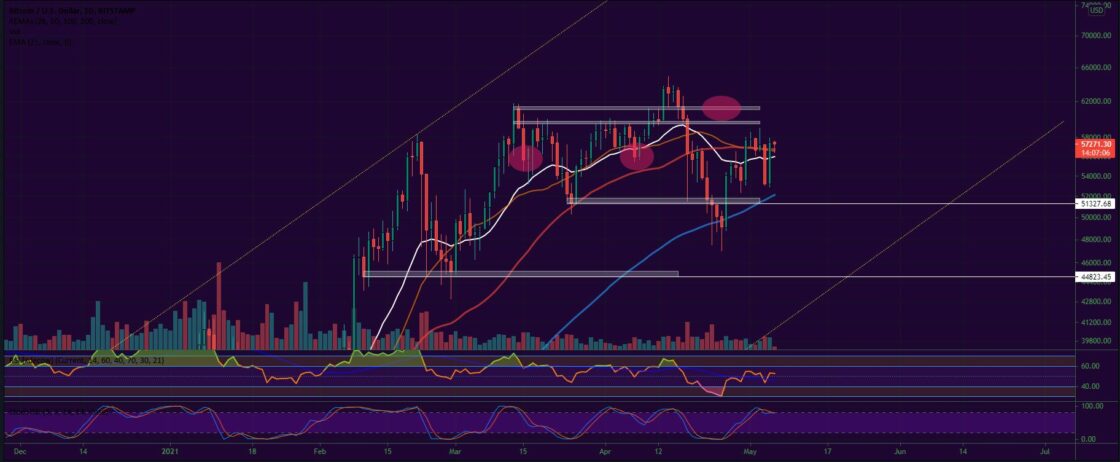 ETH/USD
The Ethereum project token ETH went parabolic after touching the 21-day EMA at $2,217 on April 25. The coin grew by more than 25 percent on a weekly basis and closed the Sunday session at $2,950 – a newly established all-time high.
The upcoming London hard fork which is expected to introduce EIP 1559 and significant gas fee structure improvements in combination with the Uniswap v3 launch and the solid fundamentals are the main factors contributing to the good performance of the ETH/USDT pair.
On Monday, May 3, the coin added yet another 16.4 percent to its valuation and hit the $3,420 mark, breaking the $3k barrier for the first time.
The Tuesday session was when profit-taking activities kicked in as the ether took a small break, eventually closing at $3,230.
The third day of the workweek was a continuation of the rally, bringing another re-test of the upper boundary of the uptrend corridor, situated near $3,520.
The biggest altcoin is trading at $3,468 on Thursday morning.