Bitcoin and Ethereum Market Recap August 23, 2018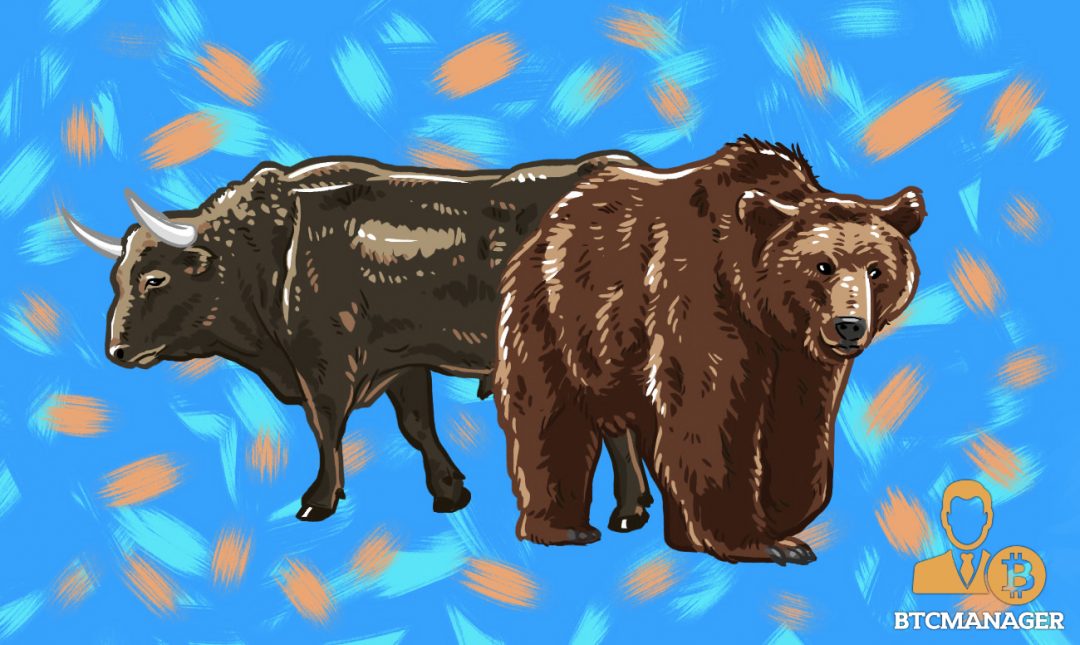 BTC-USD
BTC successfully crossed the $6,500 resistance line on August 17 and held it over the weekend. On Monday, however, the price dropped back down to the same old $6,300 to $6,500 price corridor. It looked like the bulls were not yet ready to cross the major overhead resistance and required additional consolidation before attempting another rush.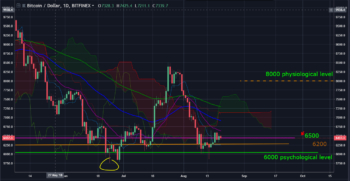 BTC continued ranging on August 21, not leaving the $6,200 to $6500 canal. On Wednesday early morning European time, however, it touched $6,790 after a sudden pump of more than five percent in just 45 minutes.
The biggest margin trading crypto exchange BitMEX experienced a temporary downtime ("combination of DDoS and price action, which caused heavy load on data mirrors"). Investors could not log and alter their trade orders, so short contracts were liquidated, pushing the price of bitcoin up. It is possible that big market players took advantage of this situation and manipulated the price of BTC in times when shorting possibilities were reduced to a minimum.
BitMEX experienced a second interruption in their services in the evening with no immediate impact on the BTC-USD price.
It is worth mentioning that BitMEX has approximately 40 percent market share on this trading pair and a reported daily trading volume of close to $3.7 billion. In comparison, the largest spot market crypto exchange by daily volume Binance has around $1.12 billion.
Bitcoin came back down to the $6,200 to $6,500 corridor in the early evening hours when price saw a sudden drop from $6,670 to $6,400.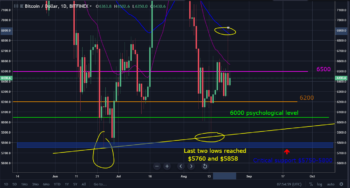 The BTC-USD pair currently stands at 6,435 (as of 09:00 GMT on August 23, 2018) with a 24h trading volume of about $6.5 billion as per CoinGecko.
The biggest cryptocurrency is up 2.7 percent for the last seven days and now boasts a market cap of about $110b, which represents a market dominance of 53.3 percent.
In the early morning hours, the American Securities and Exchange Commission (SEC) denied nine Bitcoin ETFs in three published decisions. Applications put forward by Direxion, Pro Shares, and Granite Shares were rejected along broadly the same lines of argument.
The SEC judgment further mentioned that they had not received any evidence that could prove the significant size of the Bitcoin futures market, as was quoted in the ETF applications:
"Surveillance-sharing with a regulated market of significant size related to bitcoin is necessary to satisfy the statutory requirement that the Exchange's rules be designed to prevent fraudulent and manipulative acts and practices."
The decision did not have any significant impact on BTC's spot price mainly because it was somehow expected and already reflected in the market price following the Winklevoss ETF rejection in July.
So, what is next? In a scenario where $6,500 is successfully crossed and defended (thus suggesting a possible trend reversal), the next stop will be $6,800, $7,000 and probably $7,200.
If bears succeed in pushing the price down once again, we can see another drop below the $6,000 psychological barrier and a possible drop pass the low of $5,853 on August 14, 2018 (the biggest drop since June when we saw the 2018 low of $5,740).
ETH-USD
Ethereum reached its lowest point in 2018 last week, almost breaching the $250 mark for the first time since September 2017, until stopping at $251.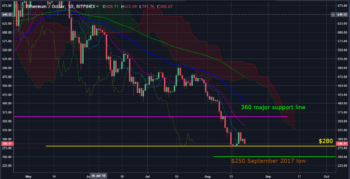 Bulls successfully defended the November low of $280 for five consecutive days before bears could push it below that level on Monday.
ETH-USD passed through $280 on Monday, and almost four days later, it still sits at $274, 2.5% down for the week and 38.8 percent down for the month.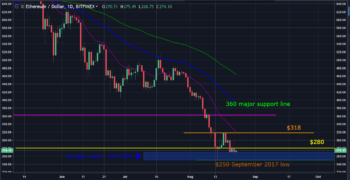 We are close to the danger zone in the blue rectangle between $270 and $250; a breach in that zone on the daily chart will mean a high probability of new lows, chasing the September low of $250.
If BTC, as the market leader, initiates a short-term run upwards and holds its ground above 6,500 to 6,600, then I think we can expect an ETH movement above $300, $318, and $360.