Bitcoin May Face Bigger Correction To $13,000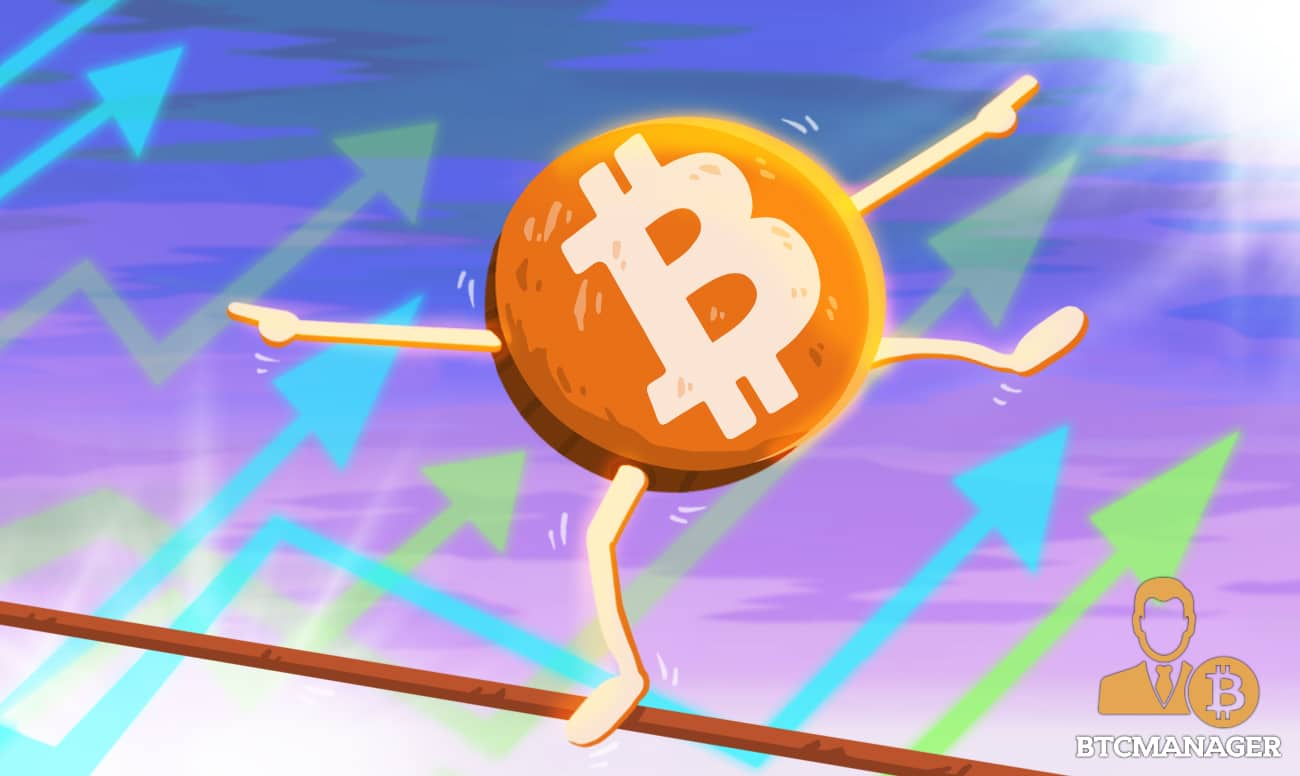 Bitcoin price took a plunge in the last two hours. After briefly touching $19,500, just a small step away from its ATH, bitcoin crashed to $16,350, a decline of about 15%. The flash crash swept away near $2 bullion-worth long positions across three major crypto exchanges.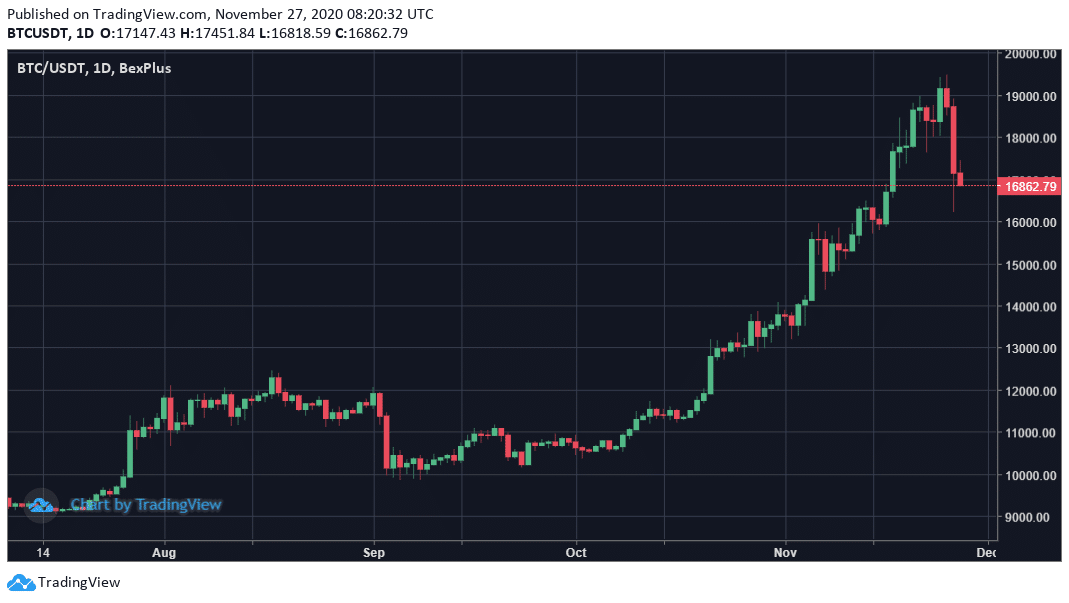 The overheated market quickly cooled off after the crash. The fear & greed index of Bitcoin traders stood at 93 yesterday, now it has dropped to 86. 
Last week, several analysts warned about the possibility of significant corrections when the market was singing bullish. 
There are two major reasons for the plunge. The first is the selling pressure at $19,000 as whales deemed it a nice place to take profit. The second one being the excess leveraged positions across major exchanges. In the past few weeks, the funding rate for holding long positions has been exceptionally high, at a multi-month high of 0.098%, which indicated that the market was overleveraged and buyers faced increasing pressure in holding their long positions. 
Additionally, unfavorable news has some investors worried. Rumor has it that the US Treasury Secretary Steven Mnuchin plans to introduce tighter rules for private wallets, which requires users to go through the KYC process. BTCmanager provides the Bitcoin News, necessary knowledge, educational articles, information about upcoming events, and conferences dedicated to the development of cryptocurrency. Ray Dalio, the founder and co-chairman of Bridgewater Associates, expressed concerns for bitcoin's limited user cases and continued volatility. He also commented that the government could ban it someday. 
While the market has cooled down somewhat, many remain positive that the largest cryptocurrency by market value could touch $20K in the next few months, if not weeks. Analysts pointed out that investors continue to buy in bitcoin to hedge against inflation, while the 2017 rally was initiated by retail investors. Joel Kruger, a currency strategist at LMAX Exchange shares his views:"We don't think the pullback is reflective of any distressing fundamentals, rather, we see the move as a well overdue correction in the aftermath of an explosive run."
Before reaching $20K, there are still some hurdles for bitcoin to cross. According to Philip Swift, the creator of Lookintobitcoin.com, the Golden Ratio Multiplier indicator signals the $16,000 and $13,000 are the key support levels. If bitcoin fails to break cleanly from $16K, it could revisit $13K and start the whole climb again.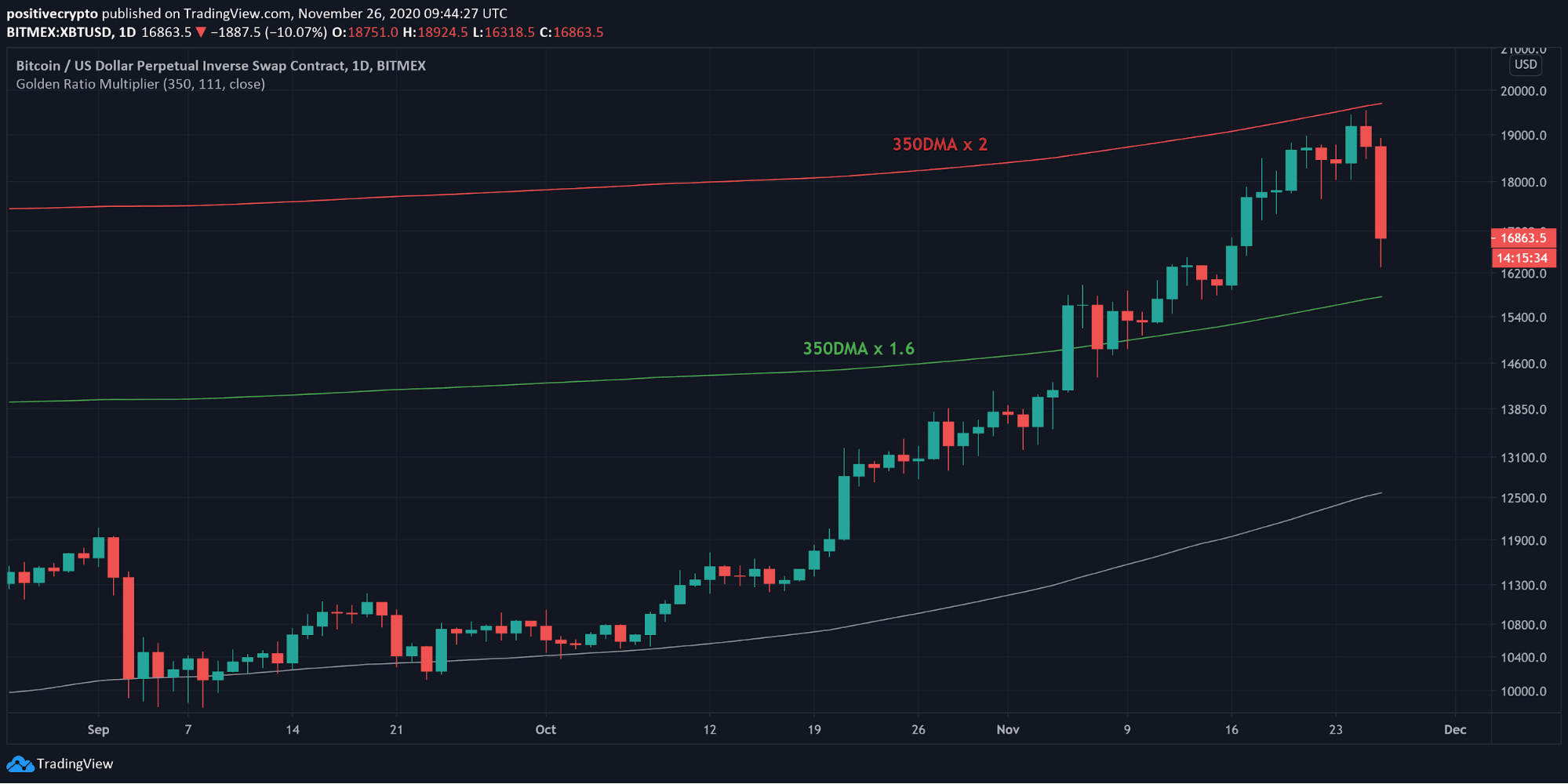 How to earn profits from the ups and downs?
Volatility is scary, but with the right tools, it's greatly beneficial for earning money. With a bumpy road ahead, traders can engage in leverage trading to hedge loss and earn profits. 
Bexplus, a leading Bitcoin-based trading platform offering 100X leverage futures trading on BTC, ETH, XRP, EOS, and LTC, provides traders with opportunities to make profits from both the downside and upside. 
Besides futures trading, you could invest your bitcoin in the interest-bearing wallet to hedge against volatility. Up to 30% annualized interest is available. No KYC and no deposit fee, you can start to grow your wealth with your bitcoin within minutes. With the Bexplus wallet, you can comfortably sit back and wait for the bull market. 
 Advantages of Bexplus
No KYC requirement, registration with Email verification
Demo account with 10 BTC for traders to get familiar with leverage trading
100% bonus for every deposit and 10% off of transaction fee
Intuitive and full-featured App on Apple App Store and Google Play
Affiliate program with up to 50% commission reward
24/7 customer support
Follow Bexplus on:
Website: https://www.bexplus.com/
Telegram: https://t.me/bexplusofficial
Apple App Store: https://bexplus.page.link/Qpkg
Google Play: https://bexplus.page.link/XxtX