Bitcoin "Could replace Gold," States Cryptocurrency Analyst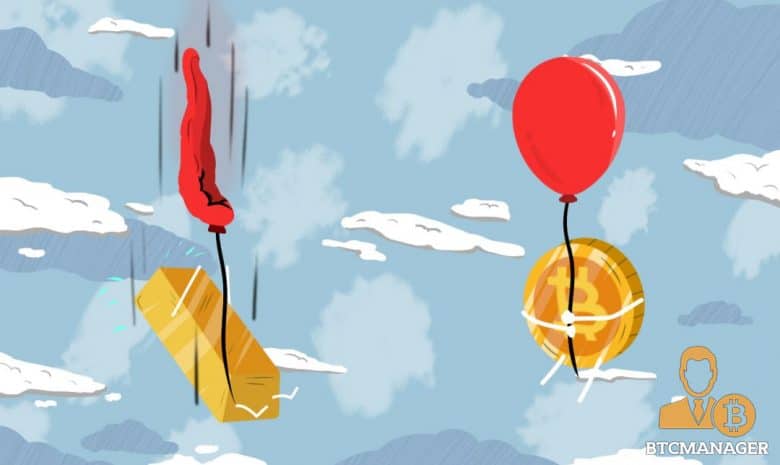 After weeks and months of stagnation, bitcoin prices have finally rallied and settled over $7,000. Cryptocurrency enthusiasts are confident that the digital currency will not fall sharply and financial analysts have also opined the same.
Returns over 2017 have been better than the equity and gold markets. As a result, comparisons have been made between the two assets, with some believing that bitcoin will also soon become a store of value just like gold
Gold and Bitcoin
Gabor Gurbacs, director of digital asset strategies at VanEck/MVIS, told CNBC that the market capitalisation of bitcoin could potentially double or even triple if it become a safe asset like gold. Gold has traditionally been viewed as a safe investment that provided gradual returns over a long term period.
He said that a maturing cryptocurrency market could potentially lure investors away from the yellow metal. Investors hold a mixture of government bonds and gold in the portfolio to balance and protect it in case of an unlikely economic downturn.
However, Gabor believes that bitcoin could soon replace gold as the preferred investment for passive investors. The downside is that bitcoin and cryptocurrencies are in their nascent stage and hence, very volatile. This volatility has detracted some investors from moving a part of their portfolio to crypto holdings.
Gabor said:
"Gold today has around $7 trillion outstanding. If you take, say, 5 to 10 percent, I'll let everyone do the math about the upside of bitcoin."
Bitcoin has a market capitalisation of $128 billion, which is rather paltry when compared against the mammoth $7.8 trillion market capitalisation of gold. There is a huge upside potential for the oldest digital currency.
Maturing Crypto Market
The cryptocurrency market will still need to evolve before it can become as huge as the gold market. Furthermore, institutional investors are entering the market and announcing crypto focussed investment funds.
There is also more liquidity in crypto markets as the number of cryptocurrency exchanges have increased recently. He stated, "We believe that there is sufficient liquidity. We believe there is pricing benchmarks. We believe there is a way to integrate bitcoin into the financial ecosystem that we are used to for ETFs, stocks, bonds and commodities."
Gold ETF vs Crypto ETF
SEC approving a crypto ETF is perhaps the most eagerly awaited event for the industry in 2018. The commission's approval for an ETF could trigger an influx of capital into crypto markets. More investors naturally translates into a higher price point.
In 2003, the first ever gold-backed ETF was introduced by the Rothschilds and Deutsche bank with gold prices trading at $300 an ounce. The gold ETF was well received by investors and prices of the yellow metal saw a 300 percent increase to reach $1300 an ounce.
It remains to be seen if the SEC does approve the world's first crypto ETF. It had termed cryptocurrencies as securities in the past which could perhaps have paved the way for a publicly traded crypto ETF. A bitcoin price rally could be on the cards should the fund get a green light from the SEC.