Bitcoin.de and Fidor Celebrate 5 Year Anniversary at Berlin's Tech Open Air Festival 2018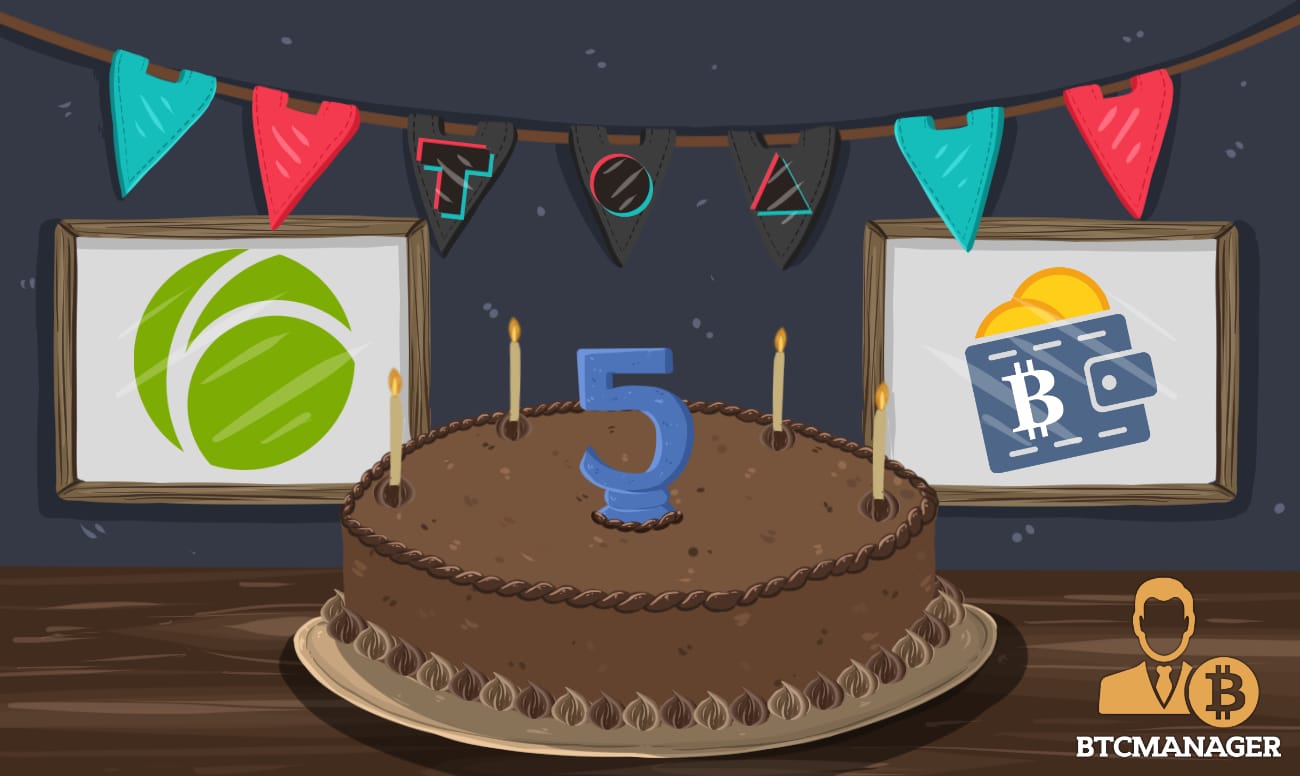 On June 19, 2018, bitcoin.de and Fidor bank celebrated the five year anniversary of the two firms' crypto partnership. The event was just one of many during Berlin's annual Tech Open Air (TOA) festival which opened on June 19 and finished on June 22, 2018. The series of exhibits plays host to the city's growing technology sector as well as incorporating the vibrant art, music, and cultural scene the German capital has birthed.
A Forward-Thinking Partnership
Fidor bank has framed itself as one of the front-runners in the fintech sector. Even before opening its product line to accommodate the rise of cryptocurrencies, founder and CEO of Fidor Groups Matthius Kröner reminded the audience on Tuesday night that the decision to become a Bitcoin-friendly bank was never financial.
Despite these more ideological intentions, when looking back at the price of bitcoin in 2013, the year they brought bitcoin.de on board, it's hard to say this wasn't an excellent business decision. In the time since, the space has experienced a wave of new blockchain-based projects and price swings, both of which have been net positive in the long-term.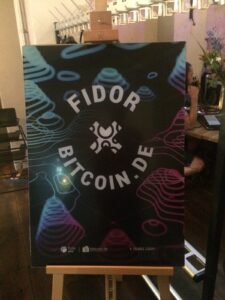 The five year anniversary took place in Hallesches Haus In Berlin, Germany on June 19, 2018

But just as a handful of individuals who scooped up the pioneer cryptocurrency before it had even crossed the $100 mark, the decision for Fidor is founded on an openness to the bounties of emerging technology. By examining the groups growing suite of products, this preference for innovation cannot be overlooked. To help the growing ICO market, Fidor also provides services to novel token ventures. This includes off-loading apparatus to turn tokens into fiat, a compliance as a service business model, and even offer some of these advantages to non-compliant companies.

In the past, Kröner has explained he founded the Fidor group "with a vision to demystify financial services, provide an open place where anyone could engage on financial topics and redefine banking in the way customers truly desire, given them the freedom to create their own future, giving you the freedom to create your own digital bank."
Following this line of thinking, it makes near perfect sense to support the growth of something as liberating as cryptocurrencies. Further, to that, the company's ethos is also one catered to a growing demographic who demand a step up from current banking systems, manifested in a handful of other interesting ways.

Their API allows organizations to leverage the bank's financial expertise and turn their business into a banking service via Fidor's "bank as a service program." This customer-centric business model allows companies to maintain their finances independent of traditional intermediaries. It's one step shy of truly becoming your own bank.
Other examples aside, the fintech group is helping cut away many of the inefficiencies by making an aggressive leap with technology. "This is what banking in the digital era is about," said Kröner, "It's API-based, it's open. We've got €800 million (~$933 million) waiting for just for this innovation."
Bitcoin.de
The German crypto marketplace sought a partnership in July 2013 to help tackle many of the legal challenges European crypto trading platforms face. The fruit of this collaboration, while one of the first of its kind, also generated Express Trade technology. The speedy option helps clients on the exchange quickly settle between one another, while still going through Fidor to arrange the transfer of the purchase price. The two companies are finding unique ways to rethink financial operations "in a conservative banking landscape [where] involvement in cryptocurrencies is not a given," said bitcoin.de CEO Oliver Flaskämper.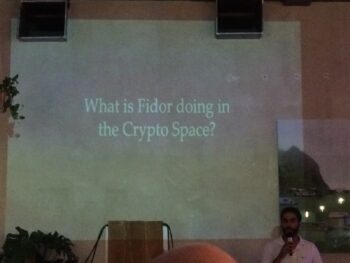 Pioneering Finance 2.0?
However, many purists might find the tentative nature in not moving to a native blockchain disheartening. This doesn't look to change anytime soon either as commentators from both camps harped on the importance of coexistence of current systems and the distributed ledgers proffered by a blockchain. More to that, opening speakers from Fidor described bitcoin as a bubble, but more like a "sticky bubble, that doesn't seem to pop." Thus, if a bank can incorporate at least portions of this same anti-fragility, they too might enjoy more long-term success.

Future prospects include a one-stop viewer in which Fidor customers can upload all their exchange information and conveniently examine all trade activity. A talk of partnering with Kraken FX, who were also in attendance, was mentioned, but such a partnership would depend on "the strictest capacity in terms of a business model and from a regulatory standpoint," according to a spokesperson of the digital bank.
Day Trading and the Five Year Anniversary MasterCard
To cap the fervor of perhaps one of the most interesting fintech partnerships in the space, the group also announced the release of their five year anniversary MasterCard. The simplicity of buying and selling bitcoin and soon-to-be-offered altcoins will reportedly remain intact.
The Fidor chief also mentioned the likes of Visa are becoming more interested in joining hands with digital bank and bitcoin.de. "When we spoke with both card providers, only Mastercard was interested. We didn't even get an answer from Visa," said Kröner "Now, I go to conferences and Visa people say they want to meet with Fidor."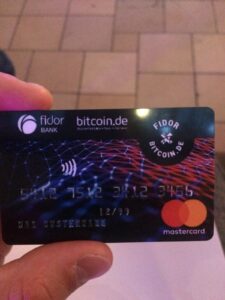 Three designs will be on offer for the new line of Fidor & bitcoin.de MasterCards
Perhaps the change isn't fast enough though. Susanne Baaske of Fidor's Business and Product Development team told BTCManager that "the credit card business is a slow and difficult process. The regulatory procedure is unlike many other fields in the industry."

Naturally, members from all portions of the burgeoning fintech community were in attendance. Startups eager to get in on the crypto gold rush, journalists, general technology fans, and, of course, day traders. BTCManager sat down with Karl, who was invited to the event simply due to his heavy use of the bitcoin.de marketplace. "There are significant arbitrage moments between exchanges, especially when an exchange offers a new token," he explained. "There's this testing period in which you can be successful if you're paying attention."

Before trading full-time, Karl was an artist and musician who was asked to leave his flat in Mitte in the early 2000s. The center-town neighborhood, much like most of Berlin, was one of the first to feel the brunt of the housing rush in the city. "My landlord basically offered me 40,000 euros to leave and find another flat," he explained.
"I took the offer, but a portion of the exchange was to be done in cash to avoid a handful of taxes. He offered me €10,000 ($11,662) in cash, but it was risky. Now there was someone in Berlin, who knew who I was, and knew that I had this money lying around."
Following a Google search for alternatives, Karl stumbled upon Bitcoin. The perceived security offered by the world's most talked about digital currency was appealing and he made the leap. At that time, it also meant that now, in 2018, the artist turned financier is being invited various events.

This case study proves two conclusive points. The first being the particular ways in which the city of Berlin is becoming a special hub for cryptocurrencies. The collaboration of bitcoin.de and Fidor, while significant, there exists a handful of other big-name projects like Lisk, Gnosis, SatoshiPay, and Bitwala in the city.
The second point: the event on Tuesday made clear the demographics of the crypto space are also changing. In the past, libertarian-minded technologists would have been disgusted with the idea of a bank making a name for itself with something like bitcoin. Nowadays, it seems like more formalities and a general eagerness to cooperate is becoming the modus operandi. Whether this is a good or bad thing, only time will tell.