Bitcoin and Ether Market Update: January 30, 2019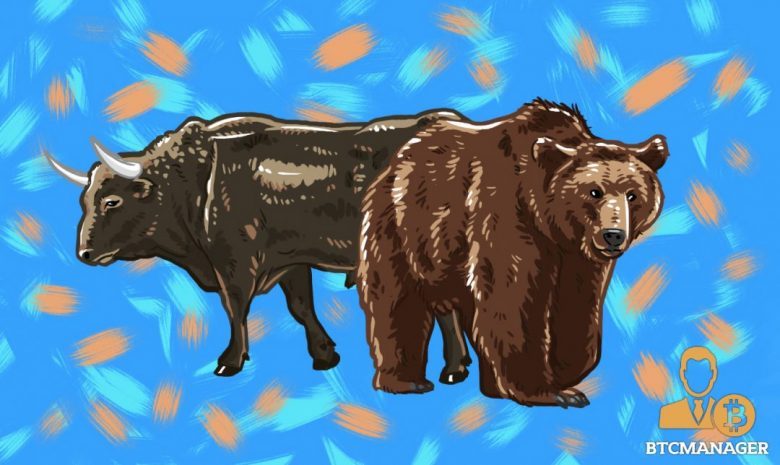 The total crypto market cap lost another $6 billion of its value since January 28, 2019, and now stands at $113 billion. At the time of press, bitcoin sits at $3,456 and ether is being traded at $105.
BTC/USD
Bitcoin lost 2.7 percent on January 28 as it extended losses to $3,500, now clearly in the downtrend channel after breaking below the 61.80 percent Fibonacci level. On January 29, the BTC/USD pair dropped even further touching $3,420 during day trading to close the session at $3,470.
The next support to hold before the December low of $3,280 and $3,200 will likely be the 78.60 percent Fibonacci level and eventually $3,400 as a mid $3,000s level in the $3,600 to $3,200 zone.
In news this week, Italy is moving closer to introduce its first blockchain legislation paper. The country's senate, the Senato della Repubblica, proposed to add distributed ledger technology and smart contract-related terms to Senate Act No. 989. The Italian Senate Committee also defined various blockchain terms and stated that the technology can be used for recording electronic documents using technologies based on distributed ledgers. The "Decreto semplificazioni" amendment was already approved by the Senate committees of Constitutional Affairs and Public Work, but still needs to be reviewed by the Chamber of Deputies and the Senate of the Republic in order to be passed as a law.
Francesco Firano, owner and founder of the Italian cryptocurrency exchange BitGrail, was ordered to refund his customers for the 17 million NANO (XRB) coins (worth approximately $170 million), which were stolen between July 2017 and February 2018. According to the Italian Bankruptcy Court, Firano is guilty of not reporting the losses immediately, thus causing even more damage to users. Additionally, BitGrail failed to implement any meaningful safeguards to ensure the "idempotency" of NANO withdrawals from the platform, which allowed users to request withdrawals for the same amount more than once.
The Bulgarian court approved the extradition of a crypto exchange owner, local media reported. Rosen Yosifov, founder and owner of RGCoins, was arrested in Sofia, Bulgaria on December 11, 2018, after U.S. authorities raised charges against him for participating in an organized crime group. The extradition request was approved without clear evidence of wrongdoing despite the fact he did not commit any crime under Bulgarian law. Kentucky Attorney General requested the arrest claiming RGCoins exchanged bitcoins of a Romanian citizen who defrauded U.S. customers by posting fake ads on online auction platforms and then used the exchange to launder money.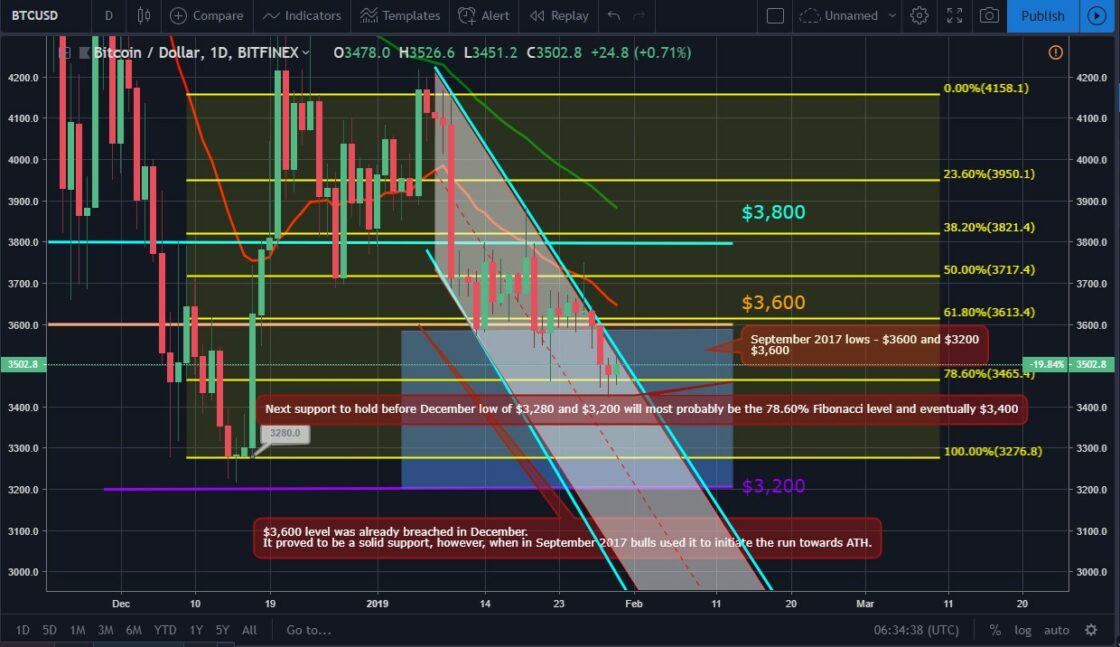 ETH/USD
Ethereum continues its free fall, losing approximately five percent on January 28 when it reached $107. The ETH/USD pair dropped below $110 for the first time since December 20, 2018, and has been eyeing the critical levels at $101 to $100. On January 29 it made another red candle on the daily chart but managed to limit the losses to just 1$, stopping at $106.
The next target for the bears will be to push the price below $100 and Fibonacci 78.60 percent, buyers, on the other hand, will be looking for $110 before $120.
New America, ConsenSys, and Harvard T.H. Chan School of Public Health have been awarded a grant to develop their Sustainability and Health Initiative for NetPositive Enterprise (SHINE) Index on the blockchain. The worker well-being system is already being used in some supplier factories of the apparel company Levi Strauss & Co since 2015.
The so-called Health and Well-being Index represents a universal benchmark to assess workforce well-being and now the federal grant worth $800,000 will help the mentioned companies improve the program by using  distributed ledger and Ethereum smart contracts to "create a transparent environment for workers to securely and anonymously share critical information," as per ConsenSys Founder Joe Lubin.