Bitcoin Lightning Network sees 1,200% surge in 2 years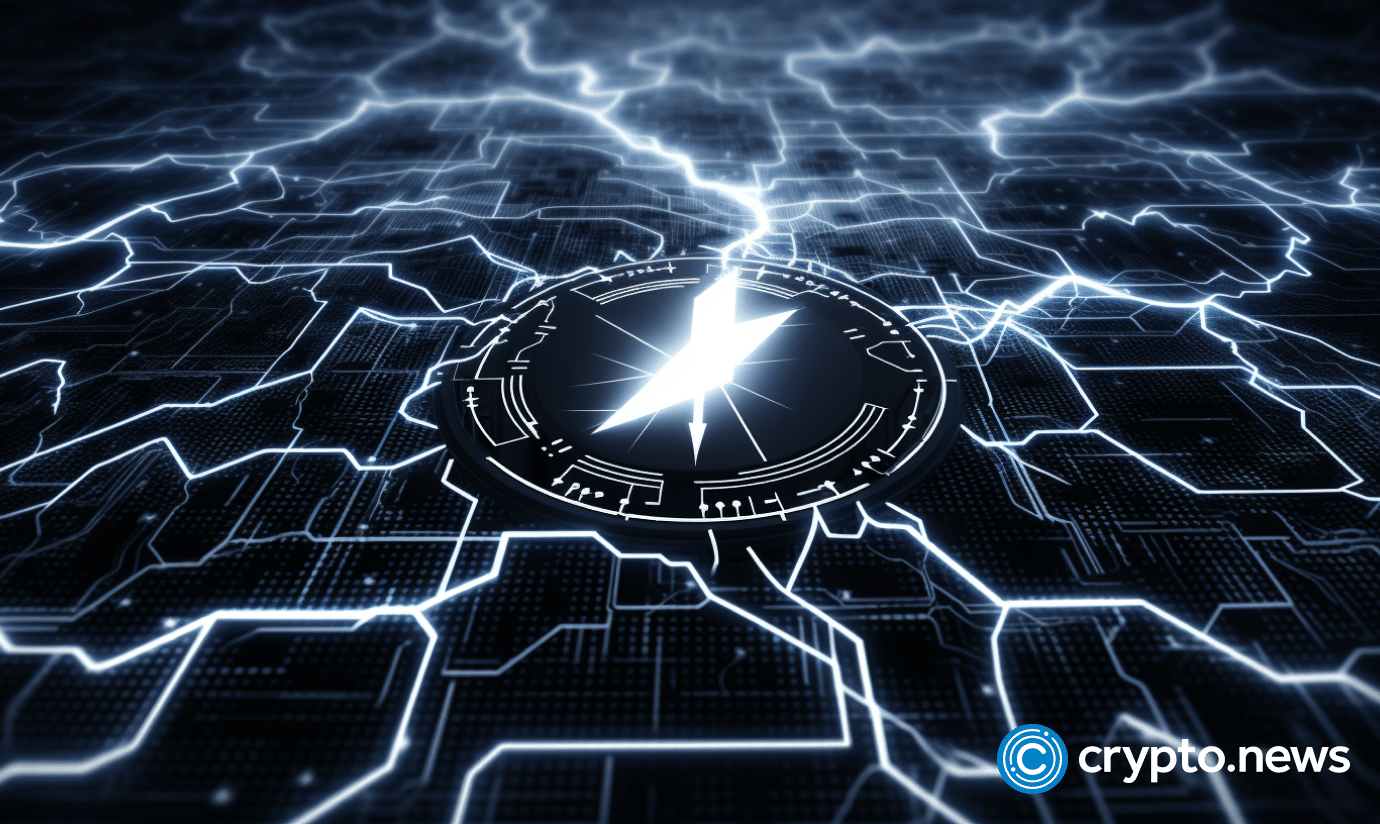 Bitcoin's Lightning Network saw a 1,212% increase in transactions since August 2021, reaching 6.6 million in August 2023, as per a new report by River Financial.
Bitcoin's (BTC) layer-2 scaling solution, the Lightning Network, achieved impressive growth, according to a report published on Oct. 10 by Bitcoin financial services company River Financial.
The data reveals that routed transactions on the network surged from 503,115 in August 2021 to a staggering 6,599,553 in August 2023, representing an exponential growth rate of 1,212%.
Transactions that involve more than two nodes are known as routed transactions, and according to Sam Wouters, a research analyst for River and the report's author, the actual figures could be substantially higher than what has been reported.
Wouters was so surprised by the data that he felt compelled to verify the calculations several times, even consulting with external parties for validation.
The Lightning Network is a layer-2 protocol built on the Bitcoin blockchain. Commonly known as LN, the network comprises an architecture of channels that enable peer-to-peer transactions without the need for blockchain verification.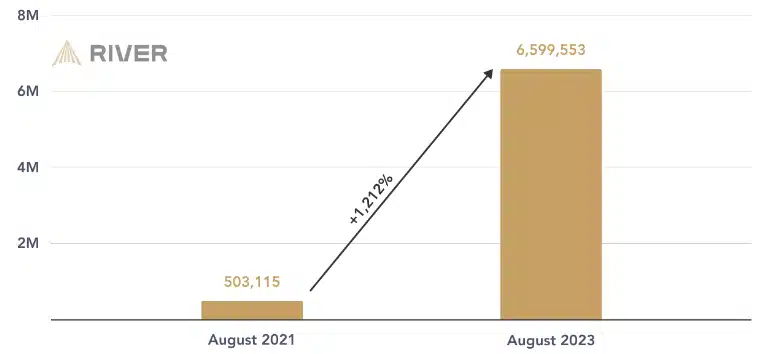 Despite having only 5,000 Bitcoin secured in the network and facing an ongoing bear market, Wouters emphasized that the Lightning Network is making remarkable progress. Google searches for Bitcoin have dropped by 45%, and its price has declined by 44%.
The report also highlighted that the volume on the Lightning Network has increased dramatically. In August 2021, the volume was $12.1 million and 303 BTC. By August 2023, these figures had risen to $78.8 million and 2,950 BTC, marking a 546% and 874% increase, respectively.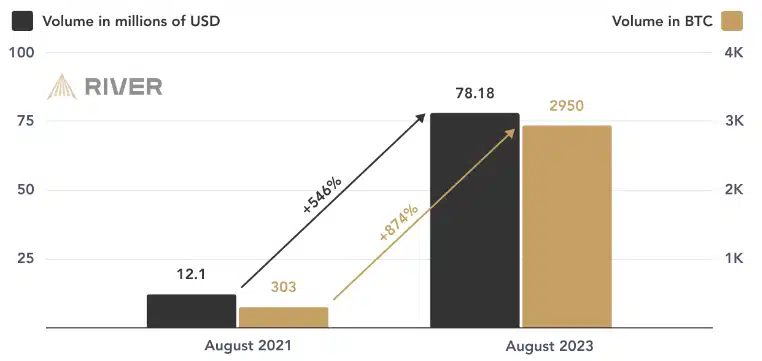 In August 2023, the typical transaction size on the Lightning Network was approximately 44,700 satoshis, or $11.84. River Financial's estimates suggest that the network had an active user base ranging from 279,000 to 1.1 million in September.
Fascinatingly, the notion that Bitcoin's Lightning Network would be a hub for micropayments continues to hold water. The latest report reveals that one-fourth of all transactions on the network are in the 1-10 satoshi range, equivalent to $0.0002, and are primarily used for gaming and streaming services.
Another quarter of the network's activity involves transactions within the 10-1,000 satoshi bracket, largely related to tipping. Transactions that exceed 10,000 satoshis appear to be geared towards commercial activities, remittances, and the rebalancing of nodes.
River's platform reported a 99.7% success rate for Lightning payments in August 2023 across 308,000 transactions. The primary reason for payment failure was the lack of a payment route with sufficient liquidity.
The data set used by River consisted of 2.5 million transactions and represented 29% of the network's total capacity and 10% of its payment channels.