Bitcoin Price Treading Water Above $1000, Where Next?
For the first time in three years, BTC-USD has broken the psychological $1000 barrier, reaching our target of $991.35. The ongoing uptrend continues, with another resistance at $1335.20, the next Fibonacci extension level is shown below. However, from our December 13 report 'Why Bitcoin will peak at the end of January 2017,' we see that the market has now made 12 near consecutive higher highs over the 15 weeks preceding January 3, 2017.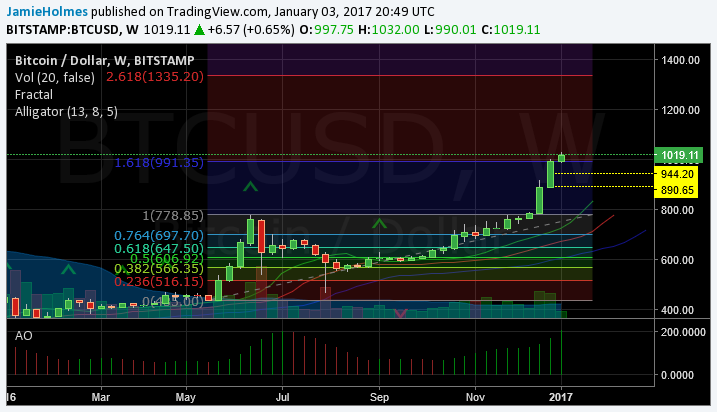 The impressive bullish run on week by week basis tells us that the probability of a short-term downward reversal has increased, significantly. However, at the same time, we see that last week's candlestick formed a bullish Marubozu, indicating robust dominance from buyers in the market. BTC-USD appreciated more than $100 during the week beginning December 26, the biggest weekly gain since May 2014.
The bullish Marubozu candlestick will identify opportunities to buy in at lower prices. While the upward trend is strong, it is likely we will see bullish momentum fade temporarily given the twelve near consecutive highs. Bitcoin's record is 13 higher highs during the rally in 2013, but this time is different. Given its relatively short history, it is likely that we do not know the true nature of the market for bitcoin and get a decent grasp of how many near consecutive highs are considered normal. Bitcoin is now starting to flourish as an ecosystem. Bullish momentum is adamant, as indicated by the Awesome Oscillator, which is scaling new highs as well, suggesting a strong foundation for further upside in BTC-USD.
How Will we Know BTC-USD will Reverse?
The Fibonacci level at $991.35 should now serve as support and a sustained break below this level will point to a bearish outlook. Therefore, market participants could set limit sell orders just below $991.35 to take advantage of any short-term reversal. Also, we can use the bullish Marubozu that has formed to gauge areas of buying interest and support zones.
The first support level lies at 50 percent of the candlestick's body at $944.20. The second support zone that should be noted, if BTC-USD heads lower, will be around $890.65. Both of these areas serve as take profit targets from sell orders around $991.00 or market participants could set limit buy orders just above $944.20 and $890.65 to buy into the ongoing uptrend.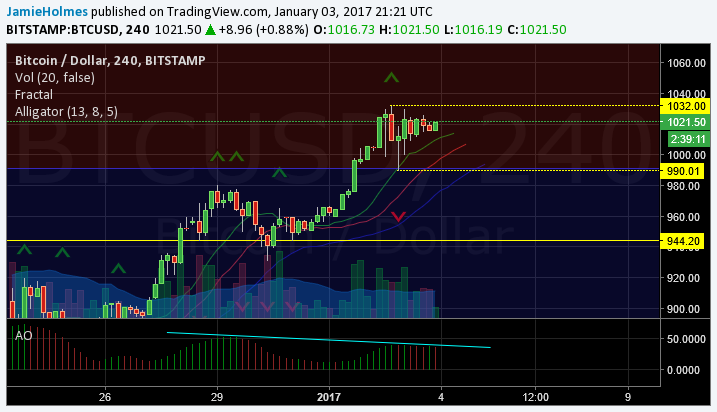 As the 4-hour price chart above shows, there is a high likelihood that BTC-USD will test support at $944.20. Notice that we have bearish divergence at the 4-hour timeframe. While bitcoin has made higher highs from $980.74 to $1032.00, the Awesome Oscillator has displayed lower highs. Since price and momentum are diverging, we should see bearish dominance emerge over the short-term.
The chart above displays the most recent fractal levels. Immediate support stands at $990.01 and a break below this level will confirm bearish momentum. On the other hand, immediate resistance lies at $1032.00. Therefore, we look to place limit buy orders just above $1032.00 and limit sell orders just below $990.01.
In summary, we expect some short-term pullback, perhaps extending as deep as $944.20 or $890.65 during January. However, these will be buying opportunities to get into the long-term upward movement in BTC-USD. On the shorter timeframe, we look for a break of the recent high at $1032.00 to see the bullish momentum continue to push the market higher toward the next target at $1335.20. On the other hand, market participants should be ready for a downward move if BTC-USD fails to tread water above $1000.