Bithumb Global Reflects On Its Journey As It Celebrates First Anniversary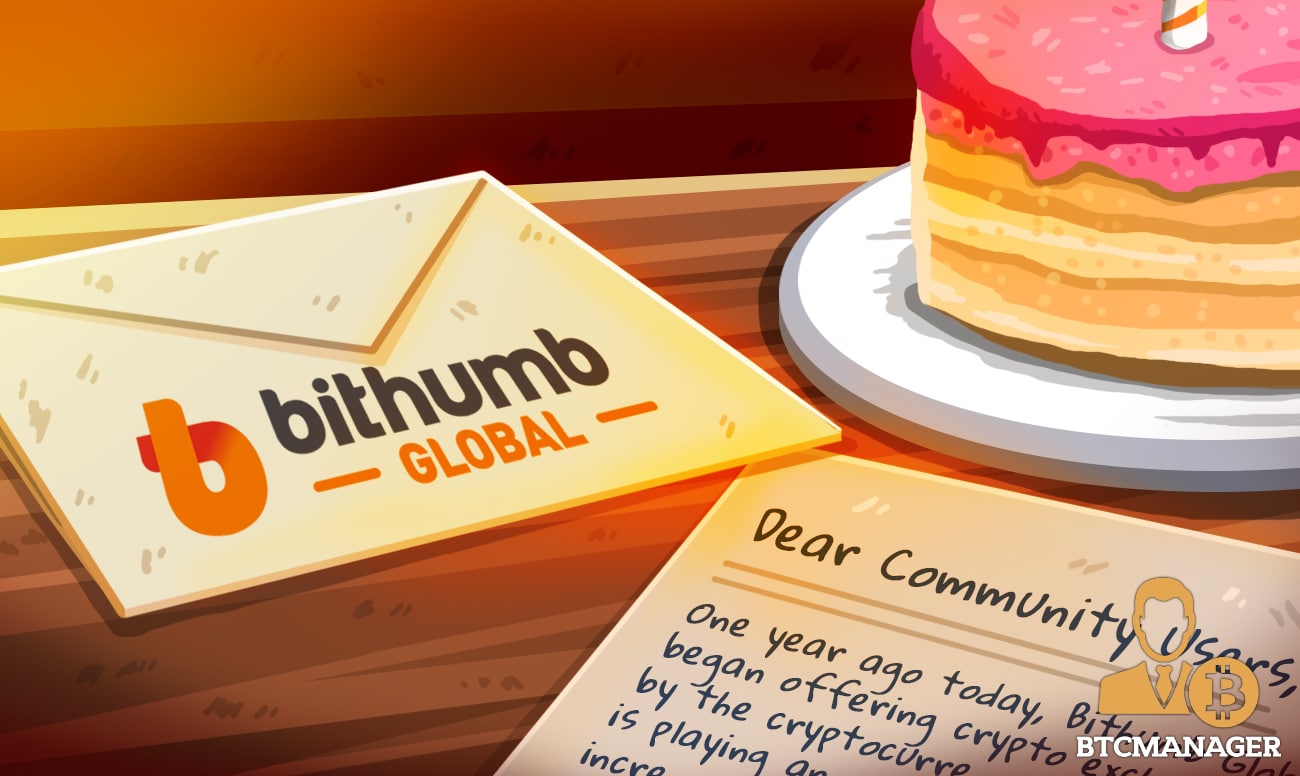 Today, South Korean cryptocurrency exchange Bithumb Global celebrates its first anniversary as it continues to meet the ever-increasing demand for digital assets. Established in 2019 during the boom period in the cryptocurrency industry, Bithumb Global has quickly established itself as one of the leading digital asset exchanges in the world by reported trading volume.
Led by a team of proficient tech and finance stalwarts, today, Bithumb Global is as committed as ever to foster a cryptocurrency-driven future that is not only financially inclusive but also gives people absolute control over their financial assets.
Bithumb Betting on Blockchain
Blockchain, the technology that first came into limelight as the driving force behind the premier cryptocurrency Bitcoin has today far exceeded its application use-cases beyond cryptocurrencies. Today, the emerging technology is being used across a swathe of industries including finance, supply chain management, media, national defense, and law, among others.
Just how blockchain acts as a common force across the aforementioned diverse industries, Bithumb Global, by finding unity in diversity, functions as a uniting force by bringing together people from different countries and cultures including South Korea, China, Malaysia, and Australia. To date, Bithumb Global's round the clock customer support has covered a total of 13 languages including Korean, English, Mandarin, Japanese, Spanish, Russian, Arabic, German, French, Turkish, Italian, Indonesian, and Vietnamese.
To make trading an easy affair for the exchange's users, Bithumb Global supports 12 payment methods and 25 fiat gateways. Due to its uninterrupted resilience, today, Bithumb providers cutting-edge digital asset trading services to more than 900,000 users from 151 countries across the globe.
Democratizing the Financial World via Digital Assets
The relentless rise in the popularity of digital assets courtesy of their benefit of providing inclusive financial services to billion of less-resourceful people across the world has made them an alluring asset for economies with relatively weak financial infrastructure. At its most basic level, each digital asset functions as an incubator that enables ordinary investors to become a part of a tech project with high upside potential and enjoy the dividends generated by it in the future.
In its attempt to only introduce high-quality investment projects to its valuable users, Bithumb Global has set up strict review criteria for the listing of a project.
To date, Bithumb Global has listed a total of 124 projects which places it among the top exchanges with the most number of listed digital assets. Notably, in July last year, the first season of the Bithumb Global staging event was launched. Fast forward to May 2020 with all 8 seasons launched, Bithumb Global users are now enjoying rewards at zero-cost.
Bithumb Staking and the Way Ahead
Bithumb Global's vision to cater to a vast set of customers reflects in the exchange's continual efforts of offering new tools and services to its users.
Bithumb Global launched its Staking Section in July 2019 to provide stable returns for long-term holders with belief in the coin standard. Shortly after the launch of the Bithumb Global staking service, several Market Makers and project nodes approached the exchange looking to develop a long-term mutually beneficial partnership. Staying true to its unyielding commitment to keeping user funds secure at all cost, Bithumb Global follows a holistic and thorough approach when integrating any third-party service.
Notably, in March 2020, Bithumb Global made a strategic investment in Xderi, a digital financial derivatives design platform. Soon after, in April and May, the exchange launched Margin Trading and ETF products Smart Token. In this manner, Bithumb Global has quickly transformed itself from just a multi-functional platform to a platform that provides users with exchange services from multiple dimensions.
Working During the Pandemic
The COVID-19 pandemic has brought the global economy to an absolute standstill. However, Bithumb Global continues to work day in and out to serve its customers and has brought about certain changes in its way of working due to the pandemic.
All Bithumb Global employees are currently working from home which is in-line with the spirit of decentralization. Not only has Bithumb Global continued to maintain its listing business but it has also managed to keep up with the market demand despite the testing times.
In April, the platform officially launched Margin Trading 2.0. to provide users with a more user-friendly product experience. The newly launched service offers users robust trading services including quick liquidation, optimized close loans, and risk level optimization.
On a more recent note, Bithumb Global launched its new smart token feature by listing BTCS digital asset service on SMART. For the uninitiated, the BTCS digital token is a hedge against the actual price movement of Bitcoin which seeks an expected return associated with -1 time BTC yield. For instance, when Bitcoin falls by 5%, BTCS will rise by 5%, and so on. Over a long time-frame, however, the yield on BTCS will be different from that on BTC. You can learn more about the exciting digital asset here.
As for the vision for the rest of 2020, Bithumb Global looks to provide more financial tools along the lines of ETFs and options for its more seasoned traders.
Thanking the Community
Concluding, the platform's unparalleled success to date wouldn't have been possible without the support and affection from its ever-expanding community members and other participants in the broader cryptocurrency industry. Bithumb Global thanks its users for their patience and support and pleasing company.
The platform thanks its sister concern Bithumb for setting a high benchmark in the infant industry, serving as its guiding light to drive its growth. Finally, the Bithumb Global team thanks its dedicated team members for their astounding efforts in propelling Bithumb Global into becoming a global brand in the digital assets space. Bithumb Global continues to innovate in this young and exciting ecosystem.