BTCC: A crypto exchange with deep liquidity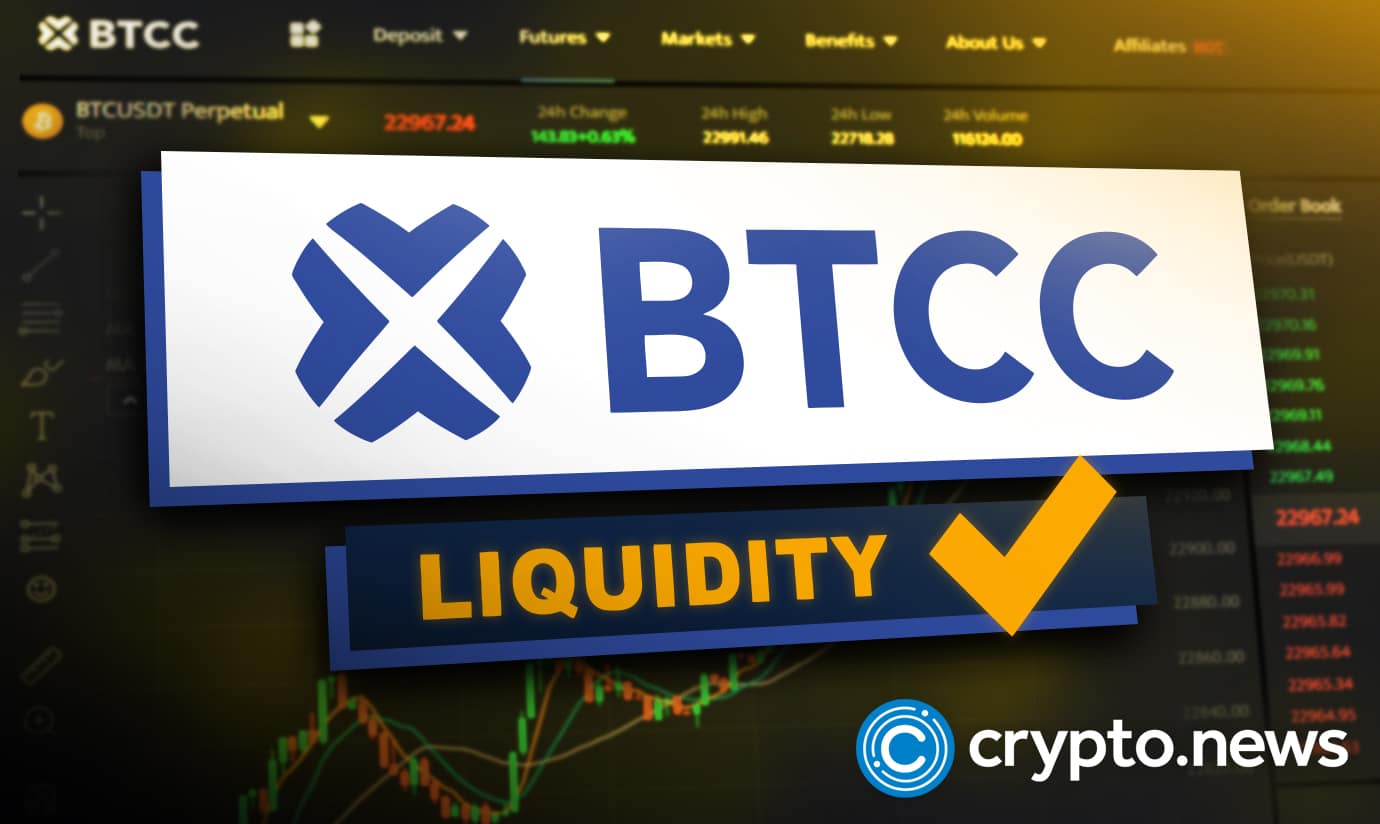 BTCC exchange offers flexible leverages (up to 150x), a fast order matching engine, deep liquidity, and robust security for futures margin traders.
BTCC redefining crypto futures trading
Since the creation of bitcoin (BTC) by Satoshi Nakamoto 14 years ago, countless crypto exchanges have emerged. However, only a handful have stood the test of time, and BTCC is one of the oldest in the sphere.
Launched in June 2011, BTCC is a crypto exchange offering users liquid and low-fee futures trading of both cryptocurrencies and tokenized traditional financial instruments like stocks and commodities.
Headquartered in the United Kingdom, BTCC claims to be dedicated to offering the masses reliable and accessible digital assets trading services and the company has maintained that vision over the past 11 years.
BTCC is also compliant with laid down laws. Over the years, it has secured regulatory licenses across several jurisdictions including the United States, Canada, and Europe.
Moreover, the platform has been offering secure, low-fee, and regulatory-complaint digital assets trading for the past 11 years. Accordingly, BTCC's liquidity may have given it an advantage over its rivals in the Web3 ecosystem so far.
High liquidity
While there are currently hundreds of centralized crypto trading venues, only a few have deep liquidity.
Liquidity simply refers to the extent to which any given asset can be bought and sold quickly, without significant price changes.
In other words, liquidity is a measure of the concentration of buyers and sellers on an exchange and how fast transactions can be executed. Under normal circumstances, liquidity is measured by checking out the volume of executed trades or the volume of pending trading trades on a given market.
An exchange is said to have a high level of liquidity when there is a significantly high level of trade getting executed. In essence, high liquidity is categorized by both a high level of demand and supply for any given asset. In contrast, a market that has very few traders that trade infrequently may have low liquidity. Such a market may be described as illiquid.
In the financial markets, the importance of liquidity should be emphasized. A liquid market significantly reduces risks for traders, since demand and supply are balanced, which means that there is always a trader waiting or willing to take the other end of a given position.
To put it more simply, in a liquid market, a seller looking to liquidate their asset will quickly find a buyer interested in purchasing the said asset without the seller having to slash the price of the digital asset to make it more attractive and hasten up the trade process.
BTCC may not offer the widest selection of cryptocurrencies (over 60) as compared to some exchanges. However, all the supported crypto assets have deep liquidity for traders to easily buy/sell assets of any amount at the price of their choosing.
As shown, large orders of 286.23 BTC can be executed at the top price level, giving us an excellent example of how liquid BTCC's bitcoin market was at the time the snapshot was taken.
The largest order executed on BTCC was 300 BTC on Nov. 9, 2022, according to the exchange's 2022 review video.
To give users a first-hand risk-free experience of its liquidity, BTCC has put in place a non-expiring demo trading function (with USDT 100,000 in virtual money). The liquidity in both the demo and live trading modes is the same.
At the time of filing this report, BTCC is the 8th-largest derivatives exchange in the world, with a 24-hour trading volume of over $7 billion, according to CoinMarketCap.
Another feature BTCC has implemented to make life easier for traders is the "BTCC Risk Reserve Fund." As the name implies, the fund is designed to protect traders' assets and provide a fair trading environment during times of negative volatility.
The BTCC Risk Reserve Fund covers the extra losses of bankrupt traders (negative balance accounts) as well as losses caused by system failures.
Disclosure: This content is provided by a third party. crypto.news does not endorse any product mentioned on this page. Users must do their own research before taking any actions related to the company.