Budweiser Purchases Ethereum Domain Name Beer.eth for 30 Ether (ETH)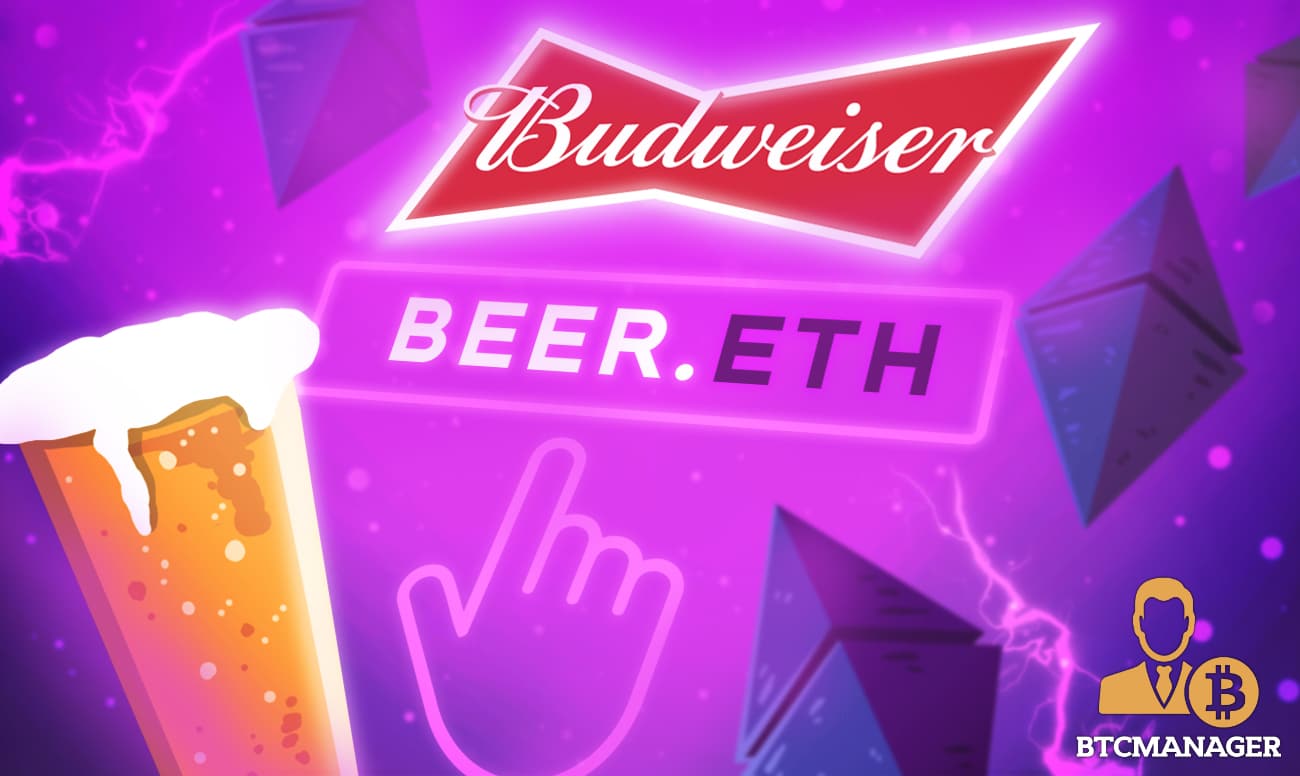 Budweiser has bought the Beer.eth domain name for 30 ETH. The premium beer brand has also changed its Twitter profile picture to that of a non-fungible token rocket ship from the stables of Rocket Factory, according to a Coindesk report on August 25, 2021.
Budweiser Now Owns the Beer.eth Domain Name
Budweiser, the premium alcoholic beer brand from the stables of Anheuser-Busch InBev (AB InBev), a Belgium-based multinational drink and brewing company established in 2008, is the latest popular brand to join the non-fungible (NFT) token bandwagon.
Per sources close to the matter, Budweiser has purchased an NFT depicting a rocket ship and the brand has reportedly changed its Twitter profile picture to the new NFT. The digital collectible was designed by Rocket Factory's Tom Sachs and Budweiser paid eight ETH (about $25k) for it.
What's more, Budweiser has also purchased the Beer.eth domain name for 30 ether (ETH), or roughly $95,000. 
Budweiser paid 30 ETH for Beer.eth. That's almost $100,000. There's some symbolism to them flexing a rocket from @tsrocketfactory. It's happening, everyone. 🚀 pic.twitter.com/LecJdLfz2L

— dGEN Network (@dGenNetwork) August 25, 2021
For those who are unaware, .eth domains can be created via the Ethereum Name Service (ENS), a distributed, transparent, and extensible naming system powered by the Ethereum blockchain. .eth domain owners can use their addresses to receive ether, other cryptocurrencies and even NFTs. 
NFT Adoption Skyrocketing
AB Inbev's non-fungible push does not come as a surprise, as the firm hinted at venturing into the rapidly growing crypto-collectibles industry last July when it inked a partnership deal with Gary Vaynerchuk, a Belarusian entrepreneur, and Internet personality.
At the time, the team made it clear that it would invest in Vaynerchuk's NFT media shop, which will mint Budweiser's intellectual properties as well as other collectibles as NFTs on the platform and make them available to lovers of the brand.
Richard Oppy, vice president of global brands said:
"Budweiser's breadth gave us an opportunity, we thought, to go big into because we think NFTs are not a fad. We think crypto-collectibles have the potential to change the way people think about their sponsorship properties in the future."
In related news, BTCManager informed earlier in July 2021, that a multinational beverage corporation, Coca-Cola, has rolled out its own NFTs in collaboration with OpenSea and Decentraland (MANA).
On August 23, 2021, reports emerged that global payments processor, Visa, has purchased a CryptoPunk NFT for $150,000. The company has also revealed plans to launch its NFT service for businesses.