Bybit Launchpad 2.0 Launches Okse (OKSE) Token IEO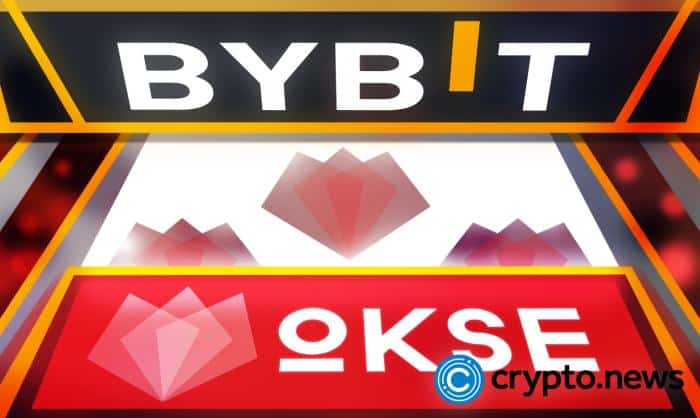 Bybit exchange's blockchain project launchpad, Bybit Launchpad 2.0 is conducting an initial exchange offering (IEO) for OKSE, the native cryptocurrency of the Okse decentralized finance (DeFi) ecosystem.
Bybit Lists Okse (OKSE)
Bybit cryptocurrency exchange, a leading crypto exchange, and bitcoin (BTC) trading venue has announced that it's conducting an initial exchange offering (IEO) for OKSE via the Bybit Launchpad 2.0.
OKSE is the utility token of Okse, a decentralized finance platform in charge of the Okse Card and Okse Wallet. Okse claims to be focused on revolutionizing the financial markets. Okse is available on multiple blockchain networks including BNB Smart Chain, Avalanche, and Fantom. 
It's no news that one of the most important features of blockchain technology is its ability to facilitate cost-efficient payments without intermediaries or any form of third parties.
The Okse Card and Okse Wallet make it possible for users to send and receive payments from around the world, purchase goods, pay for services, and more, at a variety of merchant locations globally.
It's worth noting that the innovative Okse Card is only accessible via the Okse Wallet, and interested users must complete a know-your-customer (KYC) procedure to enjoy all the product offerings available in the Okse DeFi ecosystem.
Bybit Launchpad 2.0 OKSE IEO Details
To make it easier for users to access their funds in real-time irrespective of their location, the Okse team has made the Wallet available on both Android and iOs, effectively breaking barriers for users.
With the Okse virtual debit card, holders can spend with crypto at more than 60 million merchants worldwide, as the card is supported in over 170 countries.
Bybit is hosting the exclusive initial exchange offering of OKSE token via the Bybit Launchpad 2.0, a revamped platform dedicated to giving promising blockchain startups the bright start they need to succeed.
To participate in the OKSE IEO, Bybit users can deposit BIT on the platform to get token allocations. Better still, interested participants can participate in Launchpad 2.0's new lottery system where users stake a nominal amount of USDT to win new token allocations.
OKSE token will unlock numerous benefits for holders, including allowing them to upgrade their daily Okse virtual debit card and payment limits, earn rewards when they spend with their cards, participate in governance activities in the Okse Wallet, and more.
The Okse project is backed by notable investors such as Cypher Capital, as well as other private investors. Through the Bybit Launchpad 2.0, users can also invest in the tokens of promising blockchain projects previously listed on the platform.
Established in March 2018, Bybit exchange offers users a secure and reliable platform for trading bitcoin and other cryptocurrencies. Bybit boasts a fast order matching engine, excellent customer service, and multilingual community support.
Bybit exchange is a proud partner of the Formula One racing team, Oracle Red Bull Racing, esports team NAVI, and a host of others.