Cake DeFi Launches Ethereum Staking Service with Five Percent Staking Yield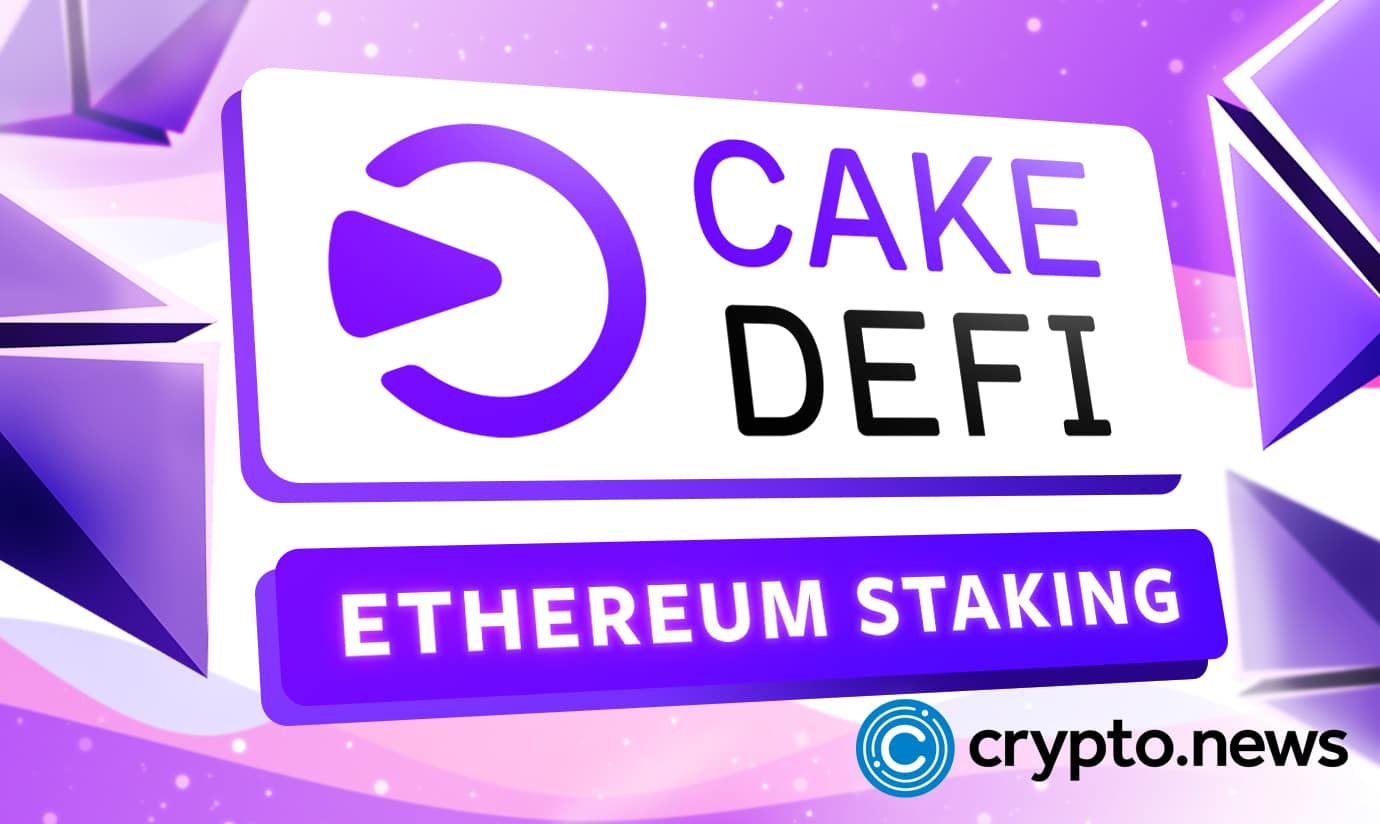 Cake DeFi has announced the launch of its new Ethereum staking product designed to offer ETH stakers up to five percent APY. Users can also auto-compound their assets every 12 hours with the freedom to unstake any time, unlike the ETH staking solutions currently on the market.
Cake DeFi Introduces Seamless Ethereum Staking
It's no news that Ethereum (ETH), the second largest cryptocurrency and most extensive smart contracts blockchain network in the world, successfully transitioned to a proof-of-stake (PoS) consensus mechanism in September 2022, replacing proof-of-work (PoW) mining with Ethereum (ETH) staking as a means of securing the network.
As a result of the move to PoS, the "Beacon Chain" was merged into the Ethereum mainnet, requiring nodes or validators to stake their ETH tokens into a long-term deposit contract. This gives ETH holders a chance to lock up their assets on the Ethereum blockchain and yield more Ether rewards for participating in transaction validation activities.
However, some observers have described Ethereum staking as a complex endeavor, especially for the average Joe. On top of that, stakers will not be able to withdraw their assets until after the Shanghai upgrade, which is estimated to occur in 2023 or later.
Cake DeFi Brings More Decentralization to Ethereum
While Ethereum used to be one of the most decentralized blockchain networks during the PoW era, as miners from all parts of the world took part in ether mining activities, the move to PoS has made Ethereum a bit more centralized.
Sources say only a few staking service providers, including Lido, Coinbase, Kraken, and Binance, presently control more than 50 percent of the stake on the new Ethereum PoS network. And a large chunk of these nodes resides in the United States and Europe.
To bring more decentralization to Ethereum and make life much easier for ETH stakers, Cake DeFi has rolled out its Ethereum staking service. Cake DeFi is a fast-growing Singapore-based fintech project that dubs itself as a fully transparent and highly innovative platform dedicated to offering the masses access to life-changing DeFi products,
Dr. Julian Hosp, co-founder, and CEO of Cake DeFi, said:
"ETH Staking is the latest addition to our popular staking service. We made a deliberate decision to host our own nodes in Singapore. At the moment, Ethereum nodes are mostly concentrated in North America and europe. Hosting our own Singapore-based nods will boost the confidence of investors and developers in the region and support the spirit of decentralization. Many exchanges and platforms are not offering ETH unstaking until the Shanghai upgrade but it was important for us to provide liquidity to our ETH stakers which will be achieved via an open market."
CakeDeFi says its new Ethereum staking product offers ETH stakers around five percent annual percentage yield (APY), and returns will be compounded automatically every 12 hours. This will generate significantly more profits for stakers than non-compounding ETH staking services.
Users of Cake DeFi's staking service will also be able to unstake their ETH via "a token tradable on the open market without having to wait for the Shanghai upgrade," says the team.