Canadian Stablecoin 'CUSD' Launches Today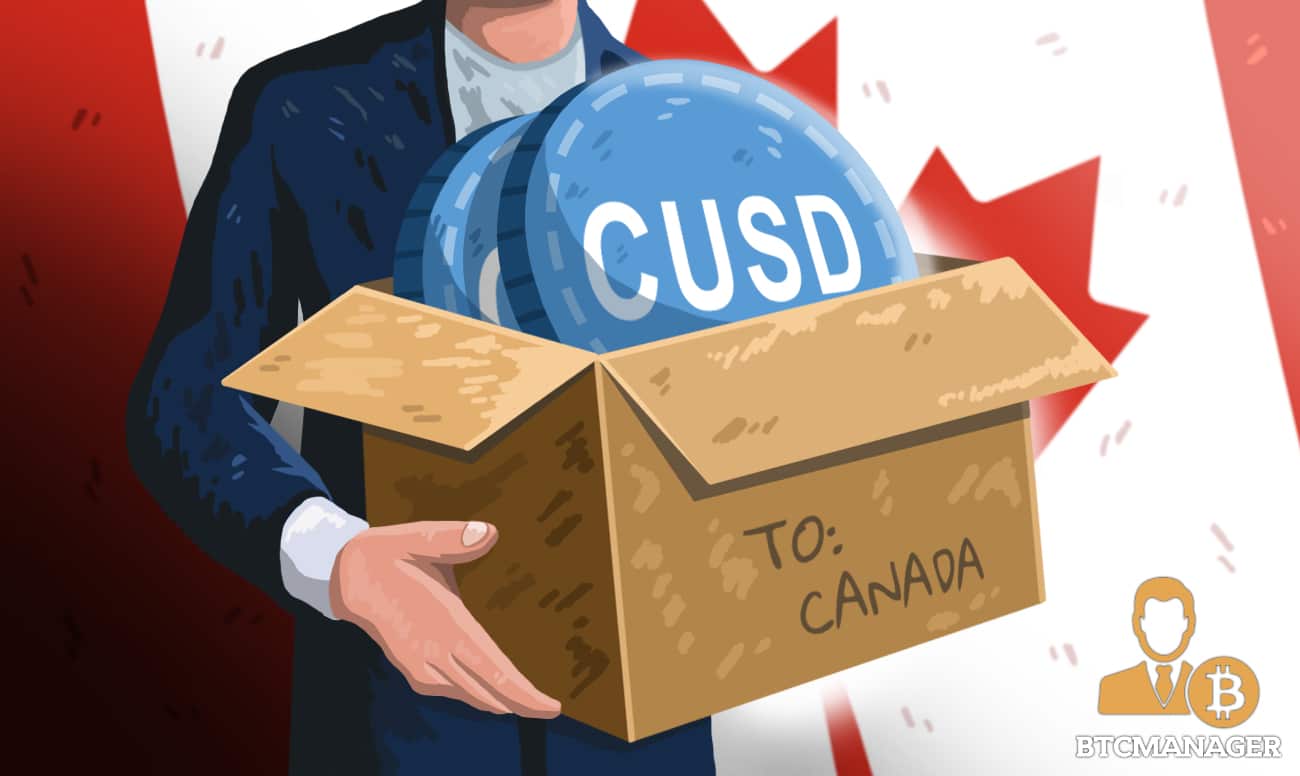 An Ontario based blockchain company is rolling out the first fully-regulated Canadian-delivered USD stable coin. According to news published by Yahoo Finance on November 11, the new stable token aims to ease access to the digital currency asset class in North America and facilitate cross-border transactions between Canada and the U.S.
A Canadian-based USD Stablecoin
Blockchain Venture Capital Inc. (BVCI), an Ontario-based company that develops public blockchain and cryptocurrencies digital infrastructure, has just announced the launch of the first Canadian delivered USD stable coin named CUSD.
The launch of the volatility-free token pegged to the U.S. Dollar comes just 4 months later the roll-out of the CADT, the first stable coin backed by Canadian Dollars, launched on July 1, by BVCI itself.
CUSD is expected to be used by businesses and individuals worldwide and aims particularly at providing easy and reliable access to the digital asset class.
According to the company, CUSD will facilitate the exchange of values between the borders of Canada and the U.S. even though it is still unclear how the token will achieve complete private cross-border transactions as the company hasn't provided any detailed feedback on the KYC requirements to acquire both CUSD and CADT.
In addition, BVCI has confirmed that CUSD will be backed by U.S. Dollars which will be held in an escrow account. BVCI's CUSD differs from other competitors since the company is compliant with all federal regulations that relate to the transmission of virtual money.
Blockchain Venture Capital Inc. has been founded in 2018 and operates in the sphere of DLT research and development. Their core product is the BVC-chain: a public blockchain that leverages privacy and efficiency to allow Ethereum and XRP applications. Furthermore, the company has also developed BVC-Pay, a digital wallet that embeds storing and payments services as well as smart contract technology, a blockchain explorer and decentralized access to exchange functions. 
The Stablecoin Market
CUSD joins a growing list of stable coins pegged to the USD and is up against the heavy competition with other tokens such as USD Tether (USDT), USD Coin (USDC), Paxos Standard (PAX), TrueUSD (TUSD) and Dai.
Earlier this month the Global Currency Organization, a San Francisco-based project founded by former employees of JPMorgan, Intel, and TrustToken, also launched a USD pegged stable coin labeled USDD.
October 2019 has been one the biggest months for the stablecoin market so far, with industry leader Tether achieving a historical overtake in daily transacted volume over Bitcoin. The Hong Kong-based stablecoin has peaked at 58 billion USD daily on the 26th of October according to CMC.
The growing stablecoin market has led regulators to discuss the phenomenon in several formal occasions. In a recent report drafted by central bank officials, the IMF and Financial Stability Board, stable coins are labeled as a systematic risk to global monetary stability.
Many top tier regulators have warned about the spreading adoption of these tokens and think that it should be a priority for governments to suspend these projects soon. Although central bankers claim they want to tackle the stable coins' business to prevent potential bigger economics risks, it feels like governments are worried about privately issued currency hindering their own monopoly of currency issuance.
The main regulatory issue comes from the fact that there are cryptocurrencies pegged to fiat. Eliminating this step and achieving full decentralization will probably make them nearly unstoppable, whether the regulators want it or not.  However, the industry has yet to find a system that allows the development of volatility-free tokens without relying on fiat prices. Until then, pegging to traditional fiat currencies is the only viable solution to achieve economic stability and transaction efficiency.