Centrifuge (CFG) and BlockTower Announce $3 Million Treasury Sale to Accelerate the Financing of On-Chain Real-World Assets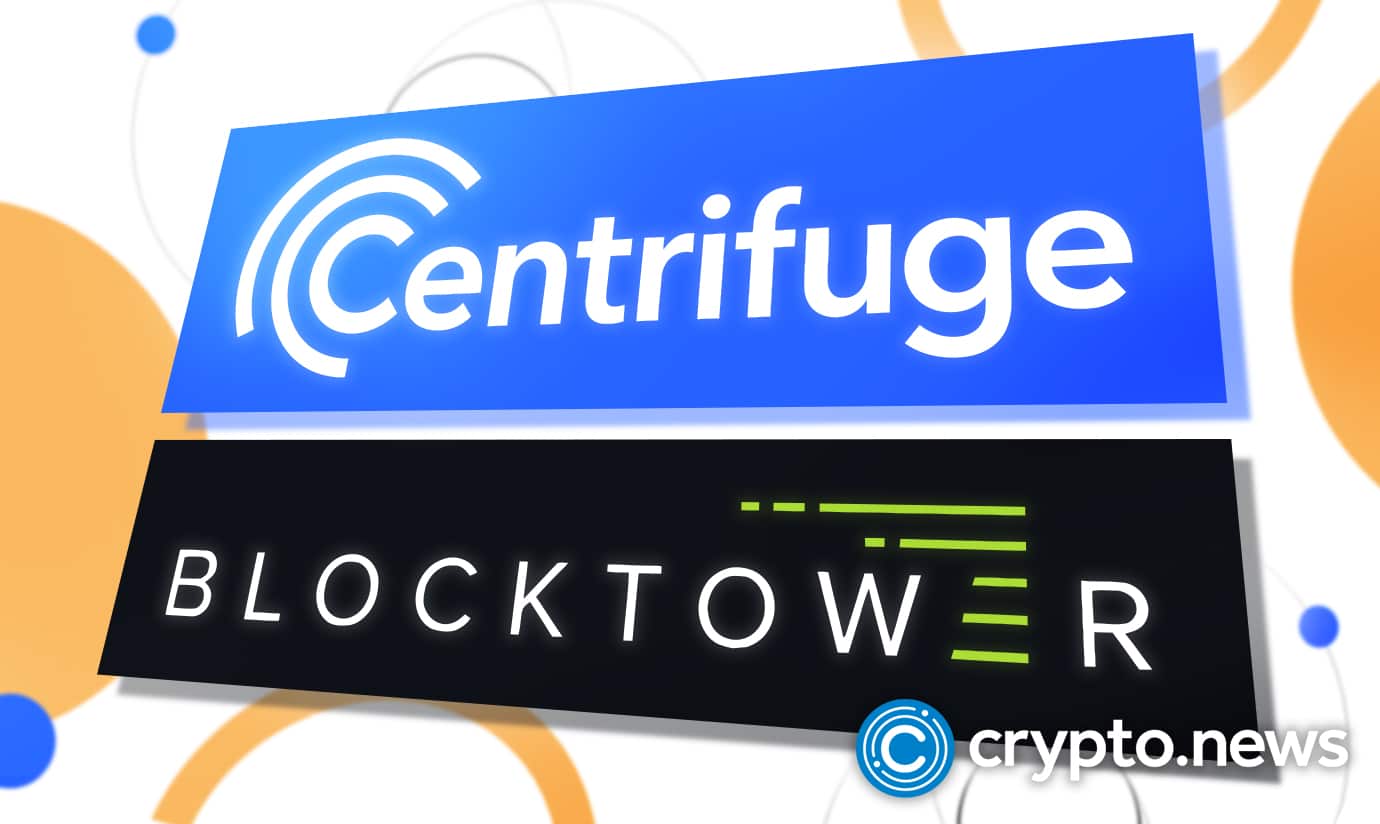 Centrifuge has announced a strategic partnership with BlockTower. The partnership will enable Centrifuge to access institutional capital to accelerate the financing of real-world assets on the blockchain. The team completed a $3 million first-round treasury token sale in April 2022.
Centrifuge Accelerating RWAs Financing
Centrifuge, a leading decentralized finance (DeFi) protocol dedicated to financing real-world assets (RWAs) on the blockchain, has signed a strategic partnership deal with BlockTower, a crypto-focused institutional investment firm.
The new alliance will enable BlockTower to infuse institutional capital and assets into the Centrifuge ecosystem, to significantly accelerate the financing of real-world assets (RWA) on the blockchain.
Per a press release shared with crypto.news, the teams successfully completed the first round of a $3 million treasury token sale earlier in April 2022, as part of this new partnership, which showcases the value of investing in RWAs for both traditional and crypto investors.
BlockTower and Centrifuge aim to continue to occupy the frontline of the RWA ecosystem, becoming the first major investment firms to build investment expertise and strategy specifically around digital assets.
The team says the new alliance is a complete reflection of BlockTower's conviction in the future of RWAs and also underlines Centrifuge's reputation as the leading DeFi protocol in the RWA segment.
Matthew Goetz, CEO/Co-Founder of BlockTower Capital Advisors commented:
"Blockchain technology has long-held promise to overhaul the plumbing of the world's financial services. To this end, BlockTower is excited to support the Centrifuge team as they democratize access to and generate efficiencies in the securitization industry; we believe these strategic partnerships are essential to usher in the future of finance."
DeFi to the World
Lucas Vogelsang, CEO/Co-Founder of Centrifuge said:
"The value of Real-World Asses to DeFi is becoming increasingly clear as the technology matures and we see the first major successes in this space. The partnership between BlockTower and Centrifuge is an exciting step to accelerate the adoption of DeFi."
Founded in 2017, Centrifuge allows businesses to tokenize non-crypto assets like mortgages, invoices, consumer credit, and more, to bring to life asset-backed pools that create an investment opportunity.
In other words, Centrifuge is democratizing access to capital, making it possible for businesses to transact directly with investors while sidestepping banks and other centralized intermediaries. The platform is open to everyone. Users can provide liquidity and earn interest plus rewards in Centrifuge's CFG tokens, which power the Centrifuge Chain.
Centrifuge says its key objective is to create a robust, easily accessible decentralized credit ecosystem.
BlockTower applies the skills of professional trading, investing, risk, and portfolio management to the digital asset class.
BlockTower's strategies span the full crypto opportunity set including active liquid investing, market neutral trading, credit and lending, as well as early-stage venture capital.
BlockTower was co-founded in 2017 by Matthew Goetz, a Goldman Sachs executive and engineer, and Ari Paul, the University of Chicago Endowment portfolio and risk manager and Susquehanna International Group trader.
Centrifuge and BlockTower will both be present at the Permissionless conference in Miami from May 17 to 19, 2022, where they will speak on the momentum behind the RWAs in DeFi and how institutional investors can capitalize on them.