CEO of IOST: "Great Crypto Bloodbath of 2018 Has Been a Blessing in Disguise"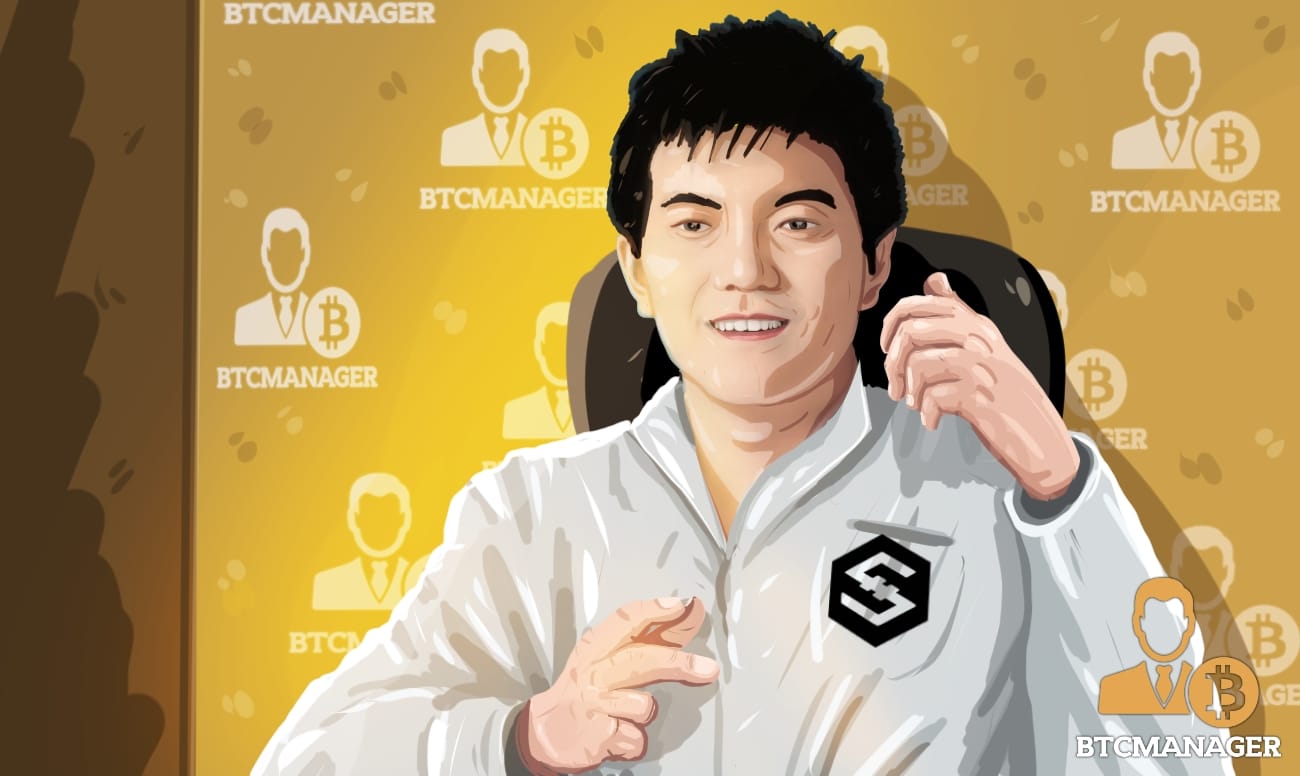 BTCManager recently interviewed CEO of IOST; a digital token ranked #62 by total market cap. As of October 18, 2018, IOST has a market cap of over $100 Million.
IOST is building a highly scalable platform for hosting blockchain applications and competes directly with Ethereum and EOS.
In this interview, we pick the brain of Jimmy Zhong, the CEO, and Co-Founder of IOST, on various questions relating to IOST and variety of other topics pertaining to cryptocurrencies and blockchain.
The Interview 
Can you tell us more about your project, i.e., how is it different to Ethereum and EOS?
Overall, Ethereum and EOS both have serious problems with either scaling or decentralization, both of which we intend to solve at IOST.
Trying to find a balance between scalability, security, and decentralization isn't easy, and many projects have been cutting corners too much in one area and compromising the integrity of their blockchain in others.
At IOST, we are developing solutions to this trilemma, and working to build a truly functioning decentralized infrastructure. Specifically, IOST aims to solve problems like scalability much faster than Ethereum, and it offers a much more egalitarian consensus mechanism compared to EOS.
We do this using our proprietary Proof-of-Believability (POB) consensus protocol. PoB enables next-gen transaction throughput speeds while ensuring nodes stay compliant, using factors including IOST token balance, reputation-based token balance, network contributions, and user behaviors.
A faster grade Byzantine Fault Tolerance mechanism, microstate blocks, Atomic Commit protocol, and a dynamic sharding protocol (Efficient Distributed Sharding) all ensure transactions are safeguarded, consistent, and lightning fast while reducing storage, configuration costs, and processing power for validators.
More specifics on IOST vs. Ethereum and EOS.
Regarding Ethereum, while Vitalik's vision is certainly revolutionary, Ethereum has a chronic network capacity overload problem — most notably (but certainly not the only case), the CryptoKitties dApp caused it to grind to a practical standstill. These overloads have severely slowed Ethereum down and called its viability into question.
And even though Ethereum's scaling and sharding approach has been under development for almost two-and-a-half years, very little progress has been made. Plus, Ethereum's plans to transition from Proof-of-Work to Proof-of-Stake might split the community in half. That's a problem, for obvious reasons.
Meanwhile, EOS' Delegated Proof-of-Stake approach is a centralized way to scale, where only 21 nodes are involved in validating any transactions. EOS is also prone to DDoS attacks, and the method for determining new supernodes is to allow people, rather than an algorithm, to decide — which opens the system up to bribery, collusion and centralization of power – precisely the thing blockchain technology is trying to solve.
IOST launched its testnet earlier this year and had already reached speeds of 7,000-8,000 TPS — which is 500 times faster than Ethereum.
Also, see the infographic below: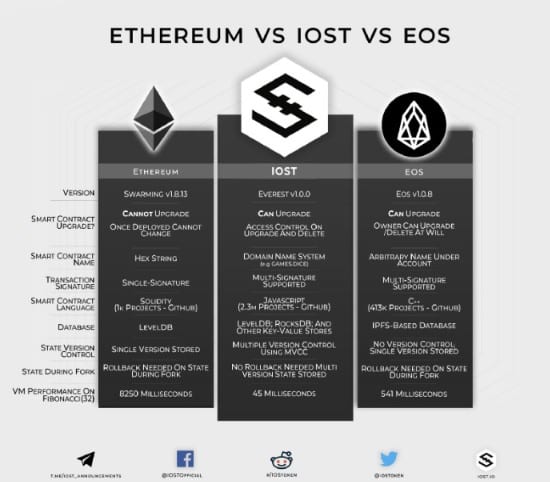 (Source: IOST)
How are you planning to deal with the network effect issue usually smaller projects have?
Firstly, unlike many other networks, the hardware requirements for running an IOST node are deficient — anyone with a home computer will be able to host a node and validate transactions.
Secondly, our Consensus algorithm PoB is designed such that there cannot be a monopoly over transaction validation, and contributors to the network are justly rewarded. No single entity can "hold control" over processing transactions and therefore should be attractive to any network participants.
Thirdly, 35 percent of IOST tokens are locked up until Mainnet launch, for the specific reason of growing the IOST ecosystem. Strategies and initiatives are already being worked on to create the most friendly developer ecosystem possible to encourage development and participation in our network. "Killer" apps and user acquisition are fundamental to growing our network and our long-term goals.
An IOST specific incubator — Bluehill (independently raised $50M in funding) — was created to support projects and teams that want to build on top of the IOST network.  Theseus — a development house specific for the IOST network — will develop applications and solutions for business and industries. Those are just a few of the many projects and initiatives that will only further increase the virality and growth of the IOST network.
Where do you think the crypto market is going?
Things aren't looking good for speculators, but that's actually a good thing. I would argue that the great bloodbath of 2018 has been a blessing in disguise — it's a signal that the time has come to separate the wheat from the chaff. In our new crypto reality, only serious blockchain projects that are focused on a real-world application can and should survive.  
What do you think about institutional investors entering crypto space?
I have seen more institutional infrastructure being developed and more mainstream adoption in the last six months than during the previous six years. Custodial solutions, regulatory clarity, as well as improved general understanding and realization of the value of cryptocurrencies, all point to institutional acceptance and interest into this new asset class.
Institutions entering the space can be a good thing for crypto, as long as the exploitative financial systems (e.g., fractional reserve banking, commingling, etc.) are not piggybacked into the crypto space. Historically, the legacy financial system has been used to exploit the general public — making the rich get richer and creating centralized points of failure.
Cryptocurrencies allow you to "be your bank," and while distributed ledger technology is permissionless and open — meaning anyone can have access the global financial system (even to institutions) — they should not be allowed any higher power or advantage than any other user on the network.
Tech-wise, your favorite project – and why?
The Lightning network is something we are very interested in, and we see some significant progress and development. As one of the initial second layer solutions for the Bitcoin network, this is of specific interest to us, as we also see layer two solutions as the key to scaling and creating utility on top of layer one network platforms.
What are your thoughts about insider trading coupled with unregulated markets in this market?
Many of these issues are indicative of how young and immature space currently is, as well as how open these systems are and how much work there still is to be done to resolve some of these issues. We are just starting to see the beginning of the adoption of decentralized exchanges, and this should increase dramatically once suitable networks exist that can handle the high TPS required and enable a high degree of user experience.
At IOST, DEX's are one of the initial use cases we are excited to see be built on our network. The transition to decentralized exchanges, regulatory clarity, as well as general user knowledge and experience, should go a long way to addressing these issues that we currently see.
Any advice for people looking to invest in ICOs?
Do your homework (DYOR), look for professional teams with a strong history of success, ask yourself if this project requires DLT to be successful, or is just a token implemented for the sake of being able to conduct an ICO.
Any advice for computer science students and engineers considering a career in blockchain?
Be prepared to teach yourself, because, for the most part, the infrastructure doesn't yet exist to teach blockchain development. Find a community. If you're the smartest person in the room, you're probably in the wrong room — find people who have more experience than you and are willing to teach. We realize the importance of self-education and community support, so we released the IOST Developer Portal alongside Everest v1.0.
The portal has extensive documentation for setting up a node on the IOST network and developing on Everest. We encourage all developers also to join our new Developer Slack Channel. This forum will allow you to dialogue directly with the IOST tech team to discuss the IOST blockchain. We are also trying to lower the barriers to entry for new developers by allowing them to develop in JavaScript — the world's most popular programming language.
Anything else you want to tell our readers?
While most blockchain projects are stalling and pushing back their roadmaps, IOST is doing the opposite. This month we released the second iteration of our testnet — Everest v1.0. Everest v1.0 will serve as the foundation of IOST's upcoming Mainnet release.
We are still on track in regards to our timeline and roadmap, and even delivering more features and functionality sooner than planned. Unlike many other projects that have delayed their milestones, IOST has been working tirelessly to stay ahead, with Mainnet scheduled for release in Q1 2019 — several months earlier than initially planned.