Coca Cola Vending Machine Accepts Bitcoin Payments via Lightning Network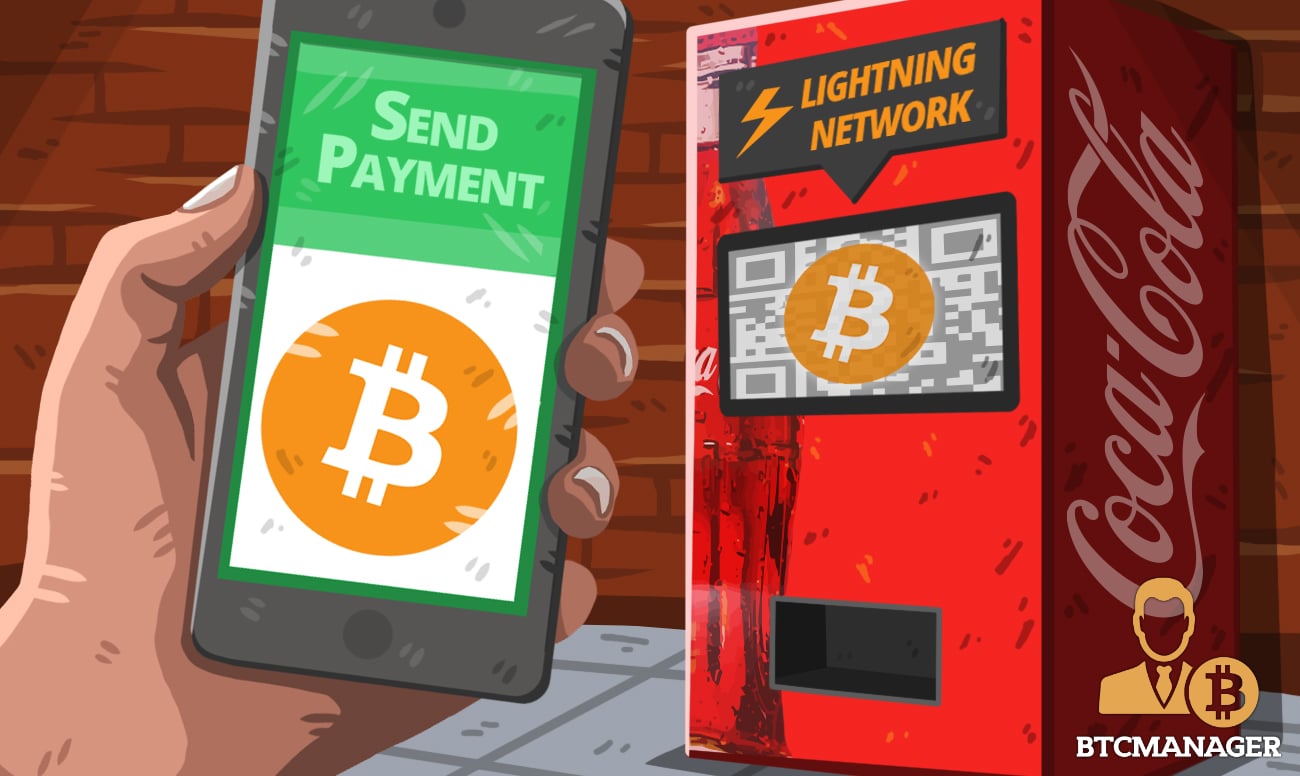 Technology and cryptocurrency enthusiast, Ricardo Reis has developed a vending machine that refills your bottle or glass when a bitcoin payment is received, as per a tweet published September 30, 2018, 2018. 
The Brazilian hardware hacker used everyday electronics and tools like a Raspberry Pi, water pump, a touch screen, some wood, and basic programming knowledge to build the machine. He has also documented the entire process in a post on Medium.
The Procedure
Ricardo uploaded a video on YouTube explaining how his invention works. The customer first scans a QR code which contains the machine's bitcoin wallet address. They then proceed to send the payment using a Lightning-enabled wallet. Once the machine receives the payment, it dispenses the drink into the user's glass.
I build a Coke vending machine that accepts Bitcoin payments through Lightning Network.
I use @Raspberry_Pi, @BtcpayServer , @pusher
YT: https://t.co/qVr3GDkitJ pic.twitter.com/anSmCYmIKM

— Ricardo Reis (@ricardoreis007) September 30, 2018
The developer chose to use the Lightning Network to process transactions because of its inexpensive and quick nature. However, it is important to note that the vending machine is just a proof-of-concept, has no affiliation to the actual Coca-Cola company.
The Lightning Network is a second layer scaling solution designed specifically for the Bitcoin blockchain. It is often touted as a solution to the network's scalability problem. Towards the end of 2017, as bitcoin saw increasing real-world usage, transaction fees spiked to a median of $12 each.
The Lightning Network solves this by adding another layer to the bitcoin blockchain, which can then be used to create payment channels between any two parties. While the channel is open, an unlimited number of transactions can be processed. The final balances will be added on the blockchain as a single entry when the channel is closed.
With the Lightning Network, transactions are designed to be near instant, and the fees are targeted to be extremely low or inconsequential. Although the network is still in its early days, it can make sending small amounts of bitcoin much faster. Lithuania-based payment processor CoinGate announced last month that over 4,000 merchants are now using its services and can also take advantage of the Lightning Network to accept payments in BTC.
Developers have also used the Lightning Network to demonstrate its potential. One web app sold off pixels on a digital graffiti board for one Satoshi a piece, allowing users to draw whatever they wanted. Another group of developers also made use of the network's high speed to bring gambling and roulette to the blockchain masses.
Virtual Vendors
While bitcoin has already been used to facilitate purchases of pizza through a service named PizzaforCoins, it is now possible to buy a whole of variety drinks with it as well. Ricardo Reis is not the first to have come up with a way to sell a drink using bitcoin as a payment method.
In June 2018, San Francisco-based startup Civic revealed its first ever beer vending machine that accepted crypto payments as well. Civic's Titus Capilnean even went on to say that the uses of this were not just limited to alcohol and could be used for any age-restricted product like an unguarded entrance to casinos, or for various concerts, ballgames, venues, conferences.