CoinCenter Pushes to Extend Public Comment Period and Slow Down New FinCEN Rule Finalization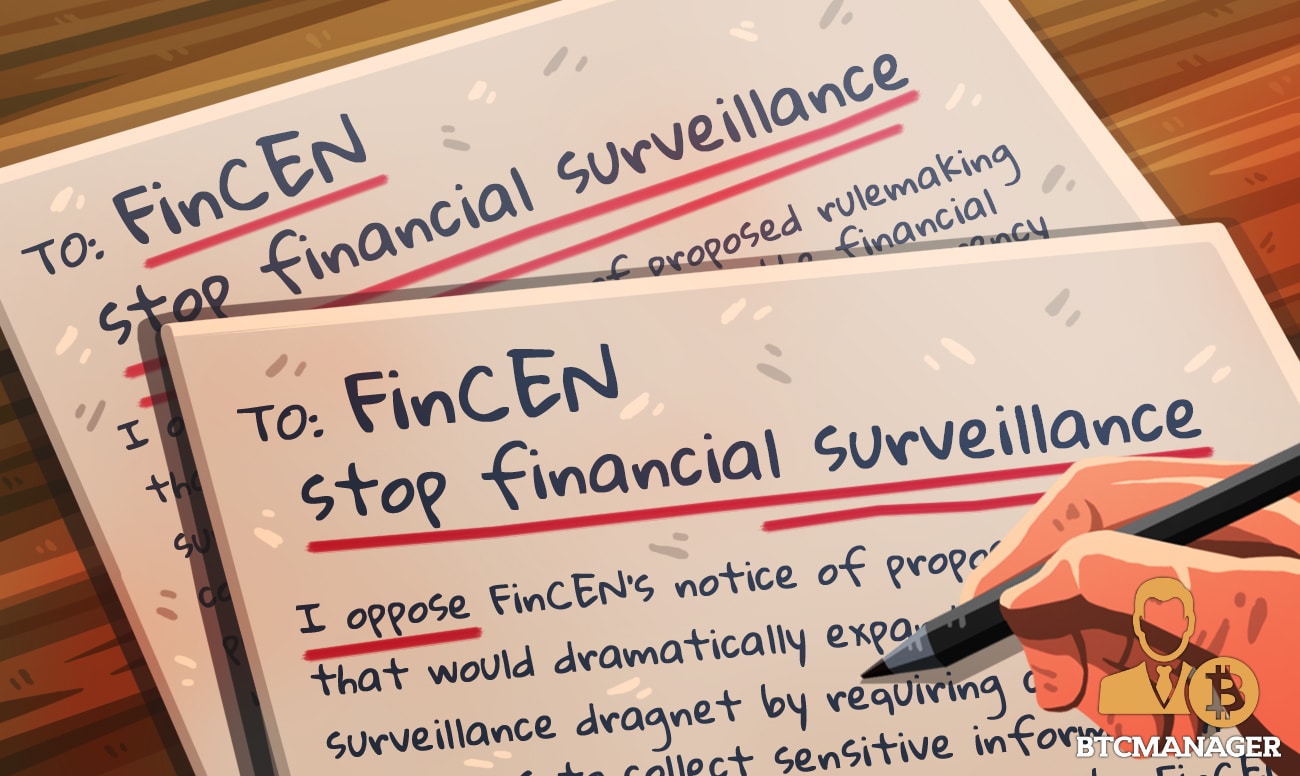 The Executive Director of CoinCenter, Jerry Brito, has revealed that he is working with people in Congress to get some letters sent to the United States Secretary of Treasury, Steven Mnuchin, requesting the extension of what he says is a "rushed" comment period as per an update on Dec 28.
The New Currency Reporting Rule
There is concern that the US government wants to extend their tracking dragnet, forcing crypto institutions to illegally monitor and keep transactions above $3k without a warrant. All transactions above $10k will be automatically reported to the Financial Crimes Enforcement Network (FinCEN) if the new rule passes.
CoinCenter is raising concerns that not only is this illegal, going against the constitution, but they are trying to pass the rule during the holiday period without comment from the public. The deadline for the public comment period ends on Jan 4, 2021.
FinCEN, an arm of the US Treasury, is forwarding a new reporting rule for money service businesses that interact with self-hosted wallets. These wallets are integral to crypto, allowing users to interact with the technology.
Taking a form of an interim rule–that goes into effect immediately upon release, money service businesses, including exchanges, will have to file a currency transaction report (CTR) if a client posts a crypto transaction from or to a self-hosted wallet.
The Rule will Have Unintended Side Effects
The CEO of Coinbase, Brian Armstrong, said this would have some unintended side effects. He also added that it is a bad idea in practice that may kill many use cases of crypto. Specifically, DeFi–which decentralizes finance by porting over traditional finance instruments to the blockchain, could suffer.
https://twitter.com/brian_armstrong/status/1331744884856741888
According to Jerry, Mnuchin wants this law to be final before he leaves office on Jan 20. FinCEN–must by law, consider every comment before finalizing the rule. As Jake Chervinsky puts it, public comment matters since "agencies have to read & respond to the substance of every single one."
For this, if every cryptocurrency user posts a comment, they won't be able to go through each and subsequently won't finalize the rule on Jan 4, 3032. It may be a leeway, he says, for the next administration to halt and allow for a new, less rushed process.
As BTCManager reported in October, FinCEN fined Larry Dean Harmon – the operator of Helix and Coin Ninja crypto-mixing services, $60 million for alleged money laundering.