Crypto Assets Conference 2023 (CAC23A) is scheduled for Mar. 29 to 30, 2023, at the Frankfurt School of Finance and Management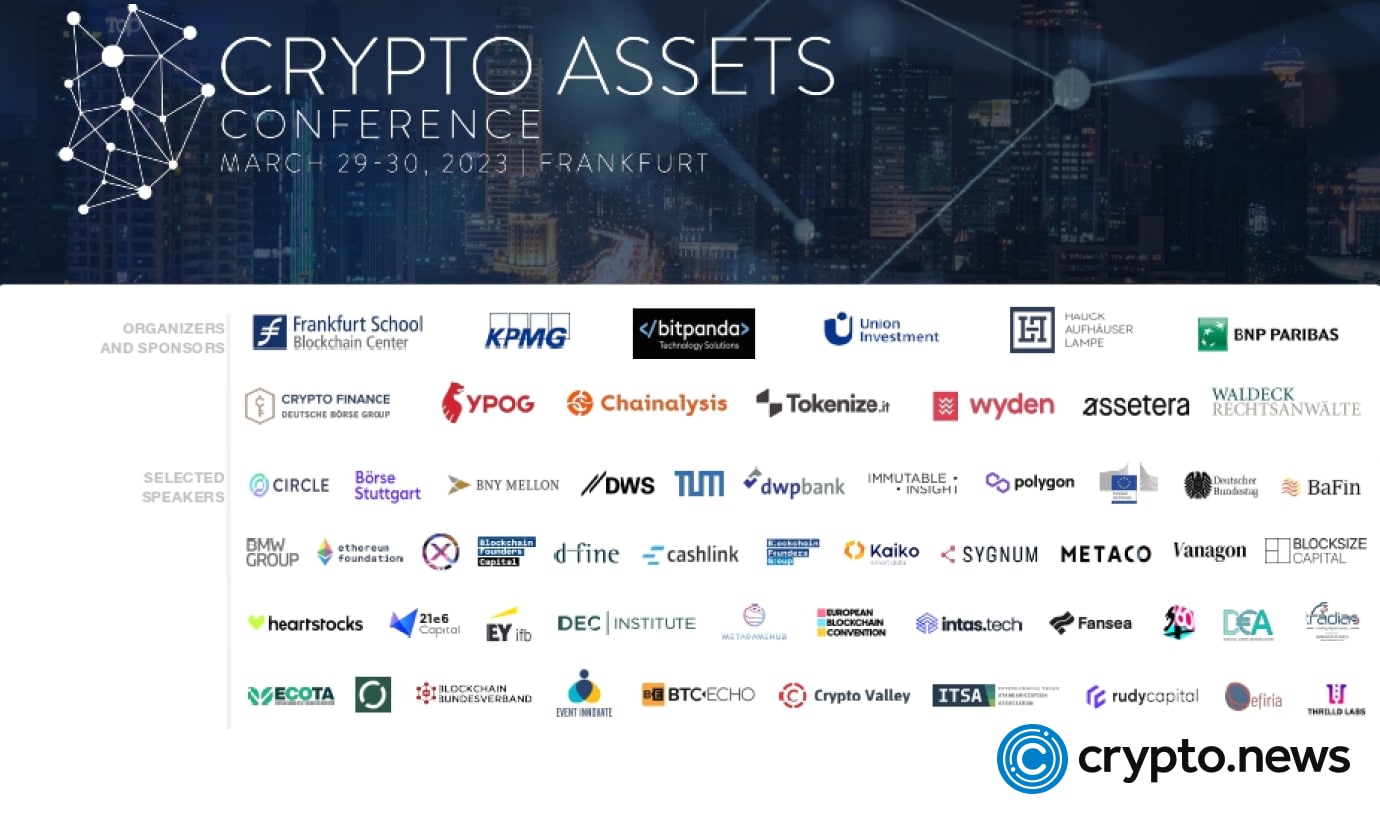 The Frankfurt School Blockchain Center will organize the 8th Crypto Assets Conference (CAC) from Mar. 29 to 30, 2023.
As crypto jargon enters the everyday business, Bitcoin and Ethereum are disrupting the traditional understanding of currencies. The use of DeFi in traditional banking is increasingly inevitable since digital assets evolve and mature in an unprecedented style. With Web3 revolutionizing how society interacts and tokenization transforming the concept of ownership, blockchain technology has more use cases than ever before.
Increasingly, established industries adapt to these use cases, and a future without digital assets becomes unthinkable.
To unite industry experts, corporate leaders, and entrepreneurs, the Crypto Assets Conference 2023 in Frankfurt from Mar. 29 to 30 will delve into the latest trends in distributed ledger technology (DLT), blockchain, and crypto assets.
There will be over 400 on-site and 5,000+ online attendees discussing the latest developments and emerging industry trends with exclusive speeches, discussions, and pitches from experts in the field.
You can look forward to quality content over the two days at CAC23A:
Day 1: Digital Assets (Wed., Mar. 29, 2023): Digital Securities, Tokenization of Assets, Funds, Asset Management, Infrastructure, Custody, and Digital Finance.
Day 2: Crypto Assets & Web3 (Thursday, Mar. 30, 2023): Bitcoin, Ethereum, DeFi, Metaverse, Web3, NFTs, Stablecoins, Carbon Tokenization (CO2), and ESG.
Users who plan to stream the event can use this free code: Assets23
In the upcoming months, we will also include all presentations, keynotes, and panel discussions on our YouTube channel and the Frankfurt School Blockchain Center Academy at https://my.blockchain-academy.io/home.
Participants will get firsthand insights on the latest market developments, trends, and research results, complete with valuable discussions that bring together established and new parties in a professional context.
More information: www.crypto-assets-conference.de
Disclosure: This content is provided by a third party. crypto.news does not endorse any product mentioned on this page. Users must do their own research before taking any actions related to the company.