Crypto.com is licensed to Operate as a Virtual Asset Service Provider in the Cayman Islands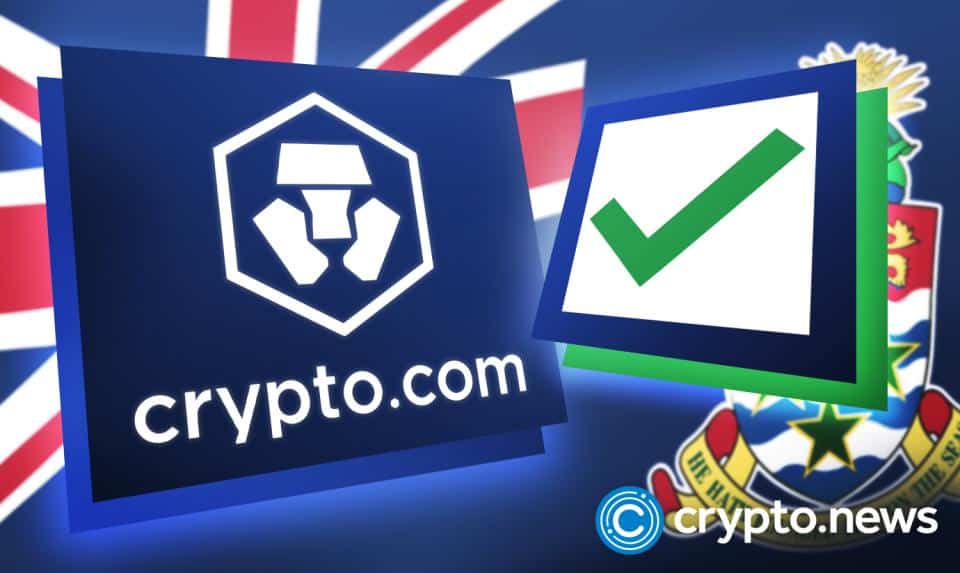 Crypto.com, a Singapore-based cryptocurrency exchange with more than 50 million clients globally, has received registration and regulatory approvals to operate as a Virtual Asset Service Provider from the Cayman Islands Monetary Authority (CIMA), a press release on August 11 reveals.
Crypto.com Has Been Licensed in the Cayman Islands
With this green-lighting, Crypto.com can now offer a wide range of financial products and services, all while remaining compliant with local regulations.
According to Kris Marszalek, the co-founder of Crypto.com, this licensing is an apt demonstration of their commitment to compliance and "constructive approach to regulator engagement" as they seek to expand their service offerings, fast-tracking the adoption of blockchain solutions.
This regulatory approval in the Cayman Islands is the latest example of Crypto.com's commitment to compliance and our constructive approach to regulator engagement. We look forward to expanding our suite of offerings and services available, and continuing to work with stakeholders across sectors on advancing blockchain technology.
The Cayman Islands is an Established Financial Hub
The Cayman Islands has, over the years, established itself as a global financial center, developing a reputation as a friendly location for conducting business.
The zone is distinct for offering political stability, a neutral tax regime, and maintaining legislative links with the United Kingdom (U.K.). Notably, Cayman Islands' regulatory regime focuses on further improving its financial service industry, specifically building a base that covers sophisticated investors from across the globe.
Under the country's Virtual Asset Service Providers' (VASP) Act of 2020, cryptocurrencies and digital assets are recognized. Accordingly, businesses, including Crypto.com, with approvals from CIMA and engaging in digital assets must comply with local laws. However, before launching operations, they must receive proper licensing from the regulator.
As per the VASP Act, the Cayman Islands doesn't impose any capital gains, income, inheritance, or any form of taxation, for entities issuing, transferring, or holding digital assets. For this precise reason, the Cayman Islands has become a hub for cryptocurrency businesses, raising its stature as a go-to financial center.
Crypto.com Licenses in Singapore and South Korea
As previously reported, Crypto.com and two other companies were granted licenses by the Monetary Authority of Singapore (MAS). With the digital payment license, the exchange and crypto service provider offer payment services in the crypto and blockchain hub. Considering the high quality maintained by MAS, their approval, Kris Marszalek noted, was a pointer to how the platform was secure.
MAS sets a high regulatory bar that cultivates innovation while protecting consumers. Their in-principle approval of our application reflects the trusted and secure platform we have worked diligently to build.
Crypto.com has also received the Electronic Financial Transaction Act (EFTA) and Virtual Asset Service Provider (VASP) licenses, empowering the platform to operate as a payment service provider (PSP) and a compliant cryptocurrency exchange in South Korea. This followed their acquisition of payments service provider, PnLink Co., Ltd., and virtual asset service provider, OK-BIT Co., Ltd., who had already received regulatory approvals to operate in the country.