Crypto Mining Apps Continue to List on Google PlayStore Despite July 2018 Ban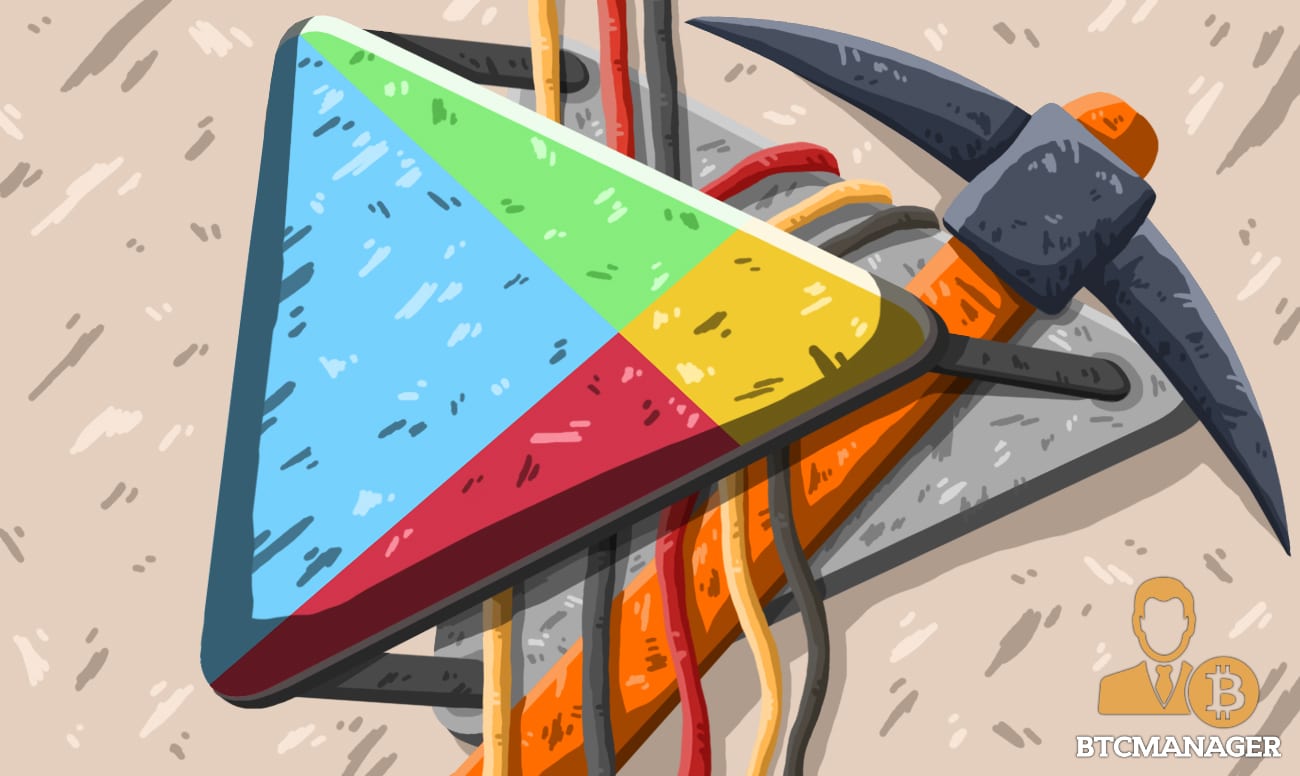 In July 2018, Google Play had announced that cryptocurrency mining apps would not be permitted on its browser or any platform supported by the company. However, Google's Play Store continues to list applications that enable mining of cryptos such as bitcoin and others.
Mining Apps Are Still Revolving in Playstore
In an updated developer policy in July 2018, the platform had said  the company would not allow apps that expose users to deceptive or harmful financial instruments. 
At the time, the decision sounded severe and final. However, a closer look shows that the policy was merely words on paper, and Google Play has not put the ban in effect.
One such instance is JSEcoin, a U.K.-based blockchain startup. The company is working on browser-based mining solutions as an alternative to advertising, according to news portal The Next Web.
(Source: PlayStore)
The publication reported it got in touch with JSE's founder John Sim about this development, with the latter stating:
"That is correct. We have additionally reached out to the Google Support team to confirm if we are allowed to allow our users to mine our tokens via our official app – as we are aware of their restriction policy."
Fraudulent Mining Apps run Aplenty
Not just JSE, there are plenty of other not-so-well-known crypto mining apps available on Google Play for all and sundry. At the time of writing this article, BTCmanager ran an independent check to verify if Google Play indeed had crypto mining apps on its platform and here's what we found: There are more than a 100 apps that enable crypto mining on Google Play. The apps are not merely meant for mining bitcoin. Other cryptocurrencies such as NEO, Dash, Bitcoin Cash, LTC also have several apps dedicated to themselves.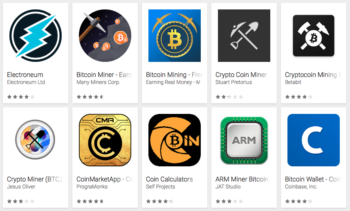 (Source: PlayStore)
One app known as Faucet Ethereum Mining was listed as an app and the date it was last updated said July 30, 2018, which in likelihood was, after Google Play's announcement. However, the authenticity of the apps listed on the platform is a question in itself.
For instance, the Faucet Ethereum Mining app has a few reviews that range from," Sorry guys but this is SCAM. Somebody ask Google to please remove it! It will load your phone with many dangerous adds too, even when the application is in the background or closed. I made a positive comment earlier because they allow 2x more "fake mining" speed for 12 hours..totally fake!" to "Works as stated, so far. The interface is easy, but it does have pop-up ads, which is OK, considering it's free! Besides, you only need to open the app to press the button for 2 seconds."
Relatively, it can be hard for a newbie to spot the difference.
Does Google have a biased policy for play store?
If Google Play has genuinely removed official crypto mining apps from its platform, then what can be said of the apps that continue to exist on the store?
Apart from this, Sergey Brin, the co-founder of Google had said at an event last month that he mines Ethereum with his 10-year-old son. He had said, "A year or two ago, my son insisted that we needed to get a gaming PC. […] I told him, 'Okay if we get a gaming PC, we have to mine cryptocurrency.' So we set up an Ethereum miner on there, and we've made a few pennies, a few dollars since."
Considering Google's anti-stance on cryptocurrency mining, when a co-founder says on record that he mines the second largest cryptocurrency, the company's policy comes across as hypocritical.