Crypto News Site Ally with VeChain (VET) to Boost DLT Adoption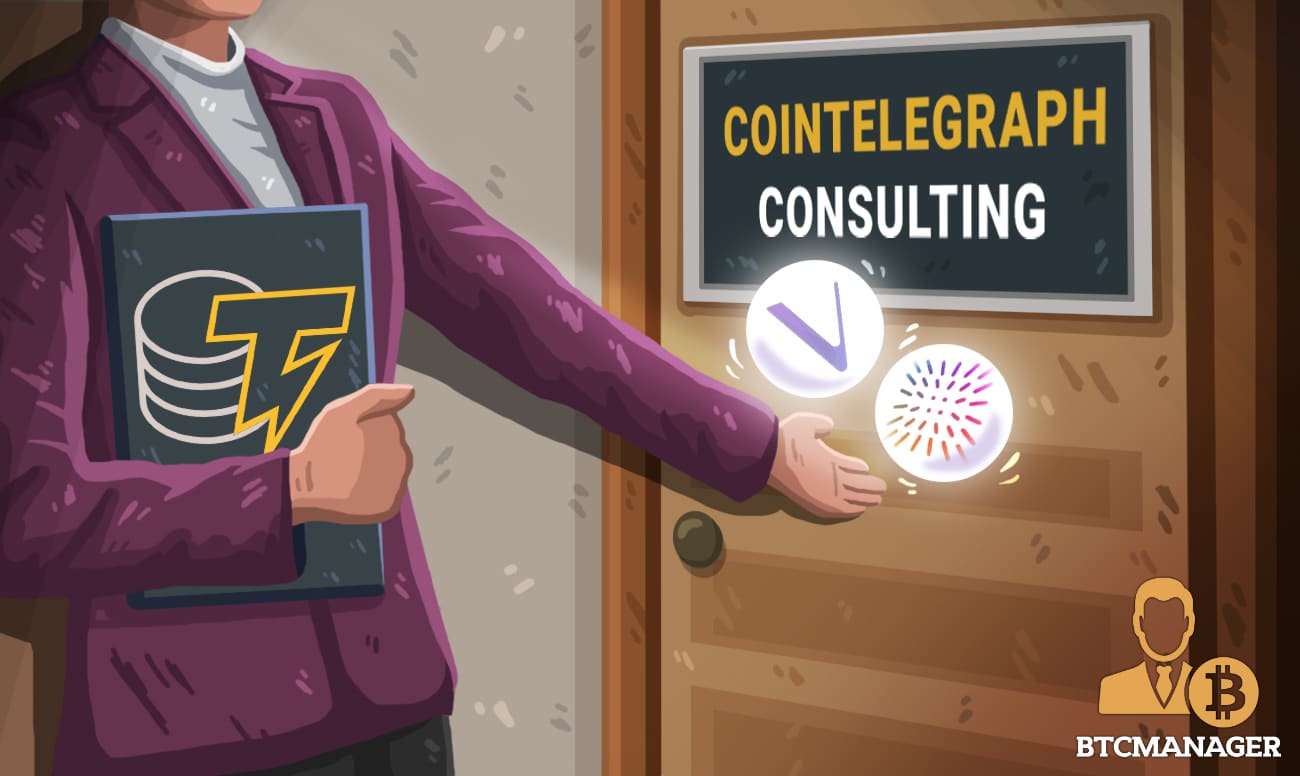 VeChain Thor (VET) a leading distributed ledger technology (DLT) project that claims to be focused on creating real use cases for blockchain technology, has joined forces with Cointelegraph, one of the earliest crypto news sites and Insolar, to assist enterprises in adopting and seamlessly integrating DLT into their processes, according to a press release on December 3, 2019.
Promoting Mainstream Blockchain Adoption 
In a bid to help businesses to understand the workings of the revolutionary blockchain technology, connect them with the most credible enterprise blockchain solution vendors and more, Cointelegraph, one of the top cryptocurrency news platforms has launched Cointelegraph Consulting.
As stated in its press release, to make its new consulting arm a huge success, Cointelegraph has inked a partnership deal with Insolar, a firm that claims to be dedicated to developing highly functional blockchain solutions for businesses, and VeChain (VET) a blockchain project that has been in existence since 2015.
The team has made it clear that the primary objective of Cointelegraph Consulting is to help both large firms and startups to have a better understanding of the burgeoning blockchain technology and connect them with experts in DLT solutions development, thereby rapidly accelerating enterprise blockchain adoption.
The move appears to be a forward-thinking maneuver indeed, as it has been forecasted that global spending on blockchain solutions is expected to surge by more than 80 percent this year to $2.7 billion and rise to $15.9 billion by 2023.
The Team
Per sources close to the matter, the blockchain news platform has selected seasoned DLT experts, tech analysts, as well as Accenture and McKinsey senior consultants, to lead Cointelegraph Consulting.
The team says Contelegraph Consulting will lend a helping hand to enterprises at every stage of DLT implementation, including use case identification, analyzing vendors, and introducing their blockchain solutions to the market.
Commenting on the initiative, Arsenii Dain, Managing Director of Cointelegraph Consulting reiterated that the platform will leverage the wealth of experience its parent company has in the blockchain ecosystem to "connect enterprises with blockchain vendors, and ultimately ensure that DLT-based solutions brings tangible value to businesses."
In related news, earlier in November 2019, VeChain (VET) partnered with DNV GL and ASI Group to launch a blockchain-powered cross-continental trade and logistics solution.
At press time, the price of VeChain is down by 4.56 percent at $0.0068, with a market cap of $380 million, as seen on CoinMarketCap.