Buying Cryptocurrency from a Local P2P Exchange – Everything You Need to Know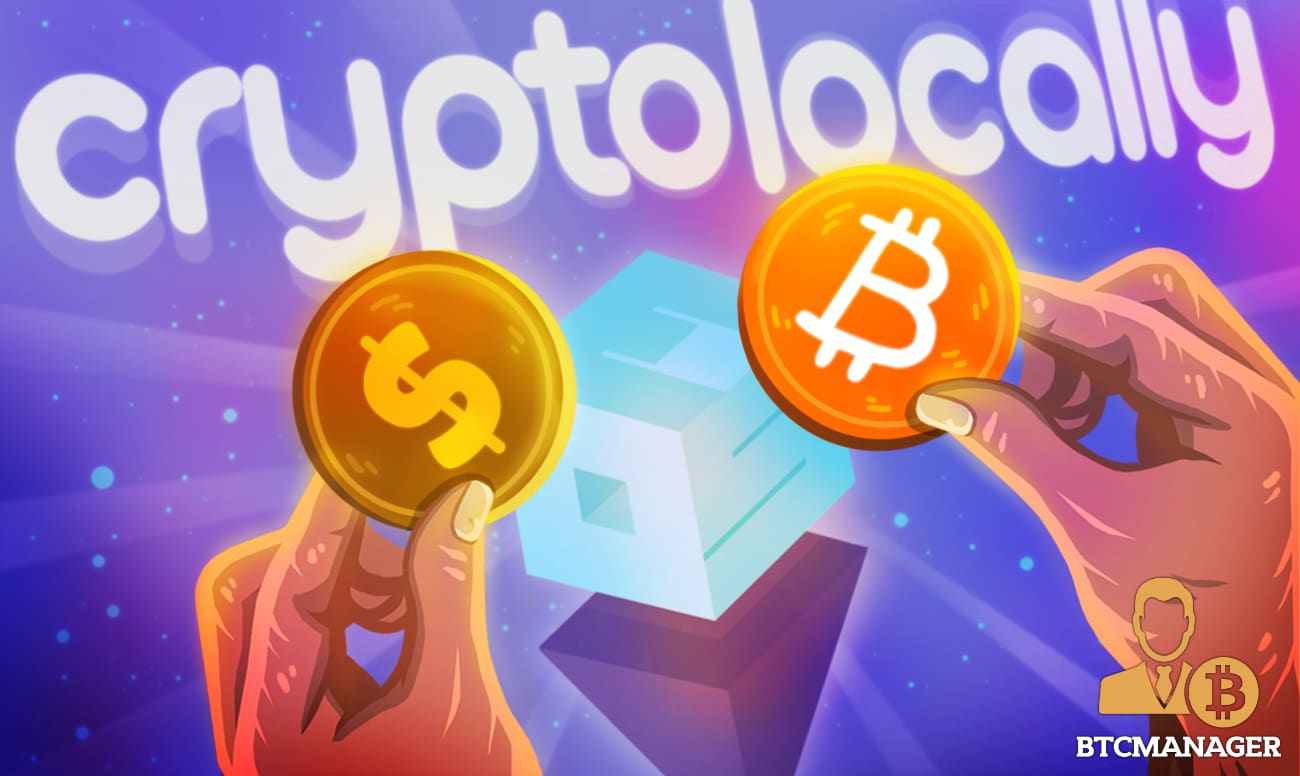 Blockchain-based currencies, tokens, and other digital assets are more popular than ever before with millions of people around the world opening wallets for Bitcoin, Ether, and Co. and spending them with the countless merchants that now accept cryptocurrency in exchange for goods and services. However, in many cases, the purchase of cryptocurrencies is also seen as a lucrative investment that can bring incredible returns in a rather short time frame.
Those who are just diving into the topic will quickly notice that the acquisition of digital currencies comes with a diverse set of challenges, that can turn out as significant hurdles based on your nationality, banking provider, and other factors. One type of cryptocurrency exchange that has proven as a reliable and efficient model in many aspects is that of a local p2p exchange.
Together with Hugo Campanella, co-founder of the popular local P2P crypto exchange CryptoLocally, we will examine what new cryptocurrency users should be aware of before using a local P2P crypto exchange. Let's dive right in.
What is a P2P crypto exchange?
A P2P exchange, simply put, is a crypto exchange that connects different crypto users together for the purposes of trading. Sellers of cryptocurrency are able to list their specifications such as the cryptocurrency they deal in, the price they are offering, and the method of payment they accept.
This allows users to browse the P2P exchange's directory and decide which seller is most compatible with their needs and then approach them for a deal. Moreover, local P2P exchanges also offer the opportunity to pay in a multitude of payment methods. Cryptolocally, for instance, offers more than 50 different payment options, ranging from conventional methods such as bank transfers, credit cards, and PayPal to rather unique options like gift cards, Western Union, and even cash in person.
Why should I use a P2P exchange over a centralized exchange?
This is a good question, as centralized exchanges like Binance have gained wide popularity among crypto users in recent years. One answer to this question is hacking. In September 2020, a single cryptocurrency exchange, Kucoin, has reportedly lost more than $200 million of user funds. 
"On a P2P trading platform, traders trade directly with one another, and since the advent of smart contracts, there is theoretically no requirement for a middleman to be involved. For this reason, P2P trading platforms are more decentralized and secured than traditional exchanges. Hacks can't happen on CryptoLocally because we are not using hot wallets at all, users don't have to deposit crypto before trading on the platform," explains CryptoLocally's Hugo Campanella.
He went on to explain that:
"Once in a trade, users fund a single-use smart contract generated escrow address, the funds can be sent from whatever type of wallet they are using. This approach completely eliminates the single point of attack weakness that centralized exchanges like Kucoin face." 
Finally, the payment flexibility is another main advantage of P2P trading platforms, as buyers can pay with pretty much every payment method a seller is willing to accept compared to centralized exchanges, where bank transfers or credit cards are the only options (and often come with substantial fees). 
More things to Consider When Trading on a P2P crypto exchange
Token roster 
Most crypto users do not want to have to conduct their transactions across multiple exchanges at the same time. The best way to ensure that this does not happen is to trade on a P2P exchange that has a large roster of tokens.
Many P2P exchanges decided to offer only the biggest cryptocurrencies on the market, such as Bitcoin, Ether, Ripple and Litecoin. CryptoLocally, on the other hand, chose to provide its users with access to some speculative but fairly promising projects as well, such as UNI (from Uniswap), BNB, EOS, and others.
Escrow functions
There is a common concern among users of peer-to-peer crypto exchanges regarding the possibility of being duped of their funds. Because the trades take place between two individuals, there is concern about whether a seller or buyer will abscond once they are paid without fulfilling their end of the bargain. 
However, one way to get around this is to only make use of exchanges that leverage smart contracts, which is something that CryptoLocally does. These are blockchain-based programs that conduct trades automatically; the tokens in the seller's wallet and the money in the buyer's wallet are automatically swapped once the trade is agreed on.
As Hugo Campanella explains,
"Our smart contract escrow system protects all the trades on CryptoLocally until the end of each transaction. The seller's fund will be held by an escrow on behalf of CryptoLocally. You do not need to deposit any crypto on our platform to fund the escrow." 

"The buyer sends the money directly to the seller ONLY once the escrow has been funded; The fund is held in the escrow in the name of the user temporarily. Then after the seller confirms that they have received the payment, the escrow is released and the tokens are sent to the buyer's wallet. This process allows buyers and sellers to complete trades safely and trustfully," he continues.
Additional functionality
Because crypto investors are always looking for a convenient experience, it is important that you opt for a P2P exchange that offers a great design and features beyond regular P2P trading. Some features that you may want to look at are charting applications, bounty programs, or, and this is new, decentralized finance (DeFi) features.
In September 2020, CryptoLocally successfully implemented the Finance Wallet into its platform, becoming the first P2P exchange to offer DeFi functionalities to its users. In a blog post, the exchange explained that "The Finance Wallet lets you earn staking rewards on cryptocurrencies like ETH, DAI, GIV, and USDC in the easiest and fastest way possible, right from the CryptoLocally platform!"
According to Ricart, the Finance Wallet has been a great success for the platform, which is why the CryptoLocally team is already working on an expansion of its DeFi program, dubbed CryptoLocally Vaults (CLVs).
"CryptoLocally Vaults are non-custodial, smart contract based algorithms deployed across multiple chains. The CLVs will work in the background and apply strategies that optimize yield for users by investing in the vault pools. This will allow users to earn maximum yield on their crypto assets across all chains, all in one place, with the click of a button," he said.
Customer service
When you are dealing with trading in cryptocurrency, for which transactions cannot be reversed, you have to make sure that your exchange of choice has a good customer service system in place. These include live chats, emails, and telephone lines. The last thing you want is to have a pressing emergency but have no form of assistance to have your issue resolved.
Conduct research on every exchange you are considering before signing up and sure their customer service options are efficient.